As interest in traditional advertising plummets, interest in influencer marketing continues to rise. People just tend to trust influencers more. They feel that they know so much about the lives of their favorite bloggers that they often see them as close friends. So it shouldn't come as a surprise that over 60% of marketers plan to increase their marketing budgets this year.

When done correctly, influencer marketing is much more effective than say display advertising. In fact, native advertising via influencers generates 11 times bigger ROI than banner ads. But to make sure you get maximum profit from your collaborations with bloggers, you must connect and organize communication with them correctly.
Why should you use influencers for your brand?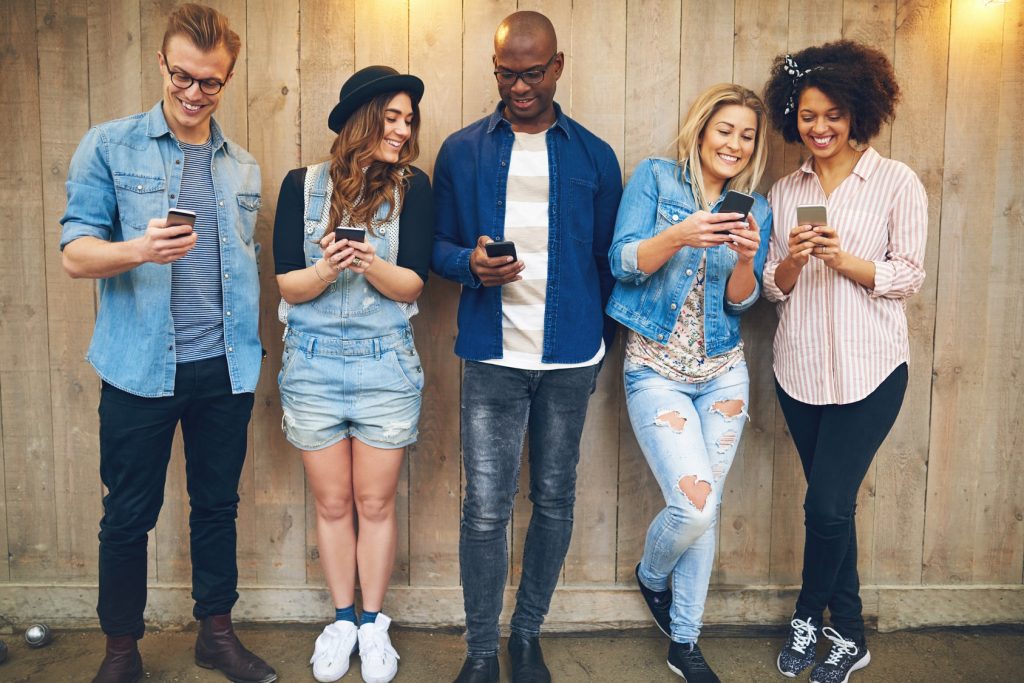 The digital advertising market is huge and it continues to grow. Contextual ads, targeted advertising, SEO bring massive traffic from interested users and convert them into customers. But any business that's interested in growing and expanding always looks for new channels to attract more customers. Influencer marketing is one such channel.
Who are influencers? An influencer is a public figure with a relatively large and loyal audience. Normally, influencers are well-known and popular. Some of them earned international fame and some have clout with comparatively small local audiences.
Celebrities, businessmen, experts, and bloggers are often considered influencers. Their social media profiles, blogs, and websites are their channels of influence.
One of the major characteristics of any influencer is the high level of trust their audiences bestow on them. Regular users of social media would much rather trust influencers they like than traditional ads and TV commercials. That's why having access to this audience is so important for businesses.
There are at least 4 reasons why it's hugely advantageous for marketers to partner with influencers:
It increases their reach. By partnering with influencers with a loyal and active following, marketers get a chance to gain access to new potential customers who have never heard about their brand before.
It increases conversion. When influencers with a loyal following recommend your products and services, their audiences feel motivated to follow the links and make purchases because they trust their favorite influencers. The main thing is to choose influencers that work with a niche similar to yours.
It promotes content marketing. If an influencer you partner with is creative with the sponsored content they create and makes it eye-catching, useful, and engaging, this content becomes valuable in and of itself. As a result, it will continue working for you long after it gets posted.
It helps to raise brand awareness and increase the loyalty of your target audience. When people see an influencer they like and trust recommending a product, they automatically develop a positive vision of that product.
How to connect with influencers the right way
Getting ready
Before you actually contact an influencer, you should find something that would attract their attention and motivate them to partner with you. To do this, you must show genuine interest in what is important to them.
To make it work, you should think more than one step ahead. Build your relationship with influencers. Give them something before you ask them to give something to you.
Think of why you want to contact them
Let them know that you are interested in them personally. That they weren't just another set of contacts on your lists, that there is a reason you want to collaborate with them. For this, you will have to go to their profile and explore their feed. What do they write about? What do they like to talk about with their audience?
Think of why it will be beneficial for them
More often than not, marketers think of the advantages and benefits they can get rather than what influencers can get from the partnership. But what's in it for them? Why should they be interested in your offer? If you don't make them see it's a win-win situation for both of you, it's likely you won't get them interested.
Build a relationship before making an actual offer
It's possible that you'll get them interested with the very first message. But in most cases, it's worth getting to know them better and show some activity on their feed before you start discussing the terms of your partnership.
Show interest in their content. Instagram influencers generate content on a daily basis. And they want people to interact with it: read it, view it, like it, comment on it. So do just that. Write meaningful comments. Tell them that you like their content and why.
Be useful. Being interested in their content means a lot but it's only the first step. If you want them to notice you, go the extra mile. Offer them something valuable and useful. For example, you can offer some help. Use your channels to promote them; they will definitely appreciate it.
Ways to contact influencers
Indirectly
If an influencer has at least 100k followers, they might have a manager that organizes all collaborations for them. In this case, you might want to contact an influencer marketing agency first. Of course, their services aren't free but they'll offer a wide range of services, from selecting the right niche influencers to drawing up contracts.
Marketplaces, as was mentioned earlier, are online services that bring influencers and marketers together. You choose an influencer, and the marketplace makes sure that influencers get their compensation only after they meet your requirements. However, this option is better for one-offs than long-term partnerships.
Directly
Via DMs, email, or messengers
Most likely, they have their contacts in their profile bio. If not, which is unlikely but possible, just send them a DM.
How to find influencers
To build their audience, influencers use various channels, such as social media, blogs, online communities. And there is no reason why you can't use the same channels to find influencers.
1. Using trendHERO
trendHERO offers more than just Instagram profile analytics. Here, you can also search influencers tweaking various parameters to suit your marketing needs. To do this, go to the Discovery section and choose the appropriate search criteria: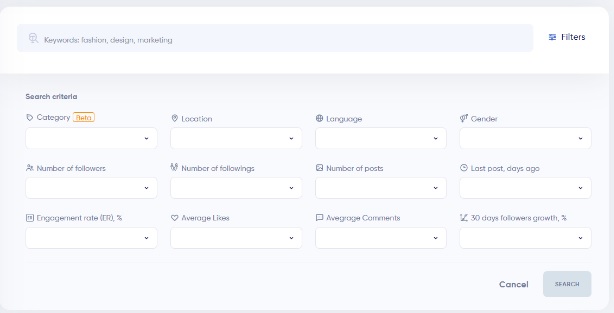 Apart from that, you can also use the "500 similar bloggers" feature in one of your trendHERO reports: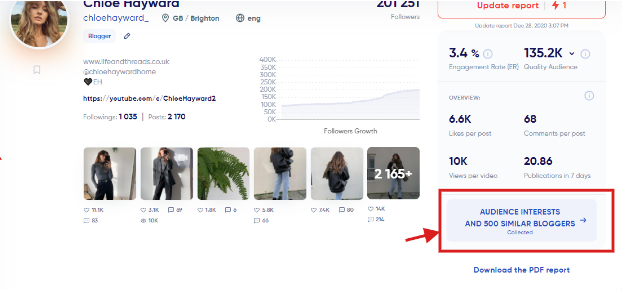 2. Top lists
You aren't the only person looking for influencers. It's likely there are ready-made top lists of Instagram bloggers you can use. All you have to do is type "Top 10 (20, 50, 100) influencers + your niche" in the search engine and see what it offers.
3. Influencer communities and marketplaces
Influencer marketing grows constantly and very quickly. That's why there is no lack in online communities and marketplaces tailored specifically to help marketers meet bloggers.
4. Online conferences and summits
Influencers operating within certain niches often take part in various online conferences, webinars, and other events. Websites that promote this kind of events are always a great source to search for bloggers to partner with.
5. Search engines and social media
Use keywords to find influencers in your niche (or ones associated with it).
How to define and evaluate your influencers
As a marketer, you have to start many projects with thorough research. Influencer marketing is no exception. First of all, it's extremely important to know your target audience. What are their interests? Who do they follow on social media? Who do they trust?
It's pointless to partner with an influencer with a multimillion following if that following doesn't match your target audience. So before you get to evaluating influencers, draw a clear portrait of your target audience and compare it to theirs.
As soon as that's done, you can get to the initial evaluation. You can do that by analyzing the following factors:
1. Follower count. On the one hand, it's quite simple. A large following says this influencer is popular and people like what they post. Popularity means influence and influence means audience loyalty. On the other hand, you need to make sure that this large army of followers isn't fake.
2. Audience quality, which directly follows from the previous. A huge audience means nothing if it consists of bots. And while you can get fake comments and likes, it's impossible to fake interest in your brand and product, and purchases. This is why you have to make sure that their audience is authentic. trendHERO offers a few instruments to help you with this.
First of all, the service offers an overview of the audience quality by showing how many real people and commercial accounts there are: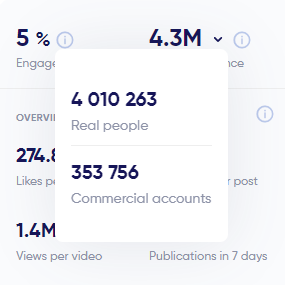 Apart from that, you can also get more in-depth audience analytics by looking at the Audience Type graph. It shows the percentage of real people, commercial accounts, and suspicious followers: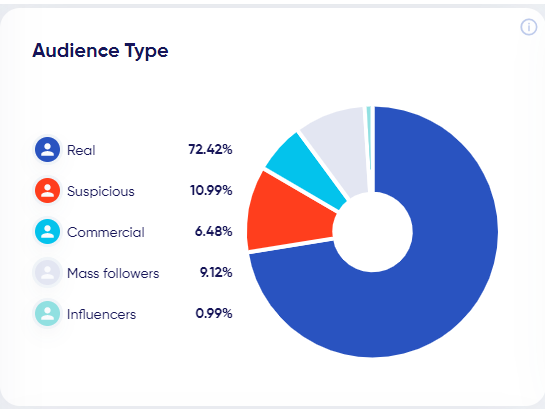 What's more, you also get the audience type analytics based on likers. This helps to identify inauthentic activities like mass liking: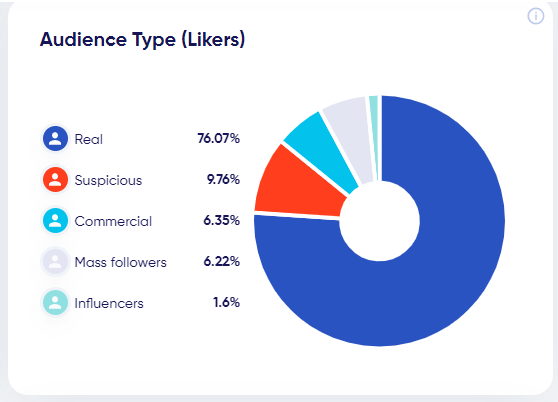 3. Audience loyalty. It's also important to make sure that their followers are loyal enough not to react to sponsored content with hostility. Unfortunately, many popular bloggers who would advertise anything and as much as they can, have lots of negative comments. This negative attitude transfers to your brand and products, which you don't need.
You can get some idea of audience quality by looking at the number of engagements (likes, comments, and views) per post and the overall engagement rate: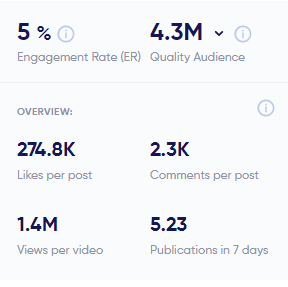 4. Content quality. Audience loyalty, trust, and positive attitude largely depend on the quality of content. It's wonderful when they have a uniquely distinct style that makes them stand out. It's more than just beautiful photos. It's an original design, some signature details, and interactions with followers.
5. Experience in brand partnerships. It would be great if they did collabs before and can provide you with some data on metrics and feedback. Maybe you'll have a chance to contact the marketers they worked with and learn about their experience.
trendHERO makes it easy by offering a list of profiles most frequently mentioned by an influencer: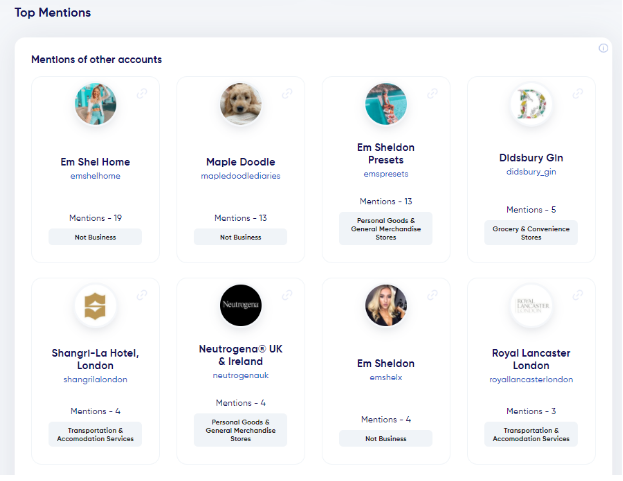 Influencer outreach examples
1. Creative:
5 Reasons Why You Should Partner With [Brandname]
Hi! It couldn't get past our attention that you have a huge following. We are sure that it makes you a very, very busy person. However, we have a few very good reasons for you to contact us:
We read every post in your feed. No, really. We love it that you are always open and genuine with your followers and we absolutely share your love for cats and bright colors.
We have a lot in common. Just like you, we want to make the world a better place. All our products are vegan and cruelty-free, and eco-friendly.
We enjoy and support creativity.
Write us back so we can talk more!
Just as was mentioned earlier, it works when you don't tell them what you need but rather let them know why they should care about this partnership. Besides, it's a creative informal way to contact someone. The one that will definitely draw attention.
2. Short but effective:
Hey,
There is something we have in common:
The desire to make a difference.
Love for cats.
Let's talk!
You don't have to write a lot to make an impression.
3. Funny:
Please date us!
We've been following your profile for a while now and we have to say we've become completely enamored with your wit, charm, and professionalism. We realize that a gifted person like yourself must have many offers from other brands but we hope to interest you with our new product
(give more information on your product and why you think their followers will love it)
We promise to cherish and appreciate you as our dear partner.
Please say yes.
You shouldn't be afraid of being funny. Once you make them smile, you definitely catch their attention.
Read also: How to Craft an Influencer Email Pitch (+ Templates)
Tips&tricks
Of course, there is no perfect universal formula for a letter or a DM they will definitely, 100% open, read, and love. But there are certain rules that might help you succeed in catching their attention and making them write you a positive answer.
First of all, here are the things you should avoid:
Forgetting to mention their name or butchering it
Writing a boring title
Lack of a win-win offer
And now a few tips on what you should do:
1. Always address them by their name.
This way you make your message personal and respectful. And it's not hard at all.
2. Think of an engaging title.
The title of your message must catch their attention and let them know what your message is about. The simpler the better. A short title such as "On collaboration" will work perfectly well and probably will keep your message from being discarded without being read.
3. Avoid carbon copy messages.
No one likes impersonal generic messages. The worst decision you could make is sending cookie-cutter messages to people you don't know. In the best-case scenario, they won't answer your message. In the worst-case scenario, you'll become another name on their blacklist.
Explore their content and find something you can mention in your letter "I've noticed that you recently visited Greece but didn't mention the exact place".
Describe your product/service and how it can be useful to the influencer and their audience.
Conclusion
Influencer marketing is never easy but once you choose the right influencer, it pays off. Just remember to do thorough research and learn as much as possible about your potential partners. Be personal, genuine, and always open for conversation. Only then will you be able to establish some very useful connections and mutually beneficial long-term partnerships.