According to SocialPubli, the overwhelming majority of marketers choose Instagram as their primary platform for influencer outreach. Nearly 90% of them find that their partnerships with bloggers are effective. In this climate, delaying with a proper influencer outreach strategy creation won't do your business any favors.

When it comes to influencer partnerships, it would seem that the general strategy is quite obvious and should be rather simple. You choose a popular influencer, you contact them, you pay them. That's it, they get money, you get your traffic. But in practice, it's much more complicated than that. At the very least, you must know your marketing goals and what metrics you'll need to track to evaluate the effectiveness of such a partnership. This is exactly why your influencer outreach must be a part of a comprehensive strategy.
5 reasons to start influencer outreach right now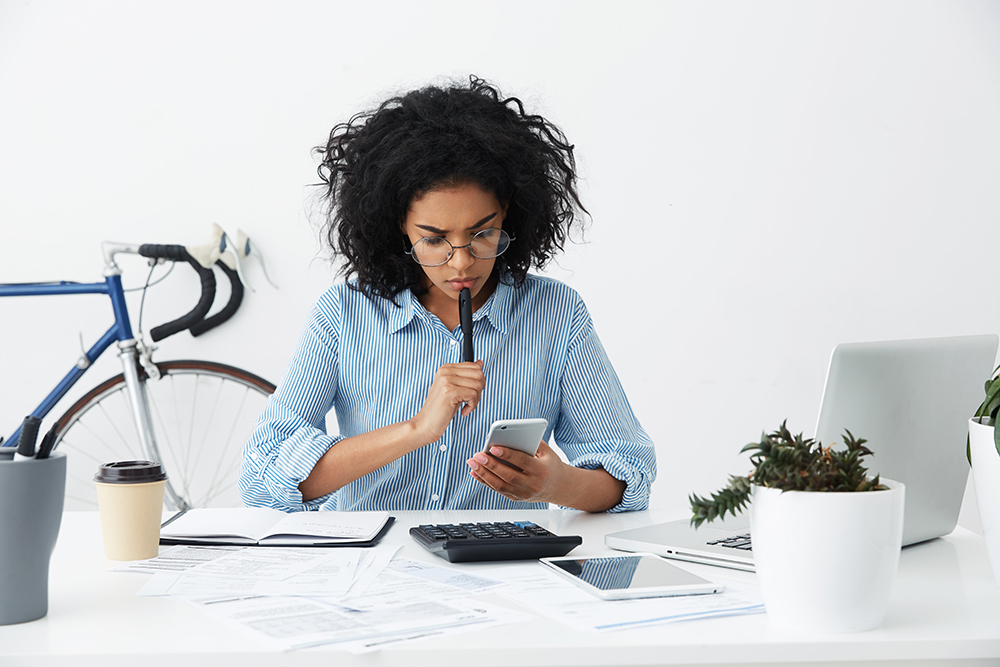 You might think that of all marketing channels, influencer partnerships are not and shouldn't be a primary option. Surely not the one your brand can't live without. However, if that's what you think, do reconsider. The market dynamics in recent years and the experience of millions of marketers all over the world have proved and continue proving that:
1. Influencer outreach allows communicating information on your brand, product(s), or certain news to your target audience.
Let's say your product was recently introduced to the market and hasn't yet garnered much trust. To overcome this barrier of insufficient confidence and mixed opinions on your product's properties and performance, you use influencer outreach. It's them who'll make it all perfectly clear for your potential customers. Using their own example, they'll tell them how and why your new product is very cool.
Or here's another situation. You are trying to sell a unique product or some other kind of product that makes your potential customers rack their brains before making a choice. In this case, you partner with a niche influencer who is familiar with this particular type of product. If they are considered an expert in this particular field and have their audience trust, their review of your product will help your target audience to make a decision about the purchase.
2. People tend to trust influencers, sometimes even imitate them. They are called influencers for a reason, after all. Their influence often makes their accomplishments and knowledge of their chosen niche undoubted in the eyes of their followers. This makes them instrumental when you want to promote certain messages.
The thing is they don't even have to be celebrities with multimillion followings. Today, many influencers owe their popularity to Instagram and are as well-known and well-loved as many celebs, if not more.
3. Influencer outreach is one of the most important aspects of a brand's communication with its target audience. In today's social media marketing environment, you as a brand can't do without finding common ground with influential bloggers and through them, connect with your potential customers.
And it's not just about communicating with your target audience. It's also about motivating your potential customers for certain actions:
Product purchase
Solving service issues
Positive reviews
Valuable feedback during product testing and improvement
Discovering new ways of product use
4. Authentic influencers know and appreciate their own relevance for their audience. They can affect many brand-related decisions both negatively and positively. Like, decrease the influence of certain negative factors on the target audience's decisions. Or the other way around, increase it.
One of the most powerful instruments they have at their disposal is their trusting relationship with their followers. They are not some distant Hollywood stars. They are actually willing to take time and read their questions and answer them. This special interaction makes their audience want to be receptive to their opinion.
5. As a result of all of the above, you get:
Increased Reach
Conversion rate growth
Improved content marketing
Better brand recognition
Increased target audience loyalty
How to create an effective influencer outreach strategy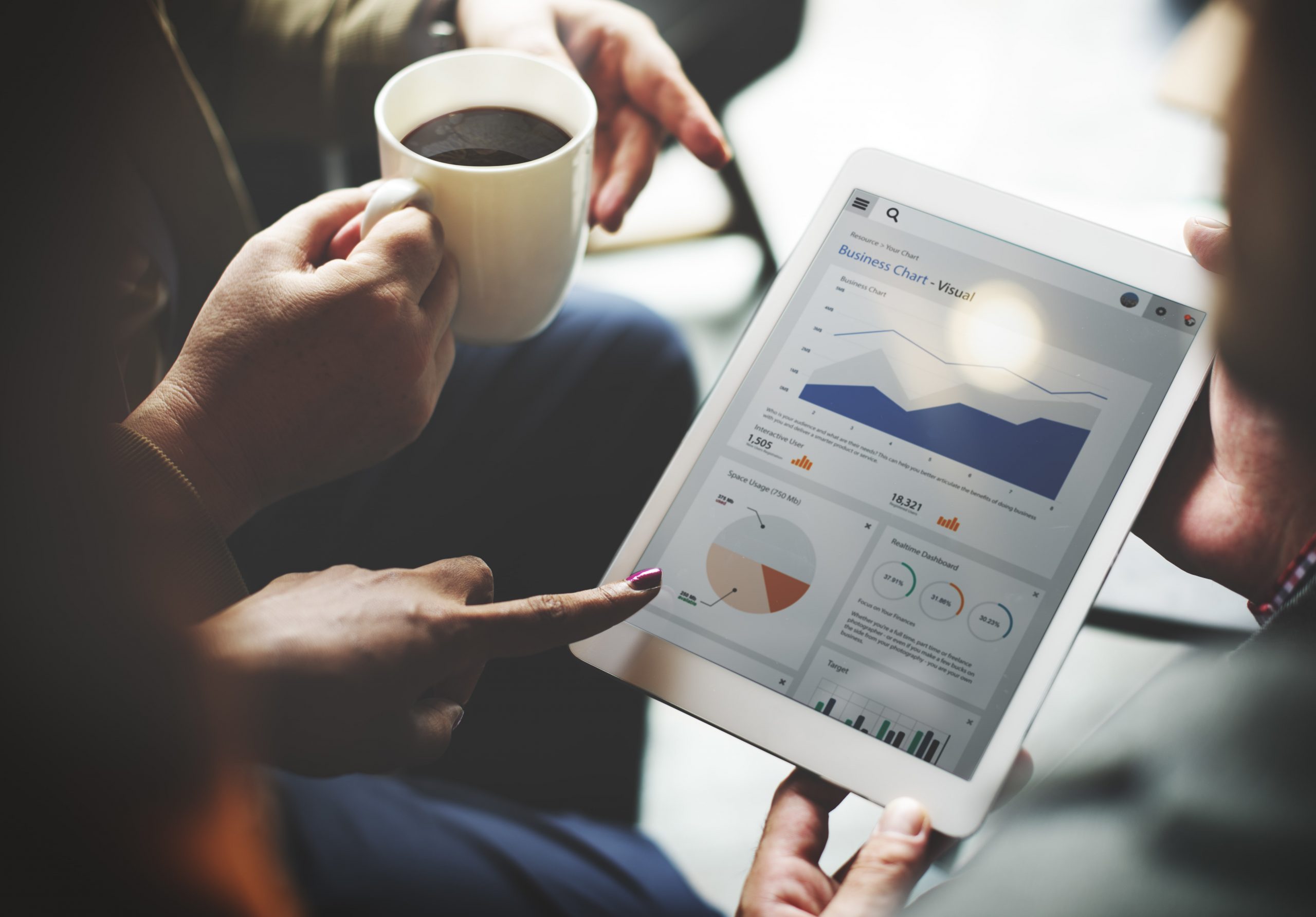 1. Outline your strategy
This is the foundation stage. After all, before you actually start acting, you've got to have a very clear idea of why you want to start a marketing campaign. This means that you have to know:
Which influencers you want to partner with (their niche, follower count, audience quality, location, style, values, etc.)
Your marketing campaign goals (improving Reach, attracting new followers, driving sales, raising brand awareness, and/or others)
Partnership terms and conditions
Apart from that, analyze your target audience and your content. Find an influencer whose audience is quite similar to yours. Roughly speaking, if you represent a travel company, you would find a lot in common with a travel blogger and much less with someone who is all about fitness and a healthy lifestyle.
2. Create a brief
Normally, you prepare a briefing sheet that contains information on the kind of content you want from them, how exactly they should mention your brand, content format and the number of publications, requirements for visual content, etc.
There's a couple of things worth taking into consideration:
In case you plan to partner with multiple influencers, try not to generate a single cookie-cutter brief for all of them. If they all work within similar niches, it's likely they have many followers in common. To those followers, your generic content might look like pushy ads.
Don't make your visual and written content requirements too strict. They most likely have their own style of communicating with their audience. So it would be much better if you give them the freedom of making it look and feel more natural.
3. Look for suitable influencers
You can look for them using online services which will save you a great deal of time. You can do a manual search, which might take a while. You can combine both options for better results. Your choice of an option largely depends on your campaign goals and what type of influencers you'd like to deal with.
Read on for a more detailed discussion of the ways to find influencers.
4. Analyze influencers' profiles
At this point, you might already have some Instagrammers in sight. The ones you follow and comment on their content. You probably even think they would be perfect as a part of your outreach strategy. And yet even in this case, I don't recommend underrating the importance of detailed metrics analysis.
First of all, drill down on their profile stats and check them for any inauthentic activity (fake followers). Try to pinpoint any factors that might make your partnership less than effective.
5. Contact them
Experienced Influencers with an active audience get (at the very least) dozens of offers every day. So you'll have to be patient enough and creative enough if you want to hear back from them. Here are some things you'd want to include:
A proper greeting. They are just human beings, like you and me. Don't be too formal but definitely be respectful. Use their name.
An attention grabber. Compliment them, make them smile, say something thought-provoking. Anything to make them single your message out.
Describe your brand and your product(s). Be concise about it. What your brand does, what kind of products you offer, their advantages.
The actual offer. How do you see it work, what you expect, how it might benefit them.
Contacts. It would be much better if they could contact you via their preferred communication channel next time you talk.
6. Signing a contract
You can skip this step and continue working on the basis of verbal agreements in case you think it's not a practical option for you. However, I'd recommend giving it a try, especially if you work with influencers with large audiences and especially if your partnership involves hefty compensations.
7. Assessing the effectiveness of your marketing campaign
You've determined your marketing campaign goals long before you actually started it. Now it's time to see which goals you achieved. Here are the ways to do that:
Ask them to provide you with analytics on the sponsored content they posted. When it comes to Stories, you need the number of profile visits. For regular publications, it's ER (Engagement Rate) or website visits.

But don't come to any conclusions just by looking at the information they give you. First, do your own check using analytics services like trendHero. Secondly, check your own profile stats and compare them to the stats that were there before your campaign started. Pay special attention to audience growth, increase in likes/comments, increase in Reach for Stories and publications. Also, make sure that all those followers you gained are real people.

Check search query dynamics and website traffic for your brand and compare them to the numbers you had before the launch of your marketing campaign. You can use tools like Google Search Console or similar services for that.
Check your UTM code statistics. UTM code is a small addition to your website's URL that helps tracking your website visits. It tells you where exactly your visitors come from, which is extremely handy if you want to see how many potential customers came to your website from particular bloggers.
Check your promo code statistics. As is the case with UTM codes, unique promo codes allow checking where your potential customers came from and what kind of discount they are expecting.
How to find influencers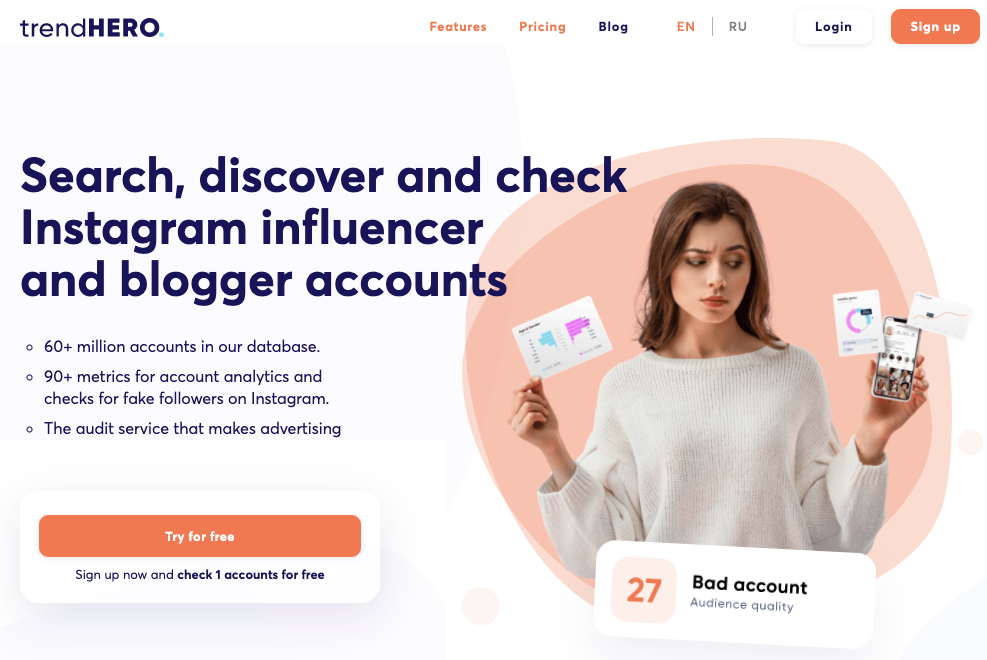 1. Using trendHERO
trendHERO is an Instagram analytics service that also offers multiple options for searching influencers suitable for partnerships.
The first option you can see right after you log into your account is the search for specific Instagram profiles. It's more convenient to use after you've already created a list of influencers potentially suitable for partnership. To use it, just type a user name or a link to an Instagram profile in the search bar at the top of your dashboard:

However, if you are interested in creating the above-mentioned list using advanced search options, there is another way. Click on the Discovery tab on the left and you'll see a search form with various search criteria. It allows narrowing down your search results to the options that are most likely to meet your campaign requirements: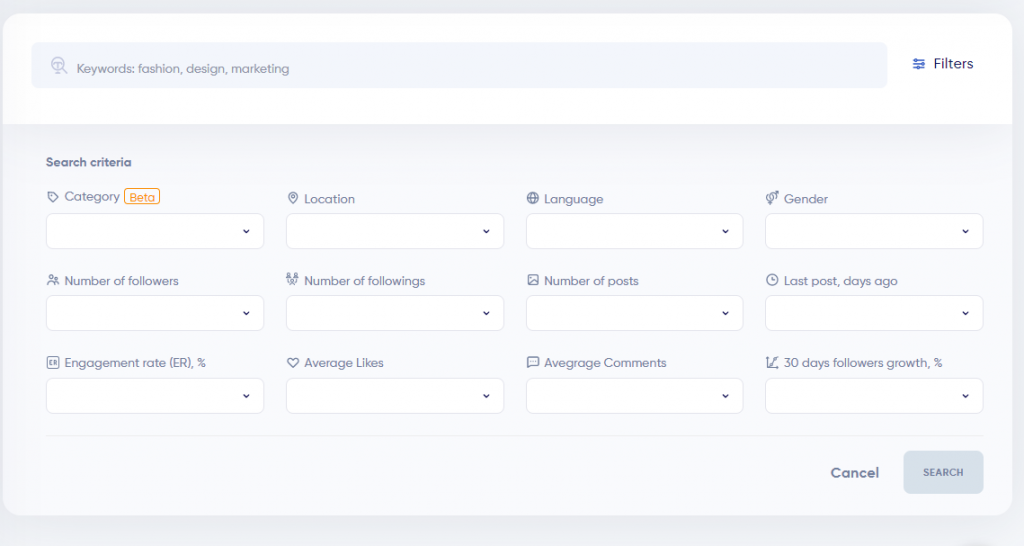 Finally, there is an option to use the "500 similar bloggers" feature. It's available in any profile report, right in the header with the profile statistics summary. This option allows searching for bloggers within the same niche. Keep in mind that you will have to choose a paid subscription plan in order to use this option: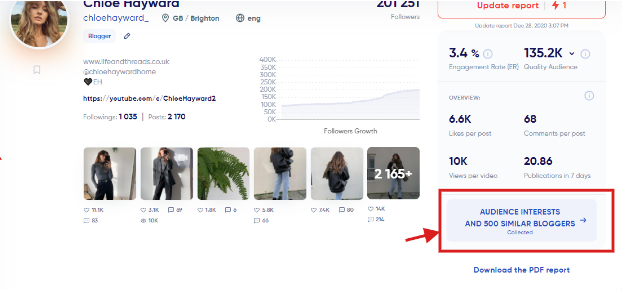 2. Instagram's Explore page
The platform allows you to have a look at other users with similar audiences and niche content. To use it, just go to your profile and tap the magnifying glass icon at the bottom of the screen: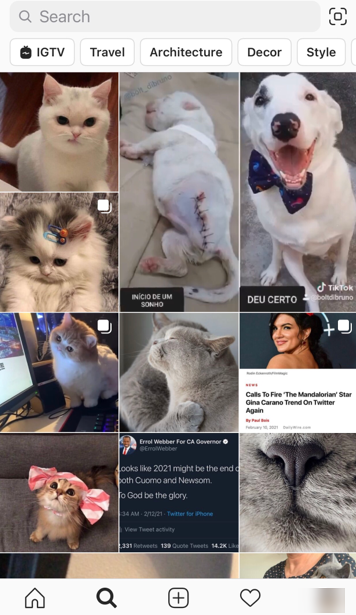 3. Using hashtags
This way you can find influencers based on their location and/or niche-related keywords: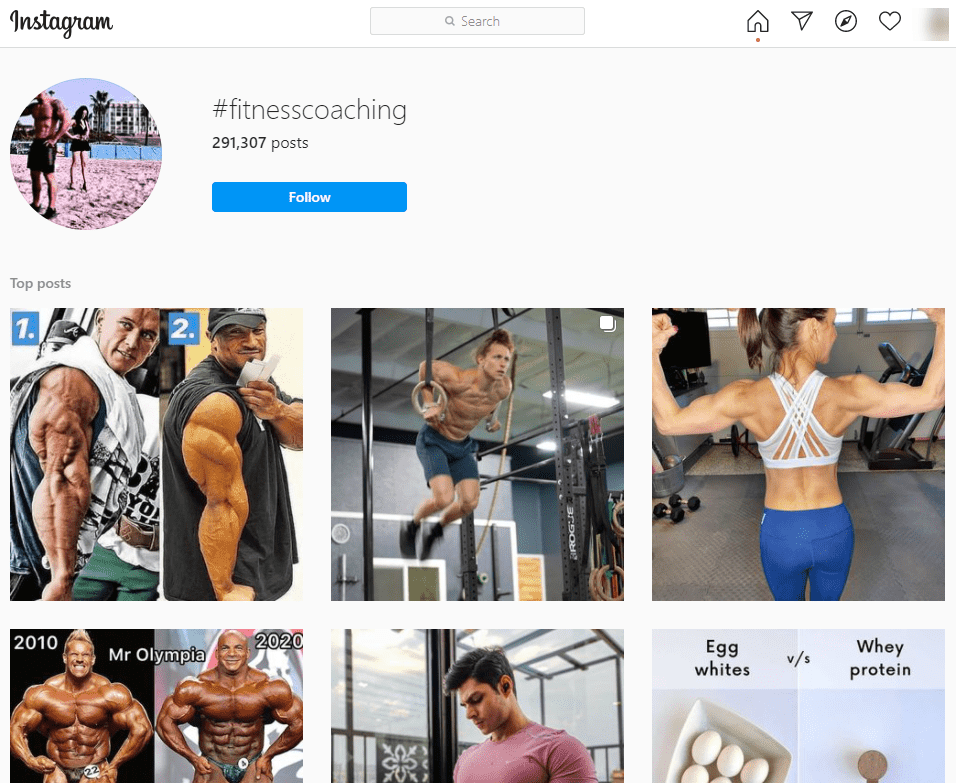 4. Using Influencer agencies
Influencer agencies usually have large databases of influencers to suit every taste and budget. The upside is they offer a number of services like drawing up contracts and some analytics tools. Besides, they ensure you pay for what you get, nothing more and nothing less. The downside is that they are paid services.
How to evaluate your influencers
First of all, try to assess just how competent and efficient they are when dealing with sponsored content (or any content, for that matter). Do they use quality cameras? Do they look comfortable being in front of a camera? Usually, it takes a couple of days; you can tell a lot just by watching their Stories.
After that, learn as much as you can about their audience demographics. You can get information on age, gender, and location in Instagram Insights or use trendHERO that offers more detailed statistics. Remember that it's important to make sure that your target audience is similar to theirs. Otherwise, partnering with them would be completely pointless.
That being said, you still need a real influencer. Meaning a blogger who knows how to engage their audience, someone they listen to. There is a way to make sure you find exactly that. By checking the ER metric.
ER is the ratio between all engagements (likes and comments) combined and the number of followers. You can find this information in any profile that's publicly available. But since measuring ER manually might take quite a lot of precious time, it's great that trendHERO can do that for you. You can see their ER in every profile analytics report, in the header, along with some details on how ER is calculated: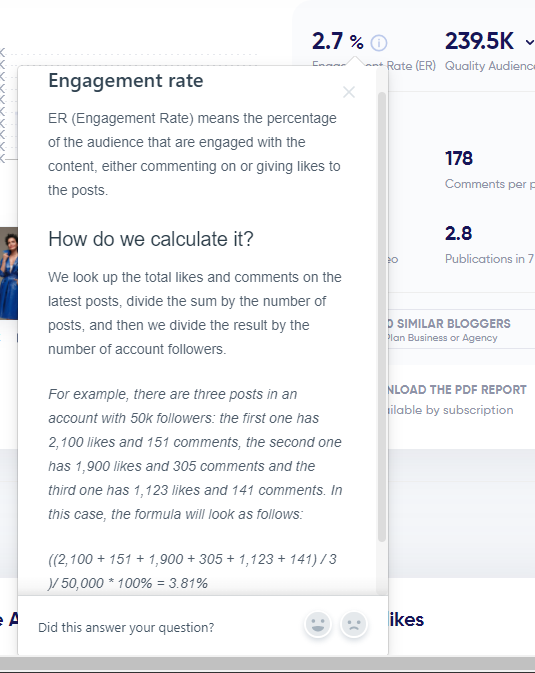 While 5-8% ER is considered ok for micro-influencers, bloggers with larger influencers might have a lower rate of around 3%.
Besides, if you want to track their ER over time, you can try the service's new Tracking feature. It allows monitoring ER dynamics and offers a great picture of what kind of content and what kind of activities on their profile provide an increase in follower engagement: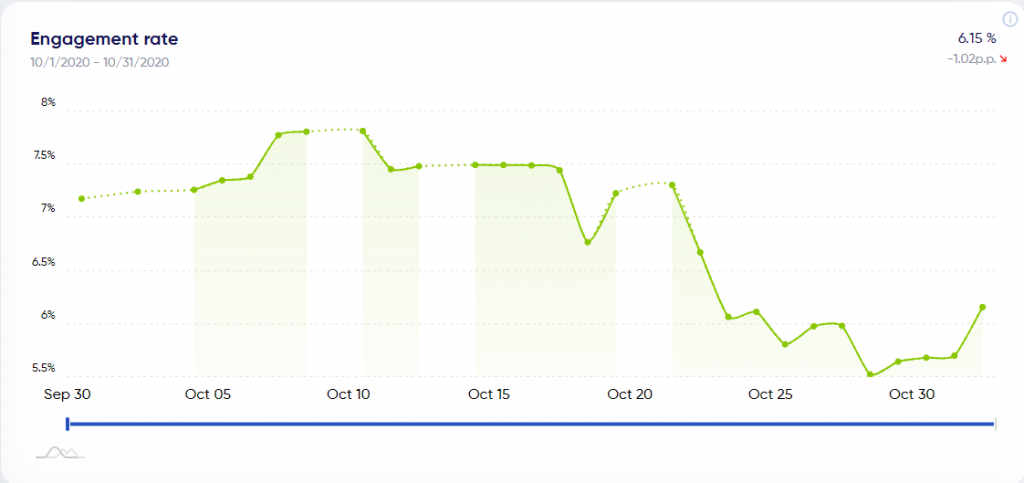 The next thing you'll want to check is the quality of their audience. In other words, if they have a lot of fake followers that don't engage with their content in any way and aren't likely to be interested in yours.
Normally, a fake following isn't difficult to detect manually:
Look at the comments they get. Are they meaningful comments or mostly one-word or emoji-only messages?
Does the influencer interact with thor audience in the comment section (answers their questions, reacts to their opinions)? If they leave the majority of comments, unanswered, you probably see the result of the mass commenting activity.
How many of their followers have empty profiles (no avatar, no content, a huge number of followings)?
Look at their Stories views and Reach stats.
But in case you want to save yourself some time or just get a bigger picture, use trendHERO to check the audience quality. The service offers information on how many followers can be considered a quality audience and more detailed information on the percentage of suspicious and authentic users that follow a particular profile.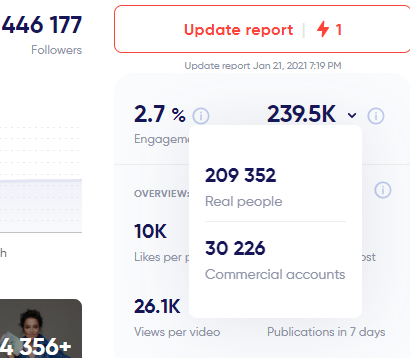 And last but not least, make sure that your promo content won't compete with some other pieces of sponsored content they might publish. Check their publications manually or once again, use the trendHERO's Top Mentions in the profile analytics reports: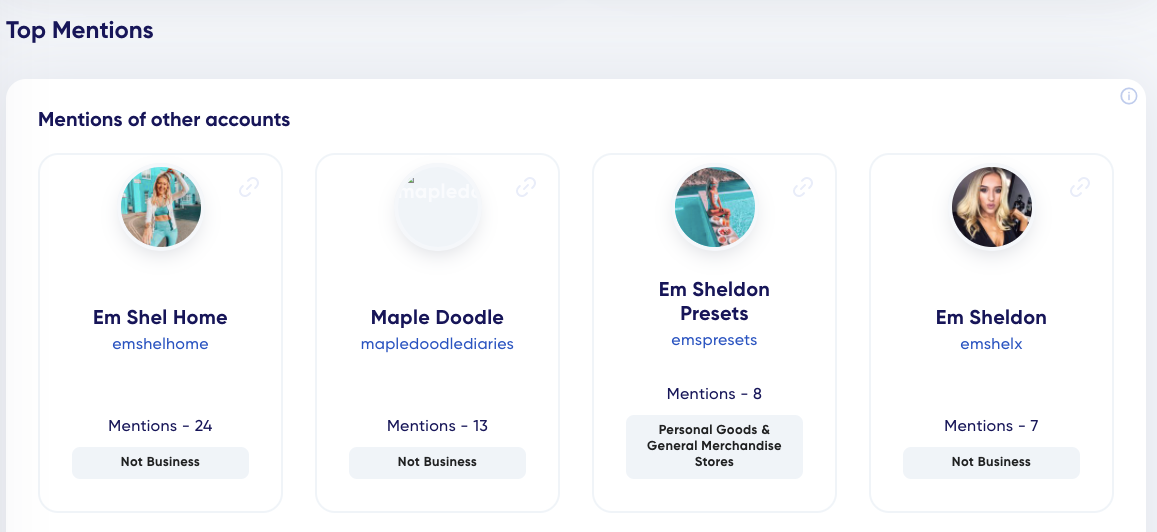 A few important things to do/consider:
View their posts published over the last month and make sure there is no content sponsored by your direct competitors.
Your brand's message must meet their life philosophy. To put it simply, if you sell tea it would be at the very least awkward to partner with an influencer that repeatedly professes their love for coffee.
Too much sponsored content is a bad sign. 1 publication of this kind per week is ok. More is a reason to suggest their audience might be quite fed up with ads.
Tips for effective influencer outreach
Make sure you know your target audience and what kind of people they trust. Connect with the influencers you think they will trust the most.
Choose authentic, quality influencers, not just people who like to call themselves that. Don't just mindlessly chase after the stars with huge followings. It's quite likely these people won't be genuinely interested in your product. And this means their followers won't be interested in them either.
Remember that establishing informal, trusting communication with IG influencers is important. If you establish a warm, genuine relationship, this attitude will affect the way they promote your brand.
Constantly track and monitor their activity, either manually or using online services.
Always be honest.
Don't set too many great expectations on influencer partnerships. Make sure that the success of these cooperations depends as much on you as it does on them.
Conclusion
Influencers are just another channel of communication that can help your business to be much more effective when it comes to social media marketing. By developing a solid influencer outreach strategy, you gain a powerful instrument of connecting with your target audience on a whole new level. This connection allows conveying information straight to your potential customers and gaining their trust and loyalty in return.
Influencer outreach is an effective, accessible, and easy way to enhance your audience, get them interested, and make sure you are on the same wavelength.