Since 2015, a constant increase in the involvement of influencers in the processes of promoting goods and services has been noticed. This is not surprising. People no longer perceive the traditional ways of advertising. They follow the recommendations of a person who is known to them, even if in the media space only.
If you have not added this type of marketing to your strategy yet, do it immediately. Do you need proof why? Here it is! Get illustrative examples below on how well opinion leaders perform, and familiarize yourself with the influencer marketing best practices of 2021. This information will definitely throw light on the steps to take before launching your next campaign and get your wheels turning.
Is influencer marketing still on the rise?
Just some time ago modern soothsayers predicted a short life to influencer marketing. As everything changes very quickly in the modern world, there were assumptions that this type of marketing will follow an ordinary scenario: everything passes and it will pass. But no.
Content created by opinion leaders and promoted with their aid is strikingly effective and helpful. Thanks to social media stars, marketers can work with a specific target audience, increasing sales, loyalty, brand awareness. Business Insider prophesies that the influencer marketing industry is set to hit up to $15 billion by 2022. It is mind-boggling, isn't it? What is more, this is proof that this type of marketing is still and will be on the rise. At this moment, bloggers sighed with relief because they were provided with work for at least another two years.
Influencer marketing is, first of all, a completely pleasant to the eye and ear way to present a product. Influencers speak the language the audience is used to. And this is unlikely to ever go out of fashion.
What are the current influencer marketing trends?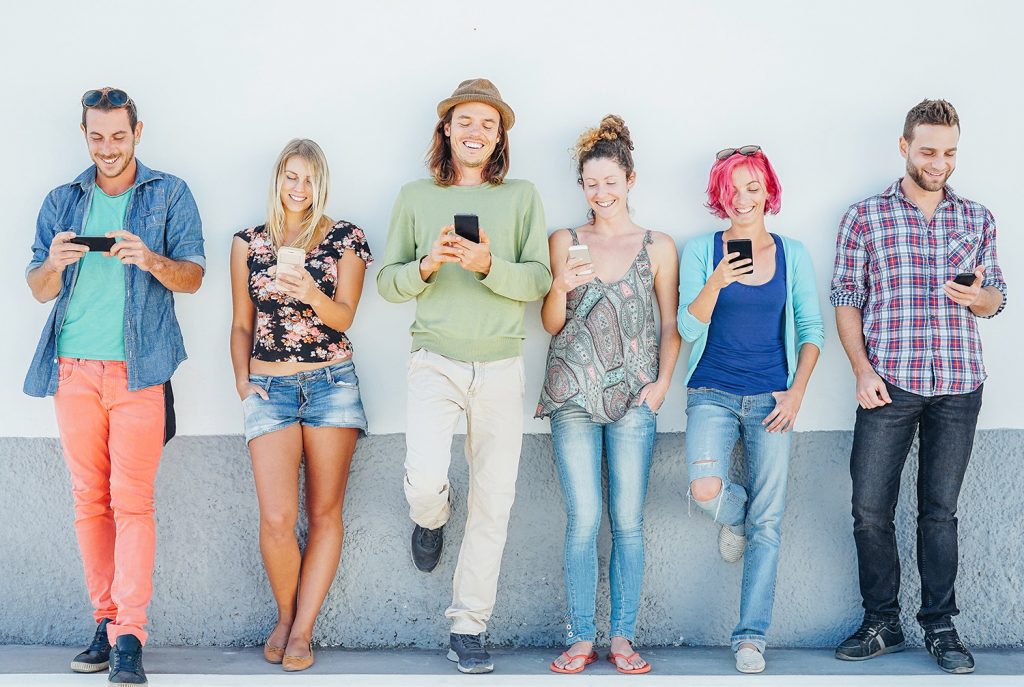 Marketing is first and foremost the science of consumer choice. And secondly, it is an activity that goes hand in hand with changes in the world. Marketers constantly keep abreast not to miss trends, and be the first to implement them into their businesses.
Influencer marketing has recently been a trend itself but now it sets them. What specific novelties appeared in 2021 in this area? Find them out to build relations with opinion leaders and make the most of collaborations.
Micro-influencers has got into the saddle
The focus from cooperation with celebrities has shifted on influencers with audiences that count from 5 to 25 thousand followers. It's easier for a blogger to keep the attention of a small audience that leads to more effective advertising. Usually, micro-influencers specialize in a particular niche and are experts in it. This allows marketers to weed out anyone who doesn't fit their brands and simplifies the selection. If you want to know more about this category of opinion leaders, here is a comprehensive guide to getting acquainted with them.
In a word, the future of influencer marketing is in micro-influencers' hands. The game is worth the candle. Seize the opportunity.
The swift rise of video content
With the advent of TikTok, video content once again confirmed that it is king. Both generation Z and Y are glued to various videos and adore shooting them themselves. When it comes to influencer marketing, video content can help present a product or service in a more favourable light. Together with an opinion leader, you can come up with the idea of making videos about the use of the product, a story about the experience of long-term use, expert tips, etc.
IGTV and Instagram Stories make it possible to share this kind of adverts. Chances are very high that video content will become viral if you manage to get through to your audience.
Sincerity and Simplicity
Thoroughly edited pictures and stories that are focused on attracting people but not telling the truth are out of date. Simplicity and sincerity rule the digital world now.
The trend is shifting towards a more "natural" type of the influence. Influencers who refuse photoshop, wear casual clothes, and do not have perfect hairstyles daily are strongly appreciated now. Looks like this trend will persist for a long time.
There is no need in excelling something too arty-crafty. As someone very intelligent once said: Be simpler, and people will reach for you!"
"On a commercial basis"
Followers have a nose for sponsored posts. They can easily distinguish when an opinion leader is trying to conceal an advert from his followers, and pose it as a personal recommendation. Alongside simplicity and sincerity, there is also transparency. It's at least dishonest to hide that an influencer was paid for the publication. When he puts a hashtag #sponsored, #ad, or mention somehow that the content is on a commercial basis, it shows that an opinion leader respects his audience and is completely open.
Long-term partnership based on the values
Experts believe that to get a good result of the marketing campaign, 6-8 audience touches are required. One-time advertising for brands is no longer enough to be noticed and remembered by followers. Long-term partnership is a whole other story. Firstly, it is useful so that the audience starts to associate a specific person with a particular brand. When an opinion leader promotes your brand, and then your competitor next month, it's not okay, right? It looks like the limitation for an influencer at first glance. However, such a long-term partnership shows him as a respected professional who the brand makes a serious deal with. This is an upgrade for an opinion leader, and getting an honest advocate for a brand.
Cross-platform influencers
Most influencers present at several platforms. For example, someone has become known thanks to YouTube but Instagram is his subsidiary media. Cross-platform influencers can help you catch two on one day. To be more precise, reach more people. In addition, it proves the authenticity of the posted content. If there is an opportunity to introduce your product or service in several places at once, seize it!
Advocates among employees and customers
People leave bad reviews more often than good ones. Have you noticed it? Such human nature – to show brands when you are unsatisfied. Nevertheless, Instagram proved to us that when you have a perfect product, flawless service, and create something outstanding, your followers will share this with pleasure.
UGC is power! Have a look at those customers who often engage with your brand. They are already loyal to your brand and can become the most honest influencers you've ever collaborated with. In addition, put your soul into building good relationships with your team. When multiplying devoted customers by devoted employees who appreciate their company, you'll get a magic combo – the most dedicated influencers!
What types of campaigns rock in 2021?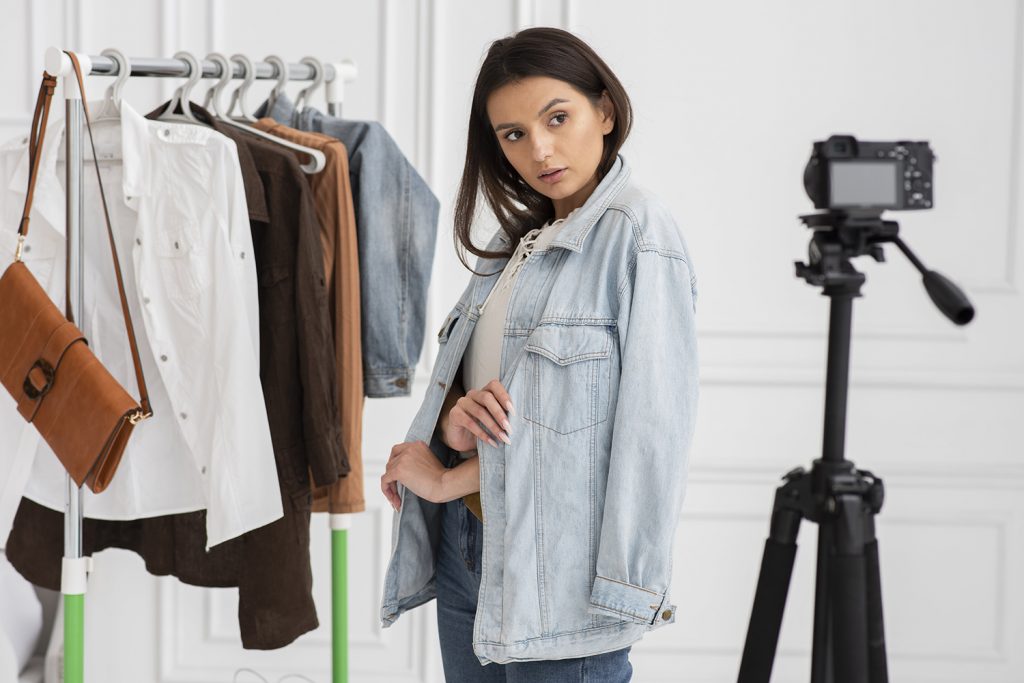 2021 is quite an unpredictable year in general. However, this unpredictability didn't strongly affect influencer marketing. It remains an effective tool that brands adore and actively implement within their strategies.
Let's find out influencer marketing trends of 2021 and what kinds of marketing campaigns with the aid of opinion leaders are the most popular among brands now.
Giveaway
https://www.instagram.com/p/CCDEQTOJ493/?utm_source=ig_web_copy_link
The camp of Influencers divided into two parts: those who are fans of giveaways and those who are strongly against them. Anyway, this form of interaction with the audience is still alive, and it still works. Brands provide a free product, and influencers conduct a competition on their behalf.
It's true that giveaway has nothing in common with organic promotion. People start following this or that account because they want to get something for free. After the announcement of the results, they usually unfollow and are interested neither an opinion leader nor a brand who sponsored the giveaway.
Nevertheless, there is a chance to retain people after the giveaway if you manage to excite their curiosity with cool content/product/service.
Sponsored posts
As I have already mentioned, sincerity is one of the core values that is rated highly by the Instagram audience now. Therefore, sponsored posts are in trend now. Influencers do not conceal that he has been paid for the publication. They mention it in the caption with #ad, #sponsored, or in the line where the geolocation is marked – "paid partnership with (brand name)".
Followers are normally fine with such posts because all is transparent and honest, that's why they are not out of date in 2021.
Personal Stories & Social Media Mentions
Followers are interested in the personal life of social media stars. They want to know how this or that person copes with problems, overcomes difficulties, achieves success. Personal details really attract and make people switch on the sound in Instagram stories and read the text to the end. Brands have become proficient in using this trick to promote their products and services. How does it work? An influencer shares a personal story and inserts mention of the brand. It's important so that the narrative look organic and honest.
Affiliate links and discounts
People adore promo codes and discounts. To pamper them, brands collaborate with influencers and turn them into affiliates. Each affiliate receives a unique link to promote the offer in his Insta blog. No matter whether it is a product or service, an influencer should show that he uses it himself and can boldly recommend it. Opinion leaders usually place affiliate links in Instagram Stories, and rarely in BIO.
This type of advertising is beneficial for all parties: followers get a discount, an influencer gets passive income from each sale, brands get more customers as well as can easily track the performance of an influencer.
Personal visit
This kind of influencer advertising will suit any brand that works not only online but has offline points of sale. No matter whether it is a department store, hotel, restaurant, university, museum – invite an influencer to visit your place, and treat him as the most welcome guest. When an opinion leader is physically in contact with your brand, it arouses more trust among followers. If he tastes your dishes, sleeps in your hotel, tries on your clothes, or just takes pictures in your interiors, it will work in your favor.
5 things brands need to consider before they start working with influencers in 2021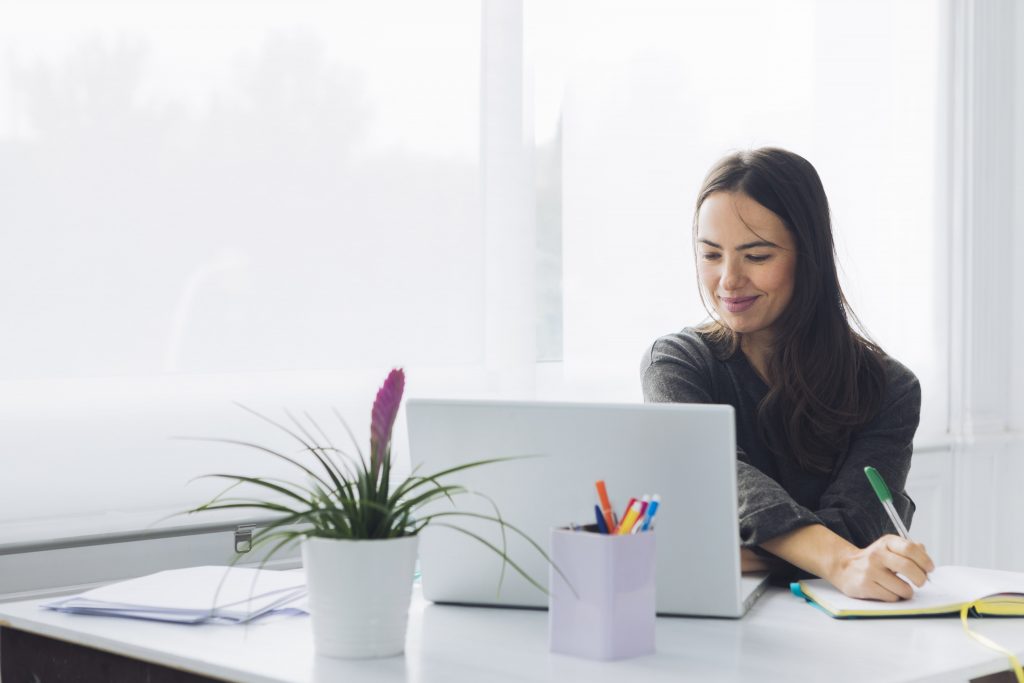 It happens that brands choose influencers for campaigns on the basis of personal fondness or because they are in good relationship with a chosen opinion leader. This method of selection is close to failure. Have a look at 5 major things everyone should take into account before he starts working with influencers. The success of your future campaigns hinges on them. Without exaggeration.
Define the goals and KPI for your campaign
It all starts with goals and KPI (Key Performance Indicator). Explain to yourself what you want to achieve with the aid of this campaign and how you will measure your success.
Perhaps, at first glance, it seems that all campaigns are similar. Experienced marketers know that the goal to increase brand recognition and the goal to reinforce loyalty, for example, are two distinct from each other stories with different messages and even influencers. Having figured it out, all will become clear.
Outline rough content ideas
As soon as you decide on the goals of the campaign, start making up. You need to jot down some ideas before searching for influencers.
At the stage of selecting opinion leaders for your campaign, a rough copy of ideas for further content will help you focus on those people who your aesthetics and ideas match with. It's also necessary to note that your content should harmoniously fit in the theme and style of the opinion leader's account. Think whether it will be a product placement, adverts in Instagram Stories, video promotion, etc. As soon as you begin to communicate with the influencer, he can offer his ideas regarding content and its presentation. However, this does not exclude that you should be prepared too. You'd better get ready and refine your ideas in the process than blindly accept all that someone else offers.
Check opinion leaders
It happens that marketers are in a hurry to launch a campaign as soon as possible. Deadlines are on fire, and they need to have things done for yesterday! In such a rush, they randomly choose social media stars based on the number of their followers and nothing more. Such a strategy will not lead to anything.
It's vital to check influencers from A to Z. The number of followers is not the deciding factor anymore. You need to take into account such metrics as a quality audience, audience, location, ER, etc. Opinion leaders provide their stats themselves. However, this does not negate the importance of checking them using special tools.
trendHERO service offers 90+ metrics for checking any Instagram profile. You need to enter the nickname of the Instagram blogger, and the service will analyze him. Pay attention to the audience type – the percentage of real, suspicious accounts; distribution of likes among posts; types of comments, audience interests, etc. All these metrics will help you choose the right influencer who has your potential customers at his disposal.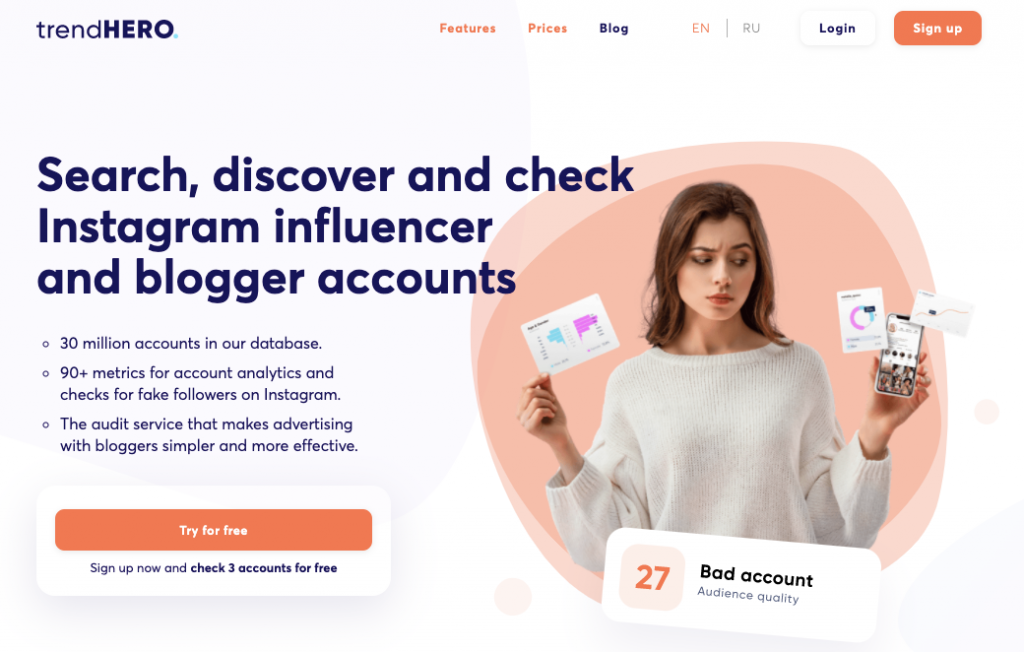 To hold a successful influencer marketing campaign, follow a simple rule: "Trust but check!"
Go off the beaten track
Influencers are creative people and mostly prefer to be free in their actions. What does it mean? Allow them to offer ideas and then brainstorm together. They know better what kind of content their audience will warmly accept and remember. You know the message you want to convey. At this stage, you play for one team, and can come up with something really cool!
Do not limit yourself and unleash your imagination. Traditional forms of advertising are not perceived anymore that's why boldly go off the beaten track, and create extraordinary campaigns to leave the mark in the memory of people.
Define the budget
Influencer marketing is quite an expensive type of advertising. Most of the social media stars have fixed rates. Nevertheless, the price can be calculated individually based on the type of content you want. It's important to outline the budget you are ready to spend on the influencer marketing campaign. It will help you filter out too expensive bloggers right away if they do not fit in your material resources.
If you want to know how much it costs to hire an influencer in 2021, read this blog post with specific examples of opinion leaders' rates.
Is influencer marketing the right choice for my brand?
Influencers are so creative that can put any brand in a favorable light. At first glance, it seems that they advertise only beauty products, fashionable clothes, and expensive hotels. In fact, that's not so. There are a lot of opinion leaders in various niches. Chances are high that you will manage to pick someone for your brand.
You should always remember what social media your target audience use. Do not choose Instagram because it's trendy, and most opinion leaders prefer to work there. Think strategically and logically to benefit from the influencer marketing campaign.
What is more, always remember that none of the opinion leaders will risk his reputation and audience trust. Thus, if your product or service is illegal, forbidden, harmful, fake, influencer marketing is not the right choice for your brand. It is unlikely that someone will undertake to advertise shady stuff. In addition, there are quite a lot of restrictions on social networks regarding prohibited categories of products and services.
If your brand is trusty, honest, open, go ahead and reap the benefits of influencer marketing!
Conclusion
The secret of mutually beneficial cooperation between brand and opinion leaders always depends on trust and a clear understanding of the goals within the influencer marketing strategy. Influencer marketing trends and best practices show that this type of advertising is thriving. If it is not part of your strategy yet, then it's time to start. And here the fun begins!