Instagram is one of the fastest-growing social media platforms. In 2021, its number of active monthly users is expected to be over 117 million. The competent use of the platform as a marketing channel can boost your sales by 20-80%. But to make sure your project is growing, you have to track the most important Instagram metrics. This way, you can ensure a comprehensive approach to your business on the platform, delegate tasks, and reach your marketing goals.

We've collected all Instagram KPIs that will help you to assess the effectiveness of your work. This information will be useful both for experienced SMM specialists and beginner bloggers.
Why do you need to track Instagram metrics?
What you can't control, you can't improve. This is a golden rule for just about anything, not just business. Including Instagram marketing.
There are several reasons why tracking Instagram metrics is important:
It helps to assess the quality of your profile performance. Let's say your brand makes custom furniture in Philadelphia. First, you posted photos of high-tech kitchens and sometime later, started posting your brand-new classic creations. Now you want to know which style got the best response. For this, you look at each post's statistics and evaluate the metrics they offer. This would be an adequate assessment of your audience's preferences.
It helps to evaluate your marketing campaign and/or promotion effectiveness. Logic suggests that competent promotion and marketing make your numbers go up. If that doesn't happen, maybe you should introduce some changes to your marketing strategy.
It's useful for creating a content plan and planning thematic content. For example, let's say written content doesn't collect as many likes as visual content. More often than not, Instagram's audience doesn't like to read. But if your article is really useful, it'll get saves, which is even more important than likes. At the same time, some funny content will collect lots of comments and likes. By analyzing your audience's reaction to various types of content, you'll be able to outline a content plan to achieve your goals.
It helps to choose the right influencers to advertise with and evaluate the effectiveness of these partnerships. The majority of brands benefit from partnering with influencers to promote their products and raise their brand awareness. But choosing influencer partners at random means risking your budgets. To make sure you choose the right people to collaborate with, you analyze and track their profile metrics. This helps to make sure their target audience is similar to yours and that you'll get the response and the sales you need.
It helps you to learn from other people's mistakes and adopt great ideas. There's a treasure trove of useful information you can get by tracking the profiles of your competitors. Learning from their mistakes will help you avoid any on your part. Adopting some of their great ideas might give your business a great boost.
Each metric you track displays feedback from your followers and other users. It lets you understand how they react to your content and what you need to change to improve your strategy.
The most important Instagram metrics
So as you see, Instagram metrics tracking and their optimization are what successful social media marketing is based on. But there can be dozens of metrics to monitor. Which ones of them should you pay attention to first of all?
Here are a few important metrics and the way you can analyze them using trendHERO reports.
1. Engagement rate
Engagement rate (ER) is one of the major metrics you need to keep track of on Instagram. It's what significantly affects your posts and Stories' ranking in the main feed and on the Explore page.
Basically, engagement is a combination of all reactions to your content (likes, comments, shares, saves). Engagement rate is the ratio between these reactions and your follower count.
You can calculate ER for each of your publications or the general profile ER over a certain period of time. Calculating ER for separate posts is useful to understand what kind of content seems appealing to your followers and what kind is better to remove from your content plan. The general profile ER metric will help to evaluate the quality of your profile management and understand how effective your chosen marketing strategy is. What's more, the ER metric shows how authentic your (or someone else's) following is.
There are multiple algorithms to calculate the ER. One of the most common is this:
(comments + likes+ saves) / number of followers * 100%
The higher the follower count, the lower ER is. For an account with 10 000 followers, 7-15% ER would be normal. For an account with up to 30 000 followers, it's 5%. For all profiles with higher follower counts, 3% is a good value. 1.1% ER is quite ok for someone who has 100 000 followers and more.
Here is how the engagement rate is displayed in trendHERO reports: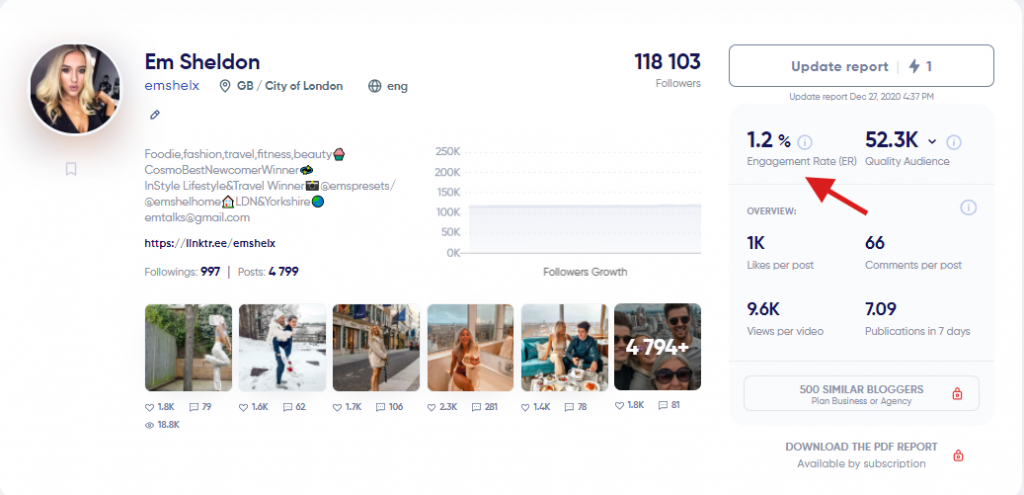 Em Sheldon, a beauty, fitness, and travel influencer has a little over 118k subscribers. For this kind of follower count, the ER of 1.2% is quite decent.
2. Audience growth
The audience growth metric shows the information on how many new followers subscribed to a certain profile over a certain period of time. It's an important metric you should constantly monitor. If there's no growth and too many profiles stop following you, there's a chance of getting shadowbanned, which means your posts will stop showing up in the main feed and Explore page. On the other hand, sudden spikes in followers often mean the profile owner acquired fake followers or used some mass following techniques.
The trendHERO report shows that Em Sheldon's follower growth seems to have been quite stable:

This, however, looks like a generalization of a metric. It doesn't necessarily offer every detail you need in order to have a comprehensive understanding of how and when and why your follower count undergoes any changes. This is why trendHero launched the Tracking feature. Using this feature, you can now monitor any chances in your audience growth based on various factors:
Total audience growth over time and daily changes in follower growth:

The impact of mentions on audience growth:

The impact of specific profile mentions (promo campaigns) on audience growth:

3. Audience demographics
Whether you are a business owner, an influencer, or just a blogger, knowing your audience is crucial for your account growth. In-depth knowledge of your target audience helps to create and improve an effective account promotion strategy. It's tracking this metric that allows you to generate more engaging content and attention-grabbing ads.
What exactly do you have to analyze? Age, gender, location are the basic metrics.
trendHERO analytics takes quite a detailed approach to the audience demographics. Here you can see not just followers by country and city but also followers from which location supply more likes. This information is especially useful if your business is oriented at a local target audience: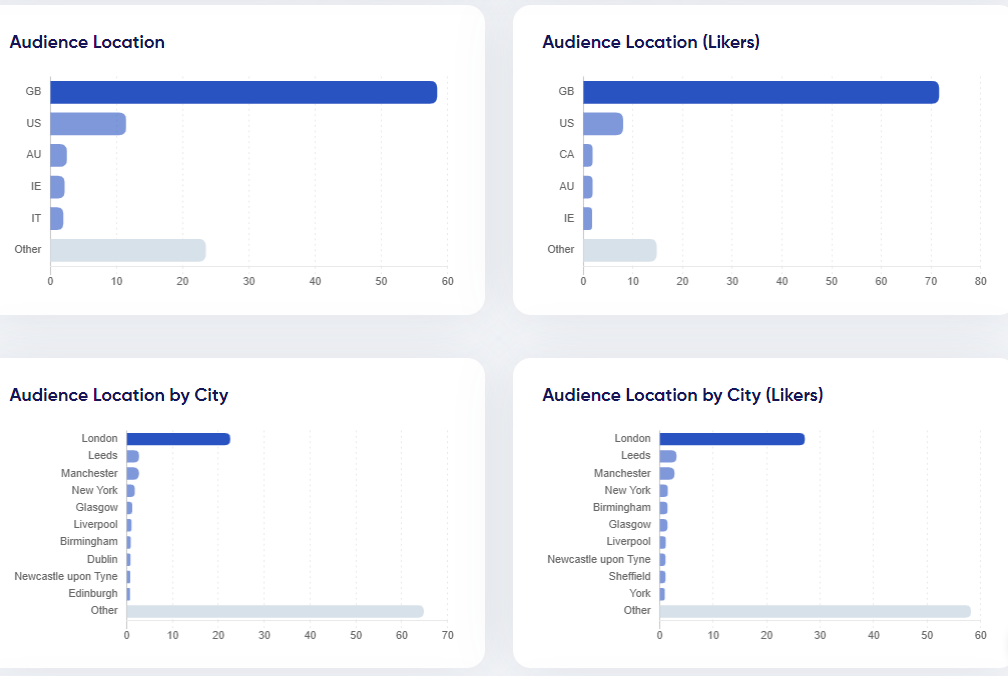 The same can be said about the gender metric. The majority of Em Sheldon's followers are female, as expected in the case of similar niche influencers:

4. Audience authenticity & quality
One of the worst things that can happen to your account is an inauthentic, low-quality audience. This kind of audience has no interest in your content, isn't motivated to buy your products, and doesn't care about your brand. What's an inauthentic audience? Bots, mass followers, empty profiles that are following yours. The more of these you've got the lower your follower activity and ER is.
trendHERO reports have a few numbers for determining your audience's authenticity and quality. Right on top of the detailed report, you can see how many of your followers can be considered a quality audience. In the case of Em Sheldon, 52.3k out of her 118k followers are quality audience: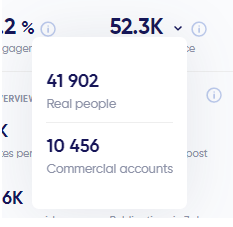 At the same time, her audience authenticity is 44%. This is not the best value for an influencer:
To expand on this information, trendHERO offer information on audience types and their percentage:

As you can see, out of 118 of her followers, Em Sheldon seems to have 44.2% of mass followers and 11.47% of suspicious accounts. This means that over half of her followers might be inauthentic. As a rule, these kinds of numbers should be red flags for brands.
5. Post rate
Number of posts over a certain period of time. Lots of publications in a short time isn't always a good thing. It usually depends on your niche and type of content but overly frequent posting might cause 'allergic reaction' and lots of unfollowers.
trendHero reports show post frequency along with the percentage of likes for these posts. This helps to see if there can be any fatigue connected to overly frequent posting, as well as what type of content users like the most:

How to access Instagram metrics
Any Instagram account is a treasure trove of useful information you can use to your advantage. All you have to do is learn how to extract it and analyze it. There are two ways to do it. One is to use Instagram's native analytics, another is to use third-party analytics services like trendHero.
How to access Instagram metrics on Instagram
Until recently, tracking Instagram metrics was possible only the off-platform analytics tools. The features of data tracking just weren't a part of the Instagram experience. Thankfully, that changed and now users can get their own basic analytics information without leaving the platform.
It should be noted, however, that Instagram Analytics is available only to those with Business accounts. Luckily, it's absolutely free and easy to do:
Go to your profile page.
Open the Settings menu by tapping the three horizontal lines in the top right corner.
Choose Settings.
Choose Account.
Choose Switch to Business Account at the bottom of the list.
Add category and business contacts.
Done. Now all views and any other kinds of activity on your account will be collected and displayed in your account analytics.
Once you get your account converted to Business, you'll have a new section in your Settings menu, Insights. You can view your Instagram Insights at any time. To do this, follow these simple steps:
Go to your profile page.
Go to your Settings menu by tapping the three horizontal lines.
Choose Insights.
After this, you can choose some specific publications you want to get stats on. Keep in mind that you'll only see the analytics for the time after you switched to Business Account.
The Insights section includes three subsections that contain basic information on your profile:
The Actions subsection tracks your interactions with your followers, your Reach, number of views, likes, and comments.
The Content subsection displays analytics on post views, Stories, and promotions.
The Audience subsection will show information on your profile visitors, their age, and location.
How to access Instagram metrics on trendHERO
trendHERO is a service that offers more in-depth analytics and is tailored for those who want to keep track of their own profile metrics or wish to find influencers for collaboration. The service analyzes Instagram profiles, checks them for inauthentic activity, and monitors promo content posted by other users.
Here's how you can access full information on an Instagram profile's metrics:
Sign in to your trendHero account.
Type (copy and paste) an Instagram profile name or link in the search bar at the top of your Dashboard:

You'll see a profile summary. It offers information on the size of your quality audience, your engagement rate, the average number of likes and comments per post, the number of video views, new publications during the last 7 days: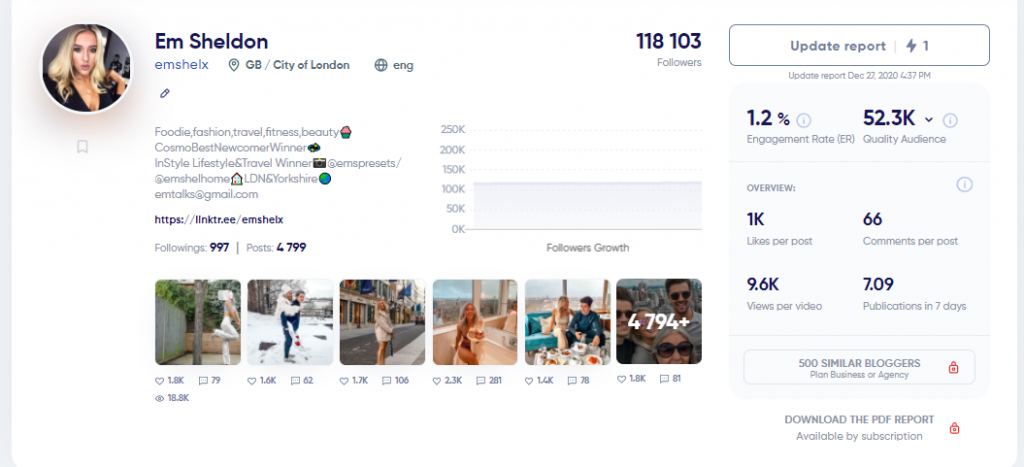 This is the information you can get for free. But in case you want to receive a detailed report, it's available on a paid subscription plan. Here's what you can find here:
Audience analytics:

Audience Reachability;
Audience Authenticity;
Average Likes;
Audience location by country and by city;
Audience Gender;
Audience Type;
Audience Interests.

Following and followers:

Followers & Followings growth;
Posts frequency and percentage of likes from followers.

Comments:

Comments by Type;
Percentage of likers and commenters with different followings.

Posts:

Likes Spread;
Top Hashtags.

Top profile mentions.
Summary of the latest publications.
You can download the report in PDF format. The trendHero metrics offer significantly more detailed information than Instagram Insights statistics. They are more than enough to understand who you are dealing with and whether they are worth partnering with.
Start tracking your Instagram metrics today
The times when you had to spend hours, if not days, collecting Instagram profile statistics to analyze are long gone. Now you can have all the information you need at your fingertips. trendHERO is a great assistant for business owners, SMM specialists, agencies, and bloggers. At trendHero, you can get dozens of metrics to track and receive all information you need for your Instagram activity and more.
The great news is you can use it for free to make sure just how convenient, user-friendly, and informative it is. Sign up for an account and check one Instagram account with all the benefits of paid membership absolutely free of charge.
Conclusion
Successful Instagram promotion is impossible without data analytics. Analyze each post you publish and generate high-quality engaging content.
The free tools offered by Instagram Insights will help you increase the effectiveness of your account and to understand what kind of audience is interested in your product or service. However, if you need a more in-depth analysis to ensure the success of your marketing campaigns, choose trendHero.
That being said, remember that it's important to not go overboard. Of course, you can't assess your performance based on one metric only. But using hundreds of metrics is time-consuming and impractical. Choose several major metrics that work for you and your business like the ones we listed in this article.
Constantly track the most essential Instagram metrics and you will be always able to take all measures necessary to increase your income.