With a potential advertising reach of nearly 850 million users, Instagram seems to be a perfect platform for marketing your business. And while the platform issues various updates on a regular basis, there is always space for improvement. It's time to arm yourself with the best Instagram tools.

That being said, the sheer number of these tools might seem overwhelming to an unprepared user. This is exactly why I've put together a list of online tools and services designed to improve your Instagram experience. The tools you'll find below will definitely be relevant for communities, personal brands, and businesses in the upcoming year.
Best Instagram tools for marketers and bloggers
Analytics
To track your Instagram account's performance, you have to analyze its metrics on a regular basis. How effective is your content? Did you define your target audience correctly? What methods do your competitors use for growth? Instagram analytics tools answer all of these questions and more.
Of course, you can always use Instagram Insights, the free in-app analytics tool the platform offers. But more often than not, the metrics it tracks simply aren't enough to get a full picture. Thankfully, there is no lack of online analytics tools that offer more detailed Instagram account statistics.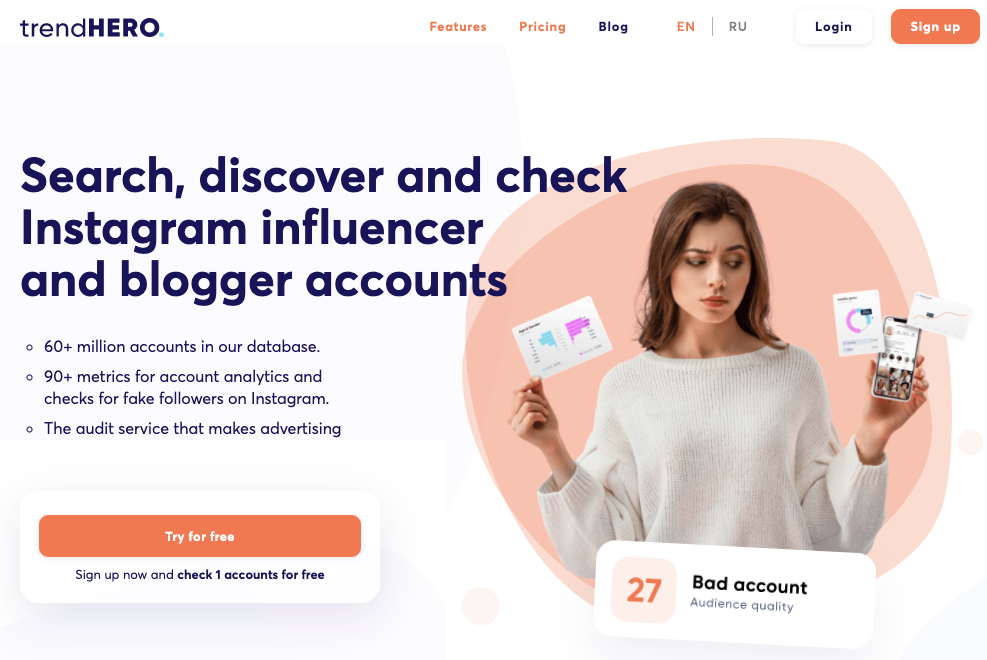 trendHERO is a handy solution for anyone who plans to partner with influencers. The service offers complete profile analytics based on over 90 metrics and can easily detect any inauthentic activity.
Apart from profile analytics, it also offers influencer search based on engagement, demographics, followers, and active accounts.
You can analyze your own account as well to check your growth and/or the effectiveness of your social marketing strategy.
To get access to all features, you'll have to get a paid subscription. However, the service offers a free trial with 1 profile check.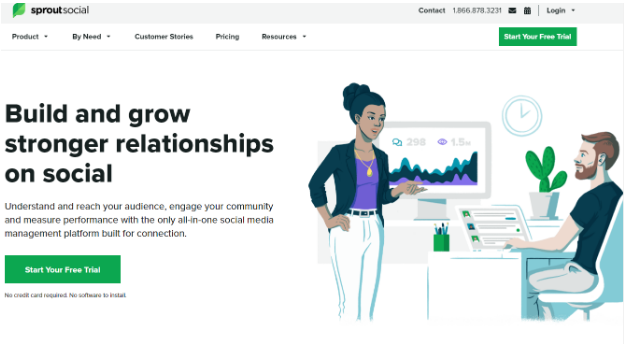 Sproutsocial is a comprehensive tool for social media analytics. It allows checking your profile performance on multiple social media platforms including Twitter, Facebook, YouTube, LinkedIn, Pinterest, and Instagram.
The service lets you analyze such metrics as:
posts by popularity;
hashtags by frequency and engagement;
engagement rate (ER);
follower profiles by activity.
To use Sproutsocial, you'll have to pay at least $99 a month. However, it does offer a 30-day free trial period to get acquainted with all the service's features and make an educated choice.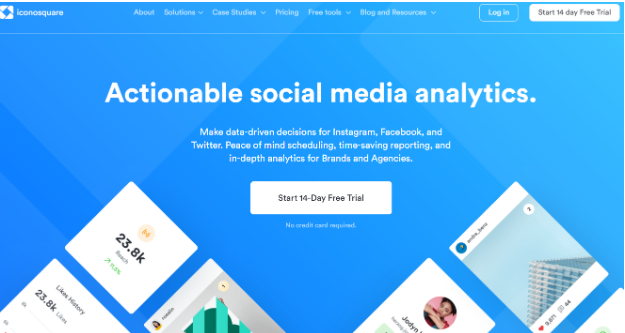 Iconosquare is one of the most well-known analytics tools out there offering profile management features for Instagram, Facebook, and Twitter accounts.
Here are some of the things this service can offer:
Expanded publication, Stories, hashtags, and mentions analytics.
Adjustable toolbar settings for those who like an uncluttered interface without dozens of unnecessary numbers.
Possibility of collecting data on several profiles at a time on a single account.
Handy post planner that accounts even for the smallest details like preferred geolocation.
In-depth analysis of your competitors' best practices (the app chooses competitor profiles automatically).
Multiple extra services like a random comment picker (great for giveaways).
Becoming an Iconosquare member will cost you at least $29. However, if you want to have a look at how it all works, you can use the 14-day free trial.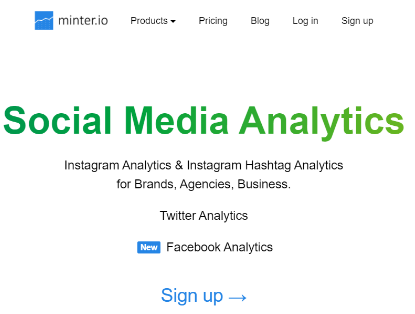 Minter.io is an extensive online service for Instagram, Twitter, and Facebook analytics. It tracks around 27 key metrics, including follower growth, follower profile details, and content KPIs. Allows monitoring several accounts at a time. The service is tailored for social media marketing professionals.
Some of the features it offers include:
audience analysis;
content optimization;
competitor tracking by hashtags;
PDF, XLS, CSV, PowerPoint reports.
You can also provide access to Minter.io reports to marketers and any other third parties.
Depending on which subscription plan you choose, it will cost you from $9 to $39 a month. There is also a 14-day free trial.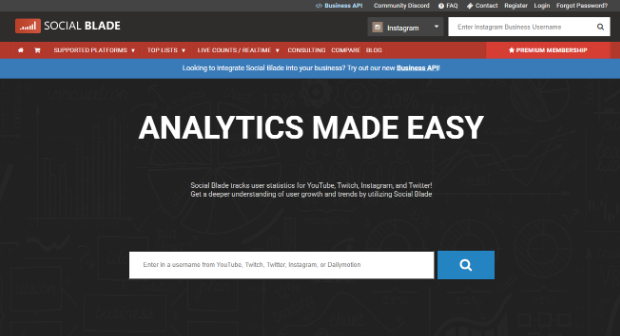 Social blade uses an advertising-based revenue model, which means that you can use it absolutely free of charge. While this is no doubt a great advantage, there are a couple of shortcomings as well. Firstly, you'll have to deal with ads. Second, it offers a rather limited number of analytics features:
profile ROI calculation;
profile comparison;
ER calculation;
profile rankings calculation.
All profile stats are publicly available. To add your own profile to the service, you'll have to do it manually.
Marketing
Apart from being one of the most popular platforms for sharing visual content, Instagram also offers amazing opportunities to marketers. However, as it goes forward, Instagram marketing gets increasingly challenging. Thankfully, there are effective tools to save time and money.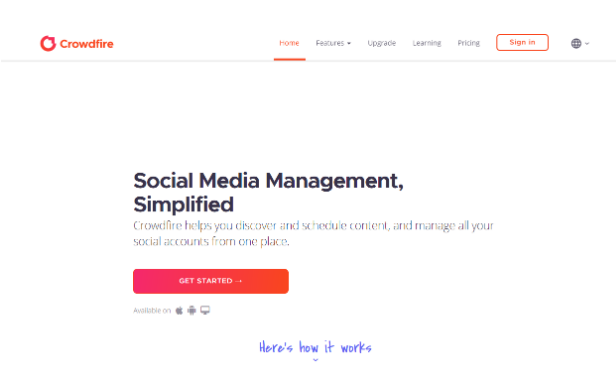 Crowdfire helps marketers to determine the best times for posting and choose the most relevant hashtags. One of the helpful features it offers is the possibility to determine your potential follower profile. The service collects your Instagram statistics and based on that data, recommends what kind of audience you should pay special attention to.
Here's what Crowdfire can do:
Publication management. The service automatically finds content that appeals to your audience and publishes it.
Clever publishing. The app creates posts based on the content you published previously to publish them at certain times.
Quick reports: account management and search for new ways t achieve your marketing goals.
Crowdfire helps you to connect with your target audience.
The service automatically unfollows suspicious profiles and helps to attract new followers.
You can use it for free, with a significantly limited number of options. Or shell out $7.48 – $74.98 for a paid membership plan.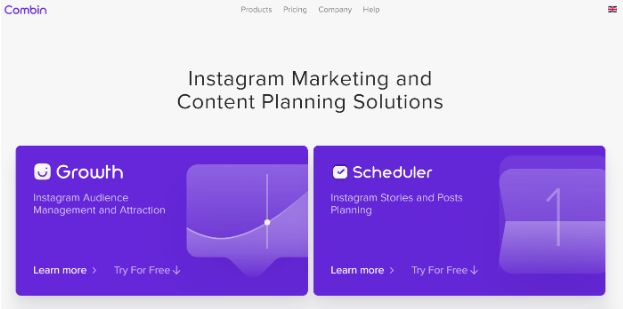 Combin allows boosting your IG profile's growth successfully and authentically by utilizing a useful set of features for searching, analyzing, and managing your target audience. What's more, the service helps to cut costs and attracts authentic followers, not useless dead weight. All this thanks to Comin's system of filtering out fake followers.
Combin offers the following features:
Accounts statistics collection for certain time periods.
A powerful search engine that helps to find target audiences and publications.
High-precision results thanks to demographic filters.
Followers management. Combing will automatically unfollow accounts that don't follow you.
Possibility of managing multiple Instagram accounts.
You can use the service for free with a Starter membership or pay $15 – $30 for a monthly subscription.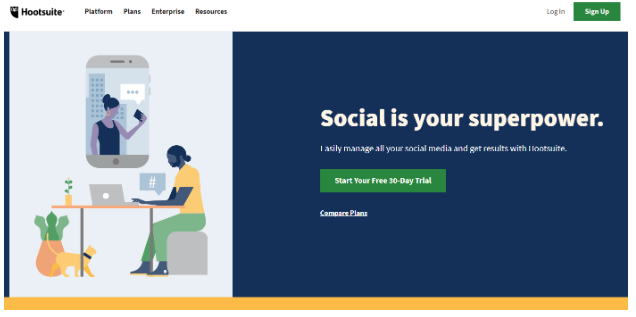 Hootsuite is a powerful social media management system designed for corporate clients. It'll help your marketing department to organize teamwork, launch campaigns on social media, track brand mentions, and assess campaign results. Manage all activity in social media by using a single Hootsuite dashboard.
This service is specifically tailored for complex tasks regarding social media and is compatible with almost every popular social network out there, including Instagram.
Hootsuite offers:
management of multiple social media accounts at once;
real-time analytics;
RSS integrations;
training and certification;
data export;
And much more.
Hootsuite subscription will cost you at least $19 a month. However, the service also offers a 30-day free trial.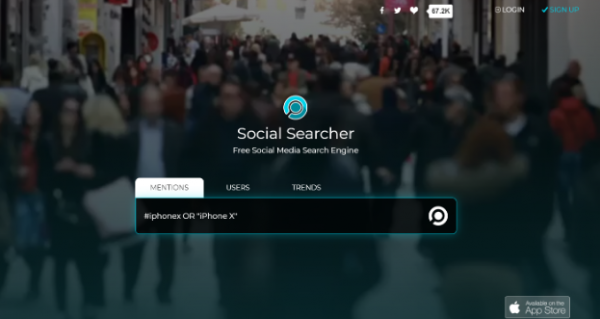 In case you want to closely monitor what people say about you or your brand on Instagram, Social Searcher is just the thing for you. This service is a social media search engine that tracks your online presence by keeping a close watch on any and all public mentions in social media and the world wide web in general.
The Social Searcher toolbar will assist you in tracking your brand mentions or certain hashtags. This includes negative feedback, which allows avoiding and preventing any negative viral activity directed at you.
You can use the service for free with 100 searches a day or pay $3.49 – $19.49 for a subscription plan.
Wishpond offers a number of marketing automation tools, including running various kinds of contests on Instagram to expand your audience and increase sales. Contests, competitions, and giveaways have long been some of the most effective tools to focus attention on your Instagram account, as well as your brand and your products. Wishpond offers an incredibly easy way to do just that.
Wishpond photo contests allow contestants to upload their photos from their Instagram and Facebook profiles or from their devices.
Make all entries include brand hashtags for maximum exposition.
Adjust user entry settings for easy entry moderation.
You can book a free demo version of the service or contact Wishpond's managers to figure out which subscription option suits you best.
Management
Whether you are a blogger, an influencer, or a brand, you probably know that no successful Instagram account would exist without competent and effective management. Unfortunately, the existing features the platform offers doesn't make account management easy, especially when there's a marketing team behind an IG account. Luckily, there are many amazing tools designed specifically to overcome this problem. Manage your content, publish it when you need it and the way you need it, and do much more with these helpful resources.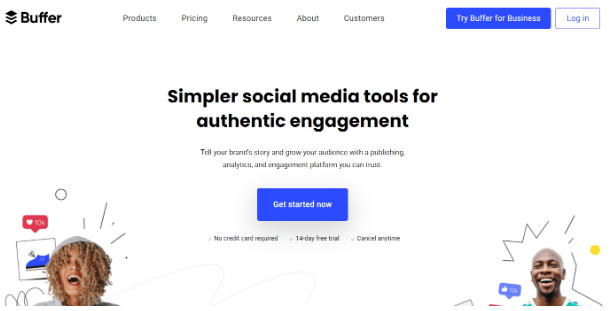 Instagram doesn't have the feature of automated posting but Buffer can help you with that. It works as your personal alarm clock by reminding you when it's time to publish this piece of content or another. What's more, based on stats collected for your account, the service will offer effective scheduling options.
With Buffer, you can:
Premake your posts along with photos, descriptions, and hashtags. You set a day and time when you want to post it and Buffer will send you a notification when it's due. All you have to do is confirm the publication and edit the post if necessary.
Work both from your smartphone and your PC (but you'll only be getting notifications on your smartphone).
Remind you to check which Instagram profile you are logged in to at the moment (in case you manage multiple accounts).
You'll have to pay $15 – $99 for a monthly subscription but if you want to do a test-drive, you can use the 14-day free trial.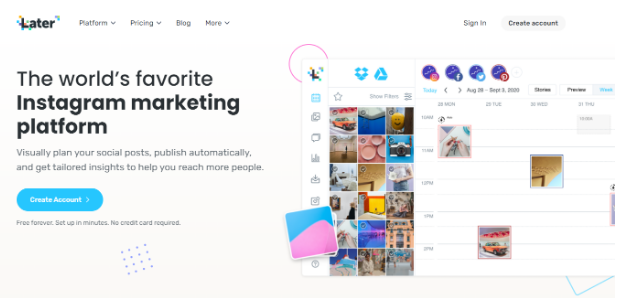 Many marketing managers love Later for a reason. First of all, it's its simple but appealing user interface. Later is a safe, feature-packed, helpful assistant for planning your Instagram posts. Thanks to the user-friendly interface, you can easily plan your posts for a week and pre-view existing post versions.
Normally, similar services publish your posts automatically but Later doesn't do that. Using Later, you can schedule your publications and design them the way you want but you'll have to publish them manually, as soon as you get a notification on your smartphone.
One of its main advantages is that you can use the service for free, which would be perfect for individual bloggers. However, if you want to get more advanced features, you'll have to pay $12.50 – $33.33 for a monthly subscription plan.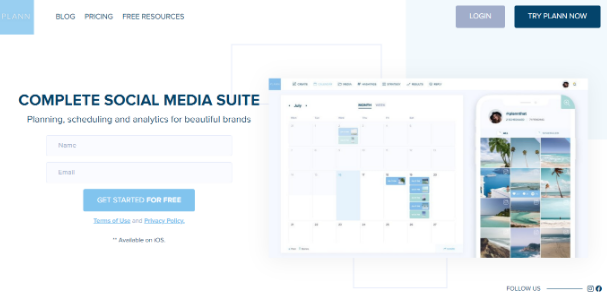 Plann, previously known as Plan Your Gram is a visual planner for Instagram that will be especially useful to social media marketing specialists who schedule multiple publications in advance.
Here's what this service has to offer:
great in-built photo editor that opens as soon as you click/tap on a photo;
possibility to add any stickers, captions, text, layers, frames, or drawings to the visual content;
you can set reminders and sound notifications for scheduled publications;
you can add publications in the Open Camera mode;
there is a Carousel option that allows adding several photos at once.
If you a blogger who plans to use Plann for Instagram only, you can use the service free of charge. For advanced options and an expanded feature set, you'll have to subscribe to a membership plan for $7 – $105 a month.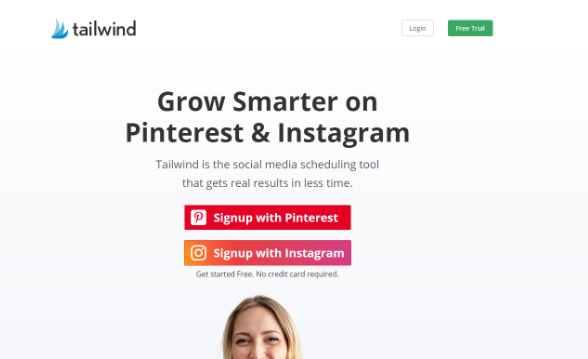 Tailwind helps to schedule your publications for weeks and months ahead. You can generate your posts on your PC; all you need for that is a visual content library. What's especially handy about it is that Tailwind lets you preview how your scheduled content plan will look once it's published in your feed.
Tailwind can:
save photos and pictures straight from websites and add them to your visual content database or even straight to your content plan;
show which hashtags in your niche are the most popular right in the post editor and add them in one click;
offer notification settings that will send you reminders about scheduled posts.
Tailwind is a paid service that has a single subscription plan that will cost you $14.99 a month.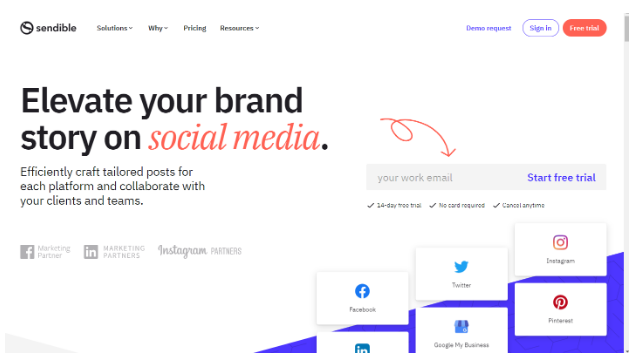 Sendible will schedule your publications ahead of time, help you choose optimal times for posting, enable teamwork, and publish content on several accounts at a time. It will even track your brand mentions on social media.
This service can:
unite all social media channels on one screen. Thanks to this, it becomes much easier to monitor the content flow. You'll notice relevant content in time and will be able to comment on it promptly;
track your reputation online. Tailwind generates statistics on positive, negative, and neutral feedback on your brand and analyzes keywords;
choose optimal times for posting based on the data collected.
What's more, you can create standalone or team content plans, save pictures to Tailwind media library.
Tailwind membership costs $29 a month for solopreneurs and $299 for large teams, with two membership plans to choose in between.
E-commerce
Instagram actively develops various possibilities to enables in-app sales. Shopping tags, hashtags in Stories, and recently – Instagram Shopping. In short, the platform already has everything to make in-app shopping as usual as liking or commenting.
Are you afraid that some of the features implemented by Instagram developers might not be enough for your online shop? Not to worry; here are some useful instruments to help you.
Soldsie lets your followers shop by commenting. It's as simple as that: they choose the product they like, post a comment with the word 'shoppable' and purchase it straight in the app (provided they already have a Soldsie app installed).
However, it's not all the service can do. Soldsie also allows you to increase the number of conversions. For this, it uses integrated Have2Have.It software to generate links for your product listings, which makes sales so much easier.
Besides, Soldsie offers conversion analytics for marketers to track the number of sales on Instagram.
The service offers three monthly subscription plans from $49 to $199 plus extra offers for those who want to use the benefits of the Have2Have.It service.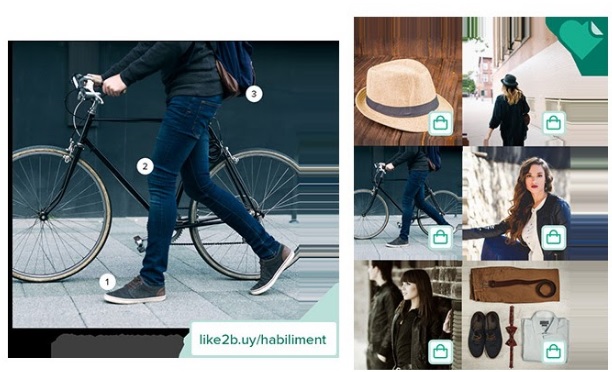 Like2Buy is an app that can turn your Instagram content into a sales item. Let's say, a follower sees something they like and want to buy it. They click on a product on a photo and get redirected to a web page that looks almost identical to your Instagram feed. That's where they can make their purchase, quickly and easily.
What's more, the app offers useful analytics on the number of clicks and profit gained from each product sale.
You can contact Baazarvoice Curalate for pricing but it's been reported that the app might be quite costly so it's better suited for well-established businesses.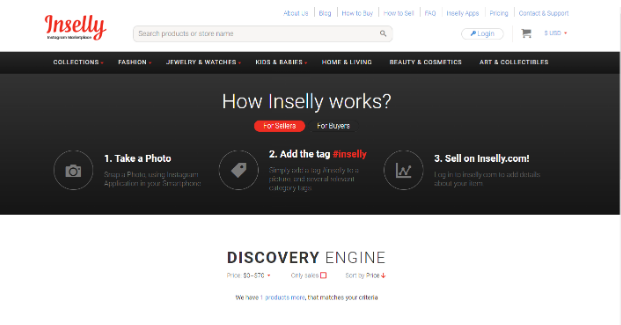 Inselly is a simple E-commerce instrument that turns your photos into sellable products with the help of a single hashtag. Just upload a photo, add the #inselly hashtag and you'll immediately inform your customers that this product is available for purchase at the moment.
You can also add some extra information on your products by logging in to your Inselly.com account. What's more, the app lets you track your sales.
The great news is that Inselly is completely free.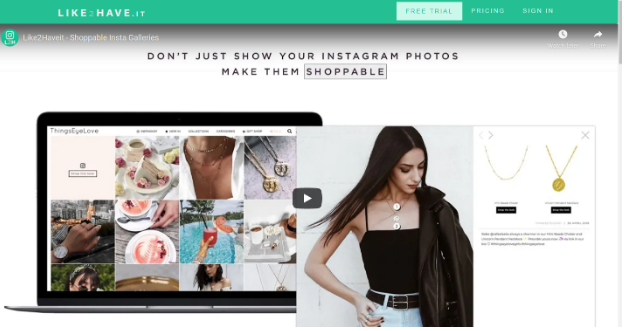 Like2Have.it is somewhat similar to Like2Buy. It makes your Instagram photos shoppable and your followers can make a purchase at your online store. All you need to do is upload product photos to your Instagram feed, add their URLs to Like2Have.It library and then sit back and monitor your sales.
Besides, thanks to this instrument, you can create embeddable merchandise catalogs with the photos of your customers.
To use this tool, you'll have to pay $20 a month.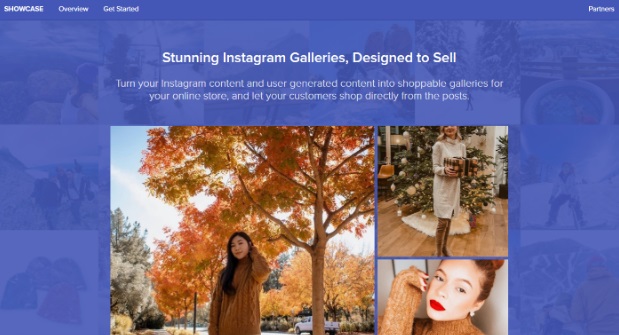 Showcase is an app that turns your online store shopping gallery into an Instagram feed. This is how it works: you add a link to your catalog in your IG bio and as soon as your customers click on it, they can see a list of products laid out exactly like an Instagram feed.
Because of this, your customers feel like they make purchases without leaving the platform.
Using a Basic Showcase account will cost you nothing. What's more, you can try all the premium features for free during a 14-day trial. After that, if you still want to continue using the premium features, you'll have to pay $39 a month.
Editing
Content is king. And in the case of Instagram, visual content is king. You might have the most awesome products ever but if your photos and videos are lackluster, you won't get many customers. That being said, content generation is only a part of a successful IG profile and you don't want to spend too much time editing photos and videos. That's when content editing apps come in handy. Create high-quality Instagram content easily, quickly, and effectively with this Instagram software.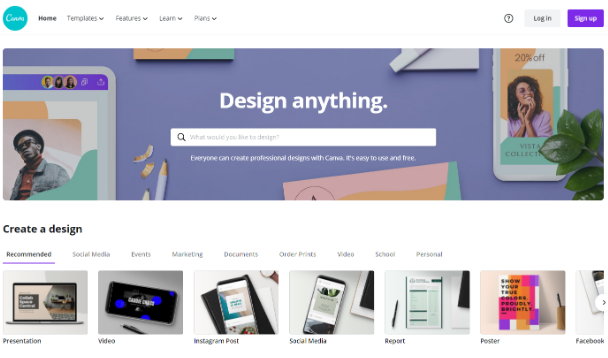 There is hardly an SMM specialist who's never heard of Canva. It's a great tool for post design and it will be especially handy if you are no designer yourself or can't hire one. Create collages, banners, logos, add beautiful captions and pictures to your photos within minutes. Use pre-made templates or add topic-related changes.
Using it is very easy. You just choose an Instagram template, add various graphic elements to it from the menu, and do some minimal editing to your taste.
By the way, it's great for editing Stories too.
You can use Canva for free, but if you would like to get more out of it, you can choose one of the two offered subscription plans for $12.95 and $30 a month.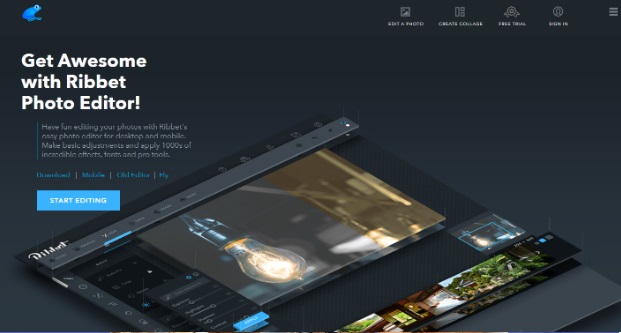 Ribbet is a photo editing app you can use both on your PC or smartphone that offers a large number of free visual effects. The app accepts files from your Instagram feed and automatically takes snapshots.
Ribbet can:
create collages and apply various visual effects;
automatically remove any defects and imperfections;
apply frames and crop images;
color correct photos and use filters.
Ribbet is free to use but in case you want to get all it can offer, subscribe for a premium membership just for $6.99 a month.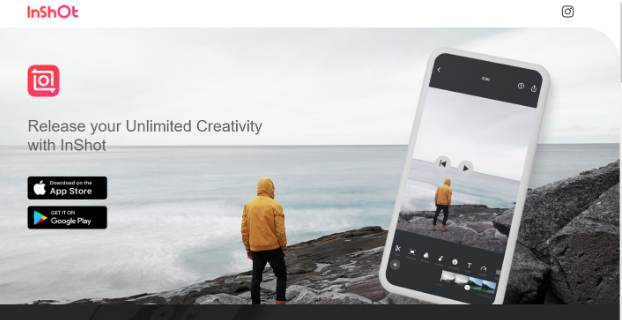 InShot is a mobile app for fast video editing on the go. This might make it not as versatile as other video editors but the great thing about it is even beginners can easily use it without getting confused. Besides the video editing itself, InShot allows creating collages and adding filters to images.
InShot can:
easily set a size for an IGTV video, Stories, or Instagram feed;
offer all basic features like cropping, cutting, and separating;
adds filters including color schemes and various effects;
includes speed up and slow down modes;
adds text and stickers;
includes volume control and music.
You can download the app for free on Google Play and App Store.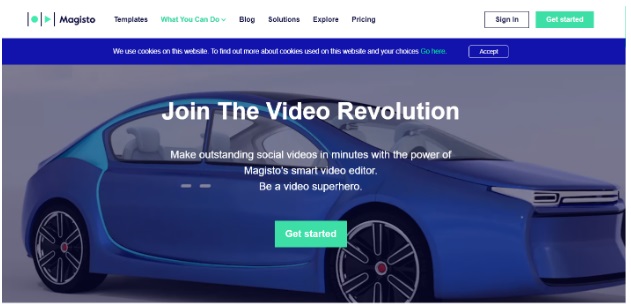 Magisto is a multifeatured instrument designed for those who like to create Instagram videos. The only thing that might seem lacking here is the possibility to upload multiple video elements at once.
This instrument is for those who want to make more than just videos. It would be perfect for small to medium businesses that want to make stunning videos and need an advanced set of features for that.
Subscribe to one of the membership plans for $9.99 – $69.99 per month or get a free trial first.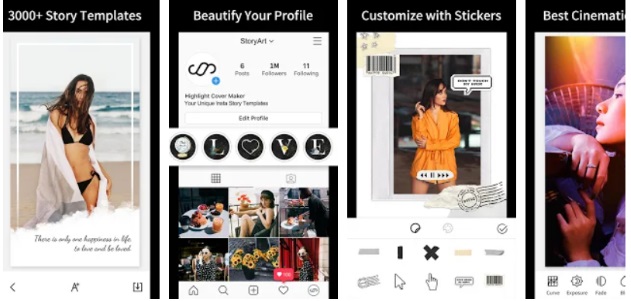 StoryArt is a mobile app for Instagram Story editing. It offers a huge number of templates to suit any taste. The app's library includes over 1000 options for Story design. One of the important features it's got is generating Highlight covers. You can choose any one out of 120 covers in the StoryArt collection.
StoryArt:
easily integrates with Instagram so you can publish Stories straight from the app;
has an in-built photo editor;
offers setting up quick access to the frequently used templates.
The app is free to download but has some in-app purchases.
Hashtag
Do you post engaging content on a regular basis, choose the optimal times for posting, and tailor your content specifically to your target audience's needs? If you do, you probably know the importance of using the right hashtags. It's thanks to them that you attract more attention to your profile, get new followers, and more engagements. It's great that there are useful Instagram tools that can help you use your hashtags even more effectively.
Hashtagify helps to search for the most popular hashtags, influencers who use them and understand the hashtag trends better. As it analyzes the data while searching for certain hashtags, the service offers current rankings, as well as weekly and monthly trends. You can also search for hashtags other influencers use. Hashtagify will generate a complete report to help you collect all your data in a single place.
The service is very easy to use and allows monitoring both your actions on the platform and your competitors'. By using the data it provides, you can quickly determine what times are the best for using certain hashtags.
Hashatgify offers 3 subscription plans, for personal use, for small businesses, and for companies, with prices ranging from $29 to $311 per month.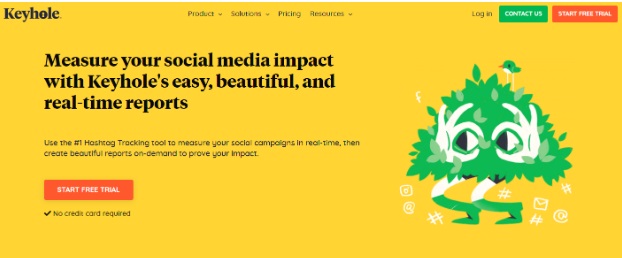 Keyhole is an online service for tracking hashtags, keywords, and users. It can easily monitor current trends in your niche, find suitable influencers, and get information on competitors. This is why it will work great for SMM specialists and businesses.
The service allows tracking posts and comments with a certain keyword or hashtags. You can find out what kind of changes your competitors introduced in their profiles. What's more, it offers all the collected data in the form of infographics.
Keyhole can:
integrate with Instagram;
track hashtags and keywords;
offer data analysis;
provide data in the form of infographics;
perform comment parsing;
archive data for uploading to third-party software.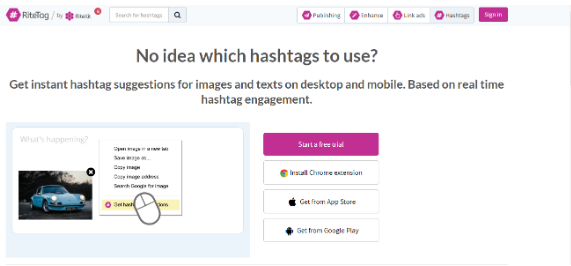 RiteTag helps to assess how popular your chosen hashtags are. The service has a massive hashtag database with detailed statistics. You can also install it as a plugin for your browser, which sometimes makes your work with hashtags so much faster and easier. As soon as you choose a hashtag, RiteTag will show how popular it is and what kind of rich it has, allowing you to make an optimal choice. And in case you are feeling lazy, RiteTag will suggest the best hashtags for your posts.
The service offers a free 7-day trial but beyond that, you'll have to subscribe to one of the several subscription plans, from $15 to $65 a month.
Tagboard is an online tool that uses hashtags to collect information published on social media. It's very easy to use considering you don't have to sign up to get all information you need. All you have to do is type a hashtag you are looking for in the search bar and view the results. However, signing up will let you integrate the service with Instagram.
You can adjust your search settings and look for hashtags by the social network or user location. There is also an option to send an automated response to all users who used the hashtag you searched for.
Contact Tagboard support team to ask about pricing options.
Link in Bio
In order to offer your customers lots of products, you need an online store. If you need to sell a single product/service to your target audience, you need a landing page. To simply tell others about yourself, provide your contact/legal information, you need a personal resume website.
But what if you aren't good at website design and don't really have time to create one? In this case, you can use a link in your Instagram bio. The good news is you don't need any special skills for this. There are many link in bio tools that will let you create your own online page within minutes.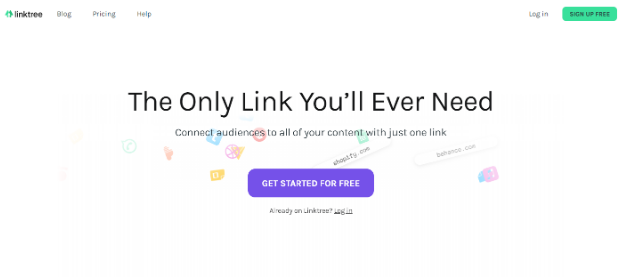 Linktree was one of the first services to offer the possibility of uniting several URLs in a single link. All you need to do is create a free account on Linktree, choose a few niches, then choose the user URL to your taste, and add it to your bio. Every time someone clicks on it, they'll be redirected to the landing page created by the service. What's more, Linkree allows you to track how many times users clicked on the link.
If you don't mind limited features and Linktree branding on your landing page, you can use the service absolutely free of charge. But if you'd like to unlock extra options, buy a monthly subscription for $6.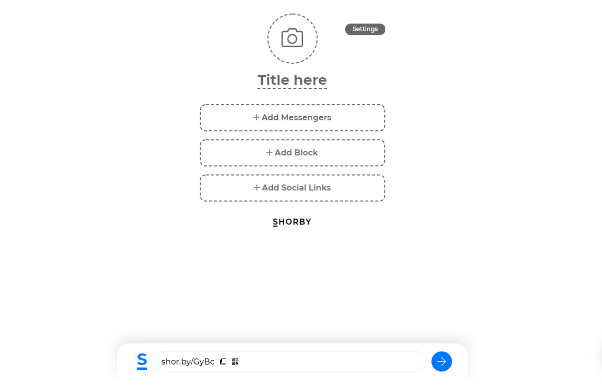 Shorby is quite a simple but powerful tool for Instagram link optimization. You can easily share all information you find important in a single neatly designed profile. This means that you can basically use multiple links on Instagram now. They just look like a single active link in your bio.
Add links and messengers, choose a style for your landing page – and then post one short link in bio.
You can also view the link analytics in real-time, track clicks, and traffic and therefore improve your Instagram promotion strategy.
Shorby is a free to use service.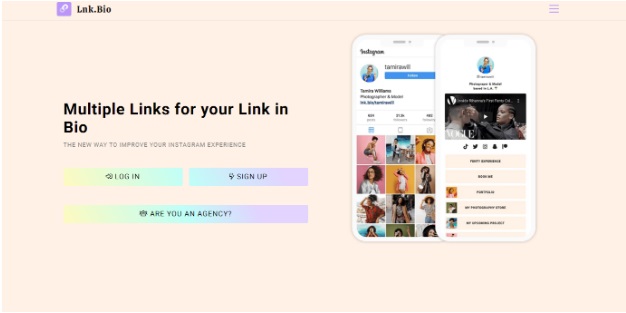 This service might seem somewhat similar to Linktree but in fact, it's quite different. With LNK.Bio, you can create an unlimited number of links for Instagram. Add as many links and contacts as you like, customize the way your personal page looks, and get a unique link to place in your Instagram bio.
LNK.Bio is available for free but you can also make a one-time purchase to have access to more features for a lifetime. There is also an option of a monthly subscription for $0.99.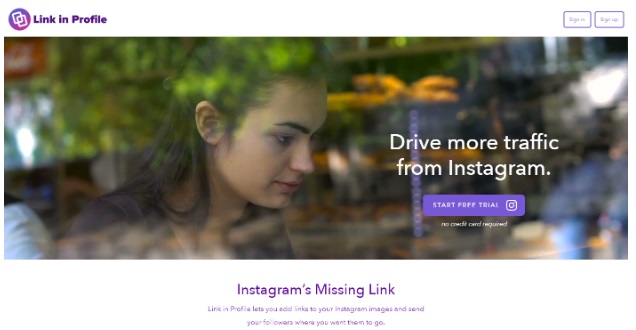 Link in Profile works differently from your standard link in bio tool. Instead of just creating a landing page with all the links you can share, it offers to add links to your photos. Once users click on them, they'll go wherever you want them to.
There is a free 30-day trial option, after which you might want to pay a modest fee of $9.99 a month to use all the service's features in full measure.
Other
Of course, various tools to manage Instagram aren't limited to the categories above. There are a great many apps, services, and instruments to help you with every aspect of your Instagram experience. Here are a few honorable mentions that don't strictly fall into any of the categories above:
Prisma – a fun app that turns your photos into what might have been one of Van Gogh's or Picasso's paintings. It might be an acquired taste but those who want to diversify their Instagram content might appreciate it.
Yotpo – this service lets you manage not only your content but also ads. Besides, it has one curious feature: you can ask your customers a question on Instagram and get them to rate your product/service/photos and videos in the form of feedback.
Repost – despite the name, reposting content isn't the only thing it can do. You can also save photos and videos to share with your followers later. What's more, the service lets you view all posts you liked. Any reposted content can be edited.
Juicer – this is a widget you can easily build into your website to direct its visitors to your Instagram profile. The widget shows your IG feed in real-time.
Squarelovin – this one will warn you about the worst times for posting and show the way filters affect your follower activity.
Intellifluence – a large network designed to connect influencers with marketers.
Conclusion
Instagram marketing gets more and more interesting. The platform keeps expanding the possibilities for those who want to monetize their online presence. However, the demand for additional tools and services doesn't seem to diminish.
Of course, there are many more Instagram tools we haven't mentioned here. However, the majority of them have similar features. You can always do your own research and choose the best tool that suits your Instagram marketing needs.