Analysis of the current situation, identification of areas for improvement, timely adjustment of the strategy (if needed) is the key to success not only on Instagram but for the entire business.
There is no doubt that analytics is an essential part of any marketing strategy. It allows you to track performance, spend less on promotion, and make the right decisions on time, based on the results.
At present, there are plenty of Instagram tools to help you keep track of your data, and improve your performance on Instagram. We have got together the best Instagram analytics tools to use in 2021 that will help you always stay in the loop of your metrics. Choose the most appropriate one for you, and embark on a data-tracking game.
Why should you start using Instagram analytics tools?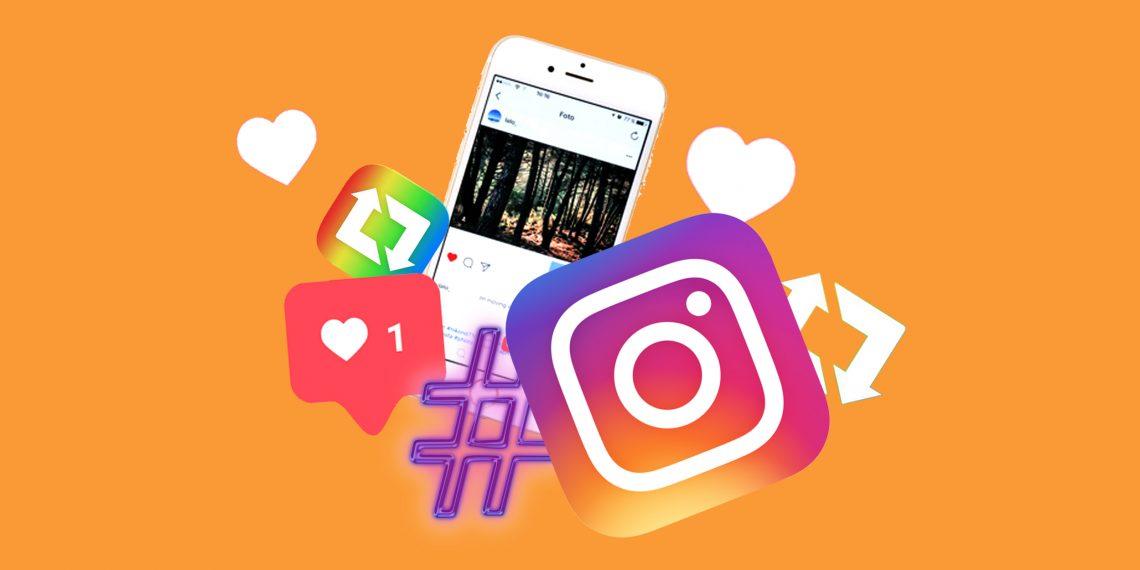 If you don't want to waste budgets (of course, you don't) but want to launch effective campaigns on Instagram and get your account to the next level, make friends with analytics tools. Why are they such a treasured gift for everyone who has a focus on optimizing the performance on Instagram?
Let's consider the advantages of using Instagram analytics in more detail, and get the answer.
Optimize effort and budget
It happens quite often that you slave at producing one or another type of content. Potentially, this content could help you sell, show your brand as an industry leader, or entertain your target audience. However, it brings you nothing.
If you use Instagram analytics tools, you can clearly see what triggers a reaction from the audience and what is of no interest. It saves you from wasting time, effort, and money on irrelevant content.
Therefore, you can shift your budget and endeavor towards those types of content that perform the best, and get the desired result in the form of shares, likes, comments, etc. Posting content for the sake of content is nothing short of useless attempts to throw it against the wall and hope it sticks! Believe us, it won't.
Get to know your target audience
You can't hit a target if you don't know what it is. Instagram analytics tools will assist you in studying deeply your target audience, and convey brand messages so that they are remembered.
Using such instruments, you will know your audience's gender, age, location, interests, activity by day and hour, and so on. It will greatly help you speak the same language as your people and adapt to their lifestyle. As you can't be everything for everyone, you need to find what value and for who you can bring.
There are various points of view about this matter. Some marketers say that you can't get anything useful analyzing competitors while others disagree with them. Truth is somewhere in the middle. You don't need to examine your competitors under a microscope but you also can't completely ignore their existence. They are likely to have had ups and downs that you can learn from and turn to your advantage.
Analytics tools for Instagram can help you understand how to prevent your company from failures, what to make focus on, and how to stand out from the competition, in general. If you want to surpass your colleagues, keep an eye on their metrics, and you will never fall behind.
Trust but check. Folk wisdom says this, and also marketers who once wasted their budgets on influencer marketing. Being an alluring prospect, influencer marketing gave birth to many artificial influencers. They buy fake followers and comments from bots, and then sell themselves to brands for exorbitant sums.
It's vital to check influencers before embarking on a collaboration with them. Instagram analytics tools are that very instruments you can't do without in this case. They will provide you with all the necessary data. All you have to do is just be attentive and be able to figure out what metrics are in the norm and what are not.
One of the crucial advantages of Instagram tools for analytics is that they usually provide you with all metrics you need for deep analysis. You don't need to rush between various platforms to see a full picture. Basically, there are a lot of charts, graphs that clearly illustrate the dynamics of followers growth, ER of your Instagram account, the rate of getting likes, stats of your posts, mentions by other people, etc in these tools. The fact that all metrics are in one place simplifies and speeds up work.
In addition, analytics tools make it possible to download the PDF report with all the metrics. It's comfortable for monthly benchmarking or for providing reports to management if needed.
20 Best analytics tools for Instagram you need in 2021
We have just cleared up that analytics tools are indispensable when you want your Instagram account to perform well. And now, without further ado, let's take a look at the best Instagram analytics tools. You can safely delegate the analytical scope of work to any of these 10, and rest assured that any of them will handle great.
trendHERO
trendHERO is a great tool for searching and analyzing Instagram accounts. This service can safely boast of detailed analytics followed by in-depth reports. Providing over 90 metrics, trendHERO is a full-fledged Instagram analytics tool without exaggeration. You get audience analytics (gender, location, interests, language), percentage of real, suspicious, commercial followers among the audience, ER of the account, the number of average likes, comments per post. There are also charts that provide followers analysis where you can also see how followers grow.
Using trendHERO, you will be also able to see the likes spread between posts, top hashtags, top mentions in this or that account, and lots more.
In addition, you can search for influencers for collaborations as well as check them straight away in one place. trendHERO has an eye-pleasing and user-friendly interface.
Price: there are different packages with a specific set of features, and various prices (from $9.99/mo to $99.99/mo). Check current prices here.
Keep in mind: sign up and get 1 check for free.
Keyhole
This tool is mainly known for its real-time Instagram hashtag tracking feature. When you conduct contests, or brand campaigns involving hashtags, it will be easy to assess the effectiveness. Keyhole also provides hashtag historical reports. It means you can get data about your previous campaigns. In addition, Keyhole monitors trends, analyzes the engagement of publications, suggests an optimal time for posting, etc.
Price: from $49/mo to $99/mo depending on the package.
Supported platforms: Twitter, Instagram, Facebook, YouTube.
SocialPilot

SocialPilot is a social media marketing tool that assists people at every step: from publishing posts to analyzing their performance. When it comes to Instagram analytics, SocialPilot provides data for hashtag and Stories performance, audience demographics, reach, website clicks, etc. One of the distinguishing features of this tool is that it can generate analytics reports for periods of 7 days, 15 days, 1 month, and 3 months.
Price: from $25.50/mo to $85/mo depending on the set of features.
Supported platforms: Instagram, Facebook, LinkedIn, Twitter, Google My Business.

Iconosquare
Iconosquare tool is one more tool to make your Instagram analytics process easier. Using this platform, you will be able to get such metrics as impressions, engagement, follower stats your posts' and Stories reach. Iconosquare also allows to track hashtags and competitors within Instagram. Besides Instagram analytics, this platform offers other cool features such as scheduling new posts and monitoring the mentions about your brand, or the industry.
What is more, there is an opportunity to check whether your Instagram and Facebook profiles are well-optimized using Instagram audit and Facebook audit tools for free.
Price: $29/mo billed annually, or $39/mo billed monthly within the Pro plan; $59/mo billed annually, or $79/mo billed monthly within the Advanced plan.
Keep in mind: 14-day free trial, and no credit card required.
SocialRank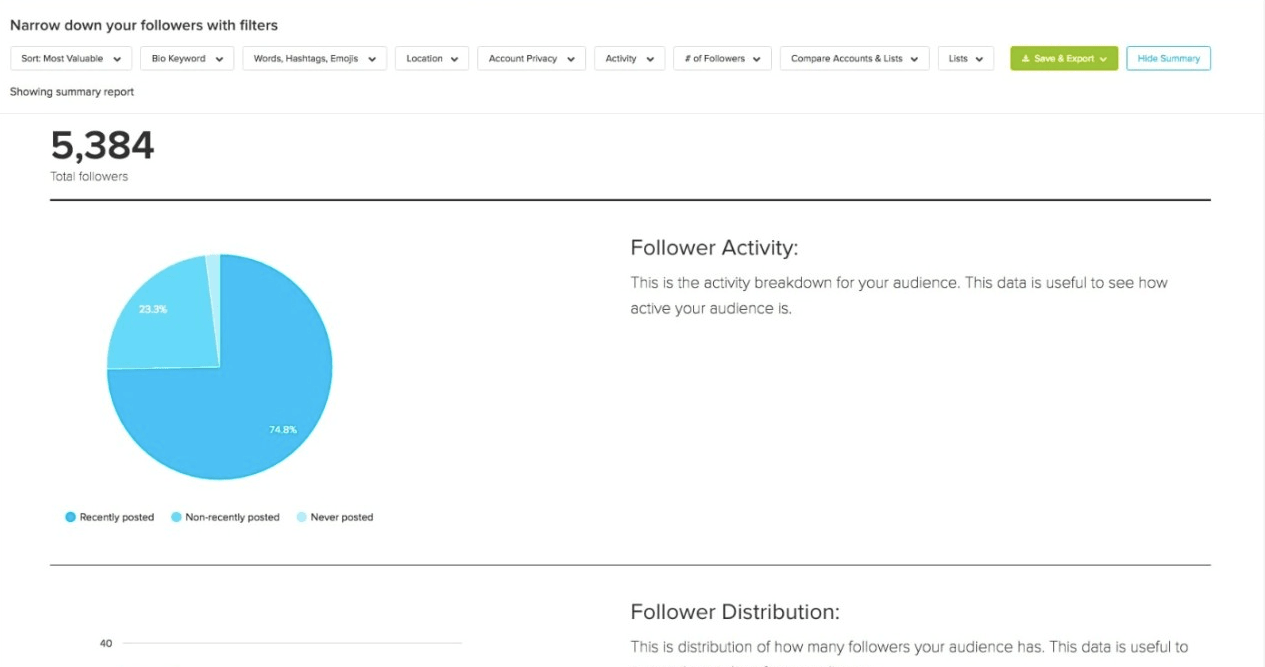 This tool is geared toward analyzing followers on Twitter and Instagram. In a word, it is a good solution when you are interested in getting follower analytics more, than in analysing the posts, or the account, as a whole. You will be able to find Instagram followers based on bio keywords, hashtags, and also figure out who engage with your brand the most among your followers.
SocialRank is also used for comparison with competitor accounts as well as getting data for targeting and searching for influencers.
Price: $9.99 per month, or $99.99 per year within the Basic plan; $19.99 per month, or $199.99 per year within the Premium plan.

Union Metrics
Union Metrics is a powerful tool for Instagram, Facebook, and Twitter analytics. This instrument gives you insights on the most dedicated followers, top hashtags, average post engagement. Within Union Metrics there is a separate section with recommendations: when to post, what hashtags to apply, what messages your audience actively reacts to etc.
In addition, Union Metrics offers a free Instagram analytics checkup to see how your account is performing and identify areas of improvement.
Price: from $49/mo to $199/mo.

Socialbakers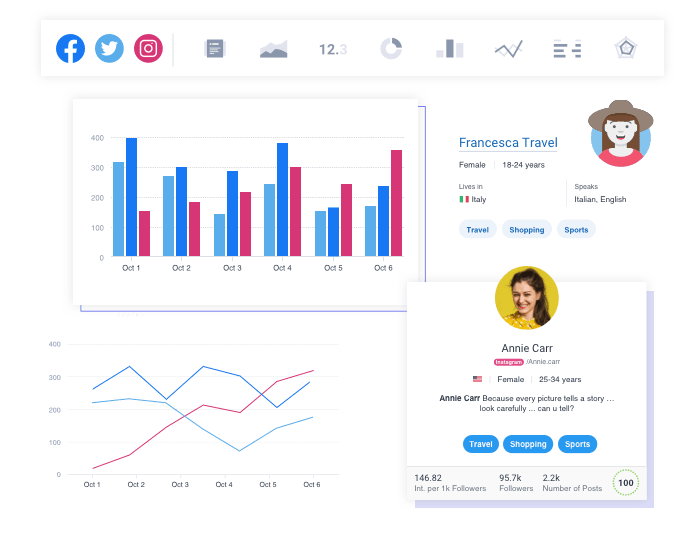 When it comes to analytics, one of the key features of Socialbakers is a competitive analysis. Besides this, Socialbakers offers all the necessary data you aspire to get: most liked and most commented on posts, best-performing filters, publications distribution per month, most tagged accounts, etc. Within the tool, you can create your own dashboard that is also a great advantage.
In general, Socialbakers is a robust and fully-fledged marketing instrument that can help you with research and planning, content strategy, customer care, and lots more.
Price: from $200/mo billed annually for 10 profiles.

Sprout Social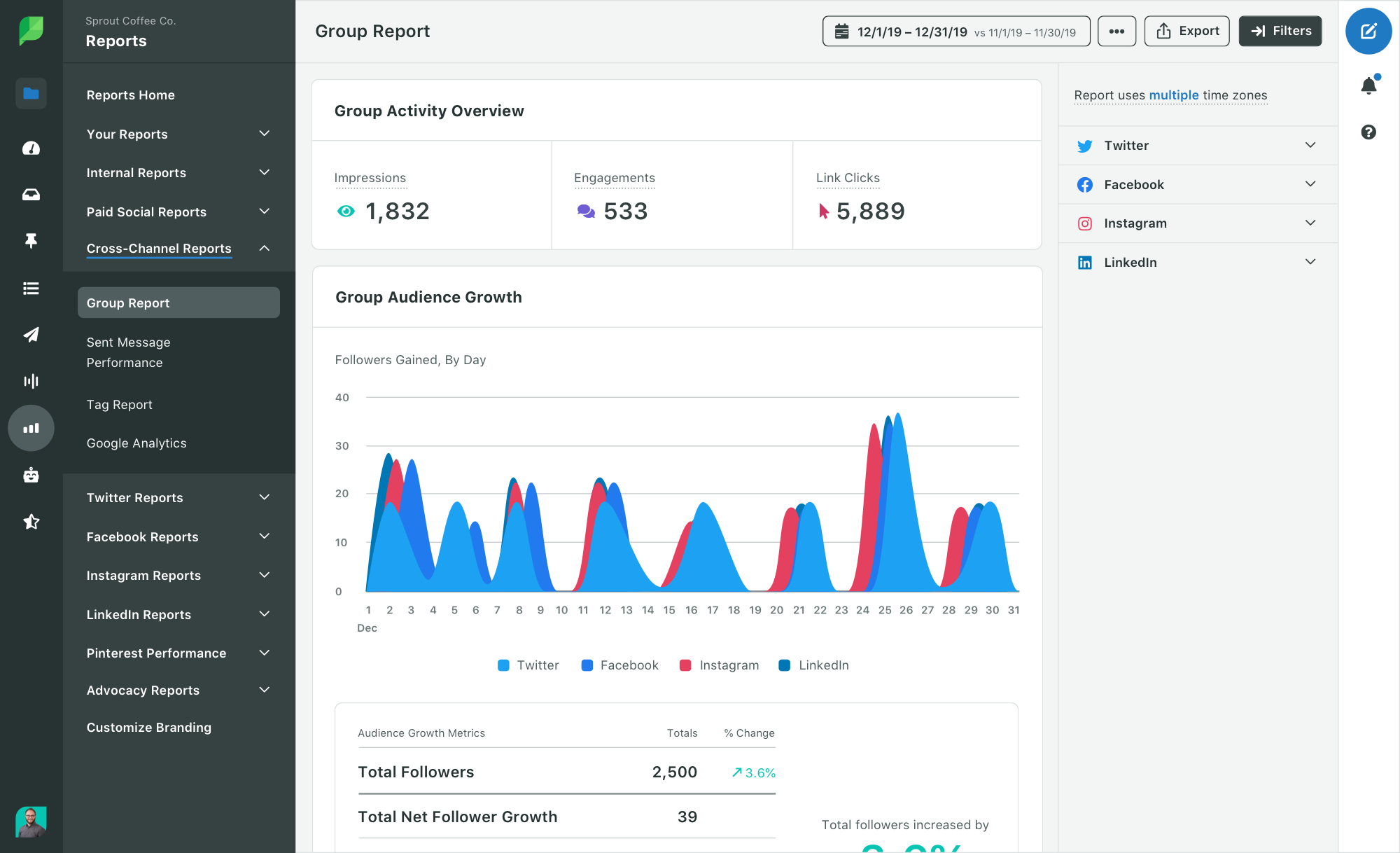 If you were looking for one platform to schedule, publish, and track analytics for several Instagram accounts, here it is. Regarding the analytics, Sprout Social provides a gazillion metrics: clicks, saves, and replies in Instagram Stories, in-depth analytics of posts and an account overall. You can also track content performance, competitor data, trends in hashtag usage. What is more, you will be able to compare campaigns as well as track data across set time periods.
Price: from $99/mo to $249/mo depending on the package.
Please note: a 30-day trial for free.

Later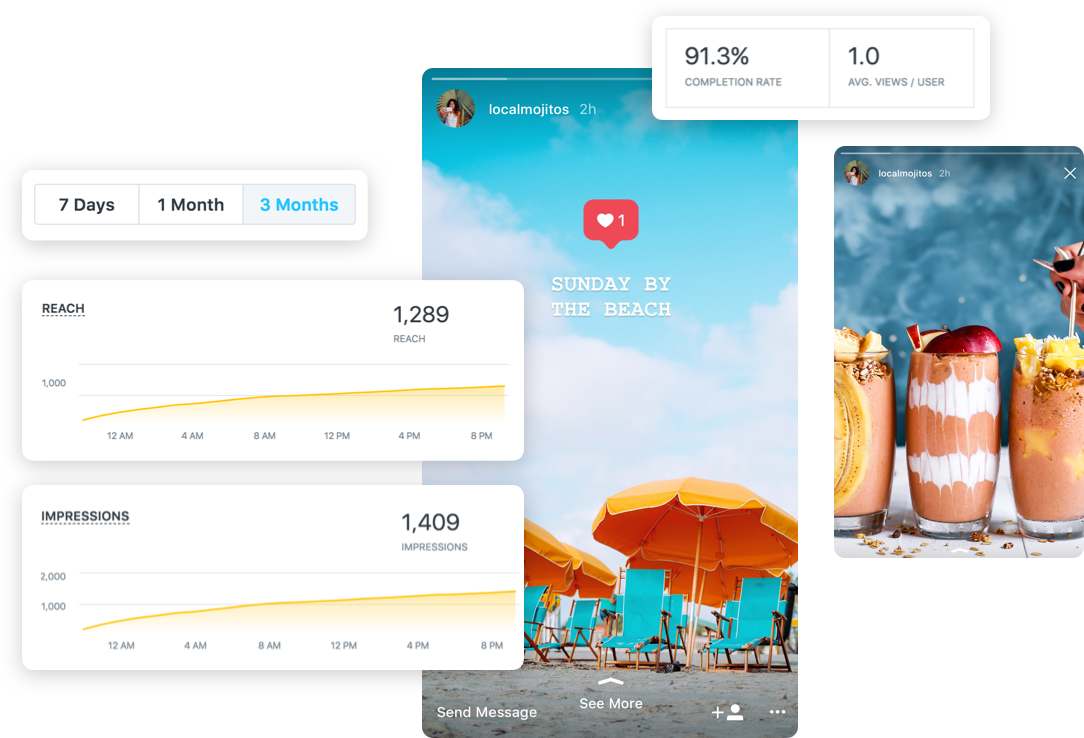 Here is the ninth great tool to delve into Instagram metrics. Later provides all the crucial data: post ranking by ER, calculation on best posting times, Instagram Stories analytics (impressions, reach, completion rate, reply count), followers analytics, etc. One of the hallmarks of Later is its Linkin-bio feature. It allows you to link your Instagram posts to specific URLs, and track clicks, page views, and click-through rates.
Price: from $12.50/mo to $33.33/mo billed annually depending on the package.

Squarelovin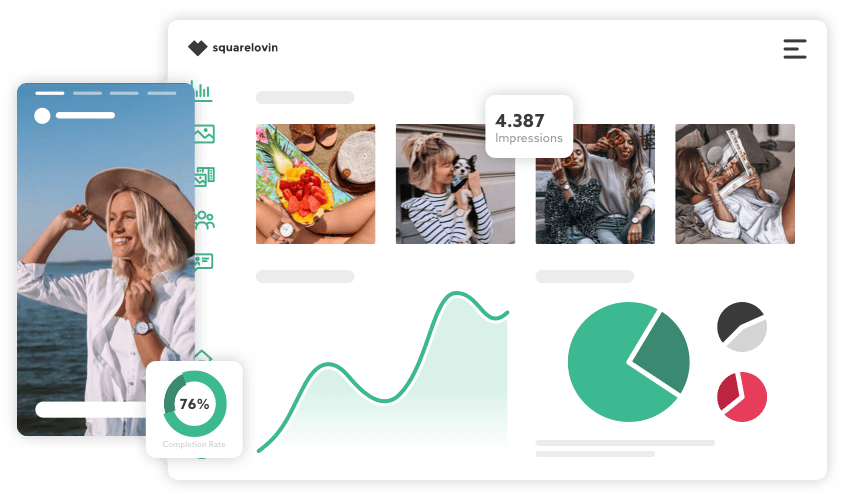 Last but not least, the Instagram analytics tool on our list is Squarelovin. Its distinguishing feature is follower insights. It shows when people in your account are the most active, their interests, and preferences regarding posts. In Squarelovin, you can get a monthly analysis of your posts, as well as a history of them by month, day, or hour.
This tool, of course, provides stats on filters and hashtags, followers growth, ER, etc.
Price: from €99/yr to €149/yr depending on the package.
Other Instagram analytics tools to take a look at:
How to get access to Instagram's own analytics?
Being such a progressive platform, Instagram could not deprive its users without built-in analytics. It's possible to see almost all key metrics in the Instagram analytics tool – Instagram Insights. One of the crucial things for many users is that they don't need any third-party tools, and get all the necessary data right in the app. It doesn't provide in-depth analytics. However, among free Instagram analytics tools, Instagram Insights is the most convenient one.
Keep in mind: to get access to Instagram analytics, you need to switch your profile to the Creator or Business account if you haven't already done it.
Please note: Instagram Insights is only available on mobile apps.
This tool provides a basic overview of your account as well as particular posts.
Follow these steps to find out how to check Instagram Insights:
Open the Instagram app and go to your profile.
Tap on three horizontal lines in the upper right corner.
Tap on the Insights in the third line.
In the upper left corner, you will see the field Last 7 Days. It means you will get the stats for the last week. You can tap there, and change for the Last 30 Days, and get the stats for the last month.

On this page, you will get general information on how your account and content have been performing for a certain period of time.

Tap on each line: Overview, Content you Shared, Stories, and you will get to separate pages with analytics.
What metrics can you get within Instagram Insights?
Reach (the number of unique users who saw any of your Instagram posts within a period of time)

Tapping on the Insights, and then on the Accounts Reached, you will be able to see the in-depth stats: the overall number of accounts reached for last week or month, top posts/stories, IGTV videos, impressions (how many times people saw posts in the account), activity in the account (profile visits, website visits, email button taps).

Content Interactions


Here you can find out how your content is performing in terms of engagement based on the type of content.

In this section you will find out the overall number of likes, comments, saves of your posts for the last week/month as well as the number of replies on your Instagram Stories.

Regarding the latter, you can dig even deeper (tapping on Top Stories), and get such data as how many people exited from your Story, started following you, or somehow interacted with it.

Audience

Tapping on Total Followers, you will be taken to the follower breakdown page that will help you conduct followers analysis. Here you will be able to learn more about your audience: growth (follows, unfollows), top locations (what countries/cities you followers are from), age range, gender, times when they are the most active (breakdown by hours, days).
How to see post insights on Instagram?
There are two options to see posts insights. What are they?
Option 1.
Go to your profile, and tap on the Insights (3 horizontal lines in the upper right corner).
Tap on Content Interactions.
Scroll down to the Top Posts, and tap on the See All.
On this page, you will be able to analyze all of your posts for the last two years in terms of reach, the number of follows, saves, comments, etc.
Option 2.
To get stats of a particular Instagram post: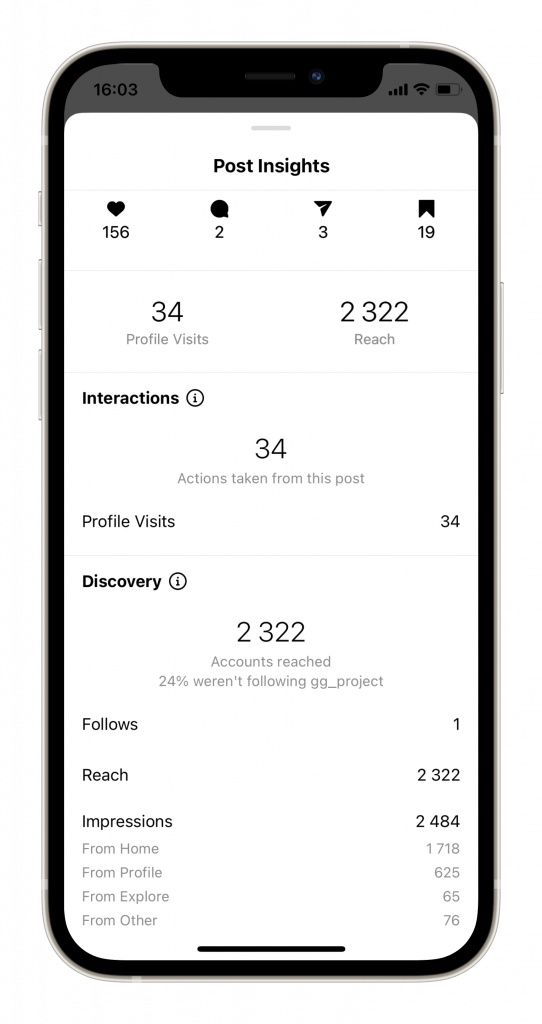 Go to your profile.
Click on the post you want to analyze, and then click on View Insights below the image.
You will see the number of likes, comments, shares, and saves.
Swipe up, and you will get more details: reach, profile visits, detailed impressions (how/where your people saw your posts: from home, hashtags, location, profile, other).
Conclusion
Using at least one of Instagram analytics tools will greatly contribute to the performance of your account. Those who devote time to the analysis and then to making improvements in their strategies reap the benefits in the end. All of which is to say this: select the most suitable tool from this list, and start getting stats as soon as possible. Where there is analytics, there is always growth.