2020 saw a dramatic increase in online activity. It might have not been the best year for tourism and eateries but it certainly gave a boost to all kinds of delivery apps and online coaching. In this climate, Instagram influencers asserted themselves as opinion leaders and proved once more that they are one of the greatest advertising channels.
We did some research to find out which Instagram influencers have shown record follower growth in 2020.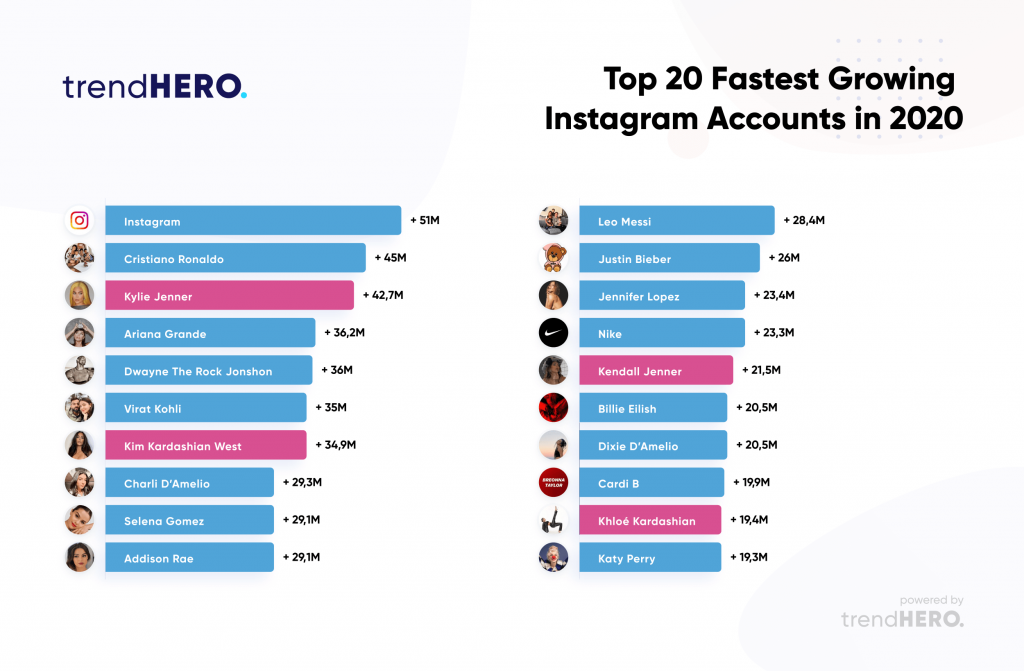 There are four types of influencers on this list:
Rookies
Dixie D'Amelio had 1.9M followers in 2019. 20,5M gained in 2020. 

Addison Rae had 3,8M followers in 2019. Plus 29,1M in 2020.

Charli D'Amelio had 6,3M. 29,3M new followers in 2020
All three influencers started off and got hugely popular on TikTok. If you are just a small business owner, you probably won't be able to do the same trick. But TikTok is still a great channel to use for brand promotion for at least two reasons:
TikTok and Instagram target audiences are quite similar. So it's easier to find new followers on TikTok than on other platforms like YouTube or Facebook.

The TikTok algorithm is very forgiving to brand new users, which means the platform can give you quite a boost at the start. 
All the rage
Virat Kohli had 50M followers in 2019, and there are 35M more in 2020.

Billie Eilish. 52M in 2019 plus 20,5M in 2020.

Cardi B. Added 19,9M new followers to her 59,6M 'old' ones.
Two last years were great for Billie Eilish. Five Grammy Awards, two American Music Awards, two Guinness World Records, three MTV Video Music Awards, and one Brit Award. She is the youngest person and second person in history to win the four main Grammy categories, Best New Artist, Record of the Year, Song of the Year, and Album of the Year — all in the same year. 
All-time record breakers
Nike – 101,8 + 23,3M

Cristiano Ronaldo – 202,7M + 45M

Katy Perry – 90M + 19,3M

Dwayne Jonson – 171M + 35M

Jennifer Lopez

– 112,1M + 23,4M

Ariana Grande

– 175,4M + 36,2M

Justin Bieber – 128,1M + 26M

Leo Messi – 144,2M + 28,4M

Selena Gomez – 169,4M + 29,1M

Instagram – 331,1M + 51,1M
Kardashians
Kylie Jenner – 162,3M

+ 42,7M

Kim Kardashian West

– 160,5M + 34,8M

Khloé Kardashian – 105,2M + 19,4M

Kendall Jenner – 123,2M + 21,5M
I have no idea how they do it. But oh well, they are Kardashians.
What's the bottom line?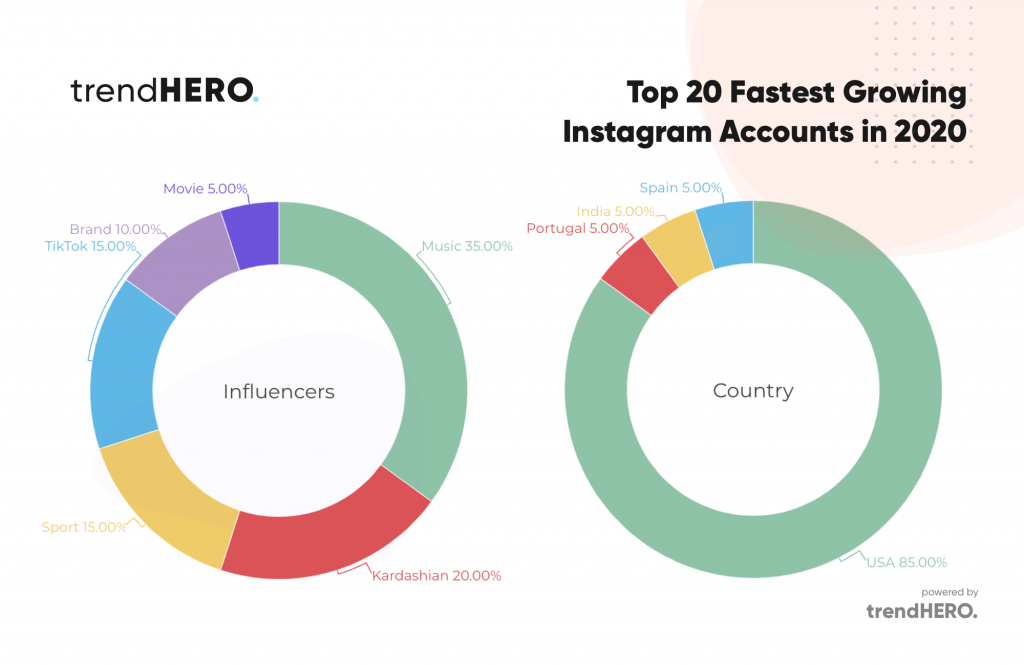 First of all, if you want to boost your follower growth, don't try to imitate the content celebs publish on their profiles. Remember that you don't have what they do: massive offline publicity. Besides, there are entire content-generating teams behind celebrity profiles. It's just like an iceberg: you can't see 95% of the work that's being put into it.
Instead, choose your niche and build your personal brand. Give your followers a good reason to subscribe to your profile and look forward to any updates. By focusing on a single niche, you can gradually grow your online presence and follower count. 
There is no lack of lifestyle content, food bloggers, fitness influencers so the competition might be savage. But it's always possible to choose a narrow niche within a bigger one that will be popular with the Instagram audience. 
Let's say you own a small online furniture store. Obviously, you can't offer your followers the same kind of content they are used to get from celebrities. However, you can post about design trends and interior design tips, or make short fun videos on DIY renovation or remodeling. In short, anything that would make people notice your content and recommend it to others.
After all, "concise and fun" is the perfect description for great Instagram content. If TikTokers could do it, so can you.