In this day and age, it kind of goes without saying that social networks are one of the most popular marketing instruments. Unless you've been living under a rock for the last decade, you are very aware of the top social platforms potential for brand marketing and promotion. But the very words "top social platform" suggests that there is a whole lot of competition there. This makes the task of finding the right niche influencers for attracting your target audience all the more important.

Influencer marketing has been on the rise for a while now and it doesn't show the tendency to hit the breaks. What can you do? People, in general, tend to trust traditional ads less and less while giving a lot of credence to social media personalities. This explains why Google search requests for influencer marketing skyrocketed over the past few years.
As a result, nearly 20% of all businesses are ready to give half their marketing budgets to influencers.
But here's the thing: it's not just any blogger that will make your marketing work. Not too long ago companies used to turn to bloggers with multimillion followings. And you can hardly blame them for that. It seems logical that a massive following means better target audience coverage, right?
Well, it turns out it's not quite so. When sponsored content shows up on a celeb's or macro influencer's page, it's often met with the same level of distrust as traditional ads. Yes, these people have a huge number of subscribers, but these subscribers are rarely genuinely interested in the advertised product.
On the other hand, niche influencers who might have an audience of a hundred thousand people and less are seen as more authentic. They have an active following that's sincerely interested in what they have to say. In other words, they have a much higher engagement rate. And as a marketer, the engagement rate is what you want to be after.
What is a niche influencer?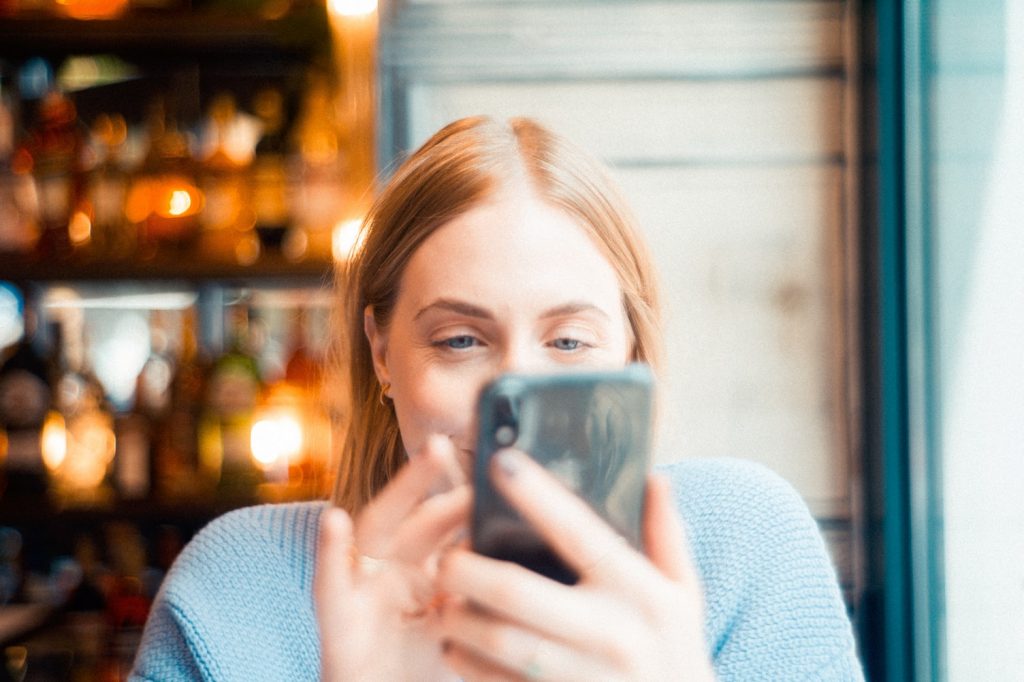 Before jumping straight to the definition of a niche influencer, it's important to understand what is a niche. This word might have a lot of meanings but since what we talk about here is marketing, that's the context we choose.
A niche a small part of a broad market optimal for a company's product and/or service, as well as its production, marketing, and distribution. For marketers, a niche is defined by several factors, such as:
Relatively lower levels of competition. Because you target a narrow segment of a broad market, chances are competition there isn't that strong.
Smaller budget. By focusing on your target audience, you can save on your marketing plans.
Loyal customers. Customers are above all and if they are happy, you don't have to worry. If they love what you offer, they'll be coming back for more.
Niche influencers, or as they often call them, micro-influencers, usually focus on small areas of interest that can fit right into your market niche. Most of them have a relatively small following (a few thousand to a hundred thousand, on average). Sure, this might seem like a drawback but in fact, it really depends on your marketing goals.
Today, no one will be surprised to know that influencer marketing works. But when you try to choose the right blogger for your marketing campaign, it's crucially important to understand what kind of goals you want to achieve. Is your goal to cover as wide an audience as possible and make a leap in brand awareness? Then bloggers with multimillion subscriber bases will work just fine. But if the goal is to engage your audience, motivate it for interaction and help it develop trust for your product, niche influencers should be your choice. It's especially important if you aim for a long-term marketing campaign.
Why are niche influencers valuable?
As I said earlier, modest numbers of subscribers are not always a bad thing. Sometimes less is more. Micro-influencers and their small communities of followers have a significant advantage over social media celebs with millions of subs. And that advantage is levels of engagement.
According to the Markerly Instagram study, the level of engagement is in reverse proportion to the number of followers. To put it simply, as the numbers of your subscribers go up, the number of likes and comments goes down.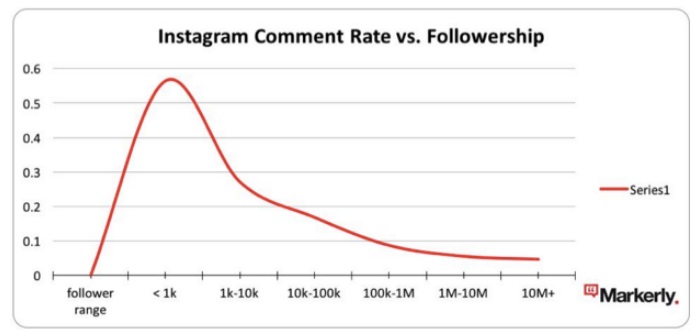 A small community of 50 thousand followers shows up to 12% of engagement on average. That's a number to convince even the most stubborn of skeptics.
Micro-influencers are in close touch with their audiences. They actively interact with subscribers, make them feel like their opinion matters. That's what makes their communities be genuinely interested in their content.
Don't get me wrong; I'm not saying that you should forget about cooperating with macro-influencers altogether. But considering the potential of niche bloggers, why not using it to your benefit?
Dealing with top bloggers often goes hand in hand with certain risks. For example, their sincerity is often being questioned because of how frequently they have sponsored content pop up on their pages. As a result, followers just don't have any interest in this kind of content.
On the other hand, micro-influencer content gets a great deal more trust. In this case, people see such content as more of a personal recommendation than an advertisement.
Of course, nothing is perfect. It's likely that your brand promotion will take more time if you choose to cooperate with a niche blogger. But here's an important thing to keep in mind. Niche influencers take their content seriously. They care about their reputation and so they work harder to make sure they produce high-quality content that will make their subscribers stay. This kind of approach is answered by increased subscriber engagement and passionate response.
Who's using niche influencer marketing?
Stats are always great, right? But as I wouldn't like all of the above to seem like a bunch of buzzwords, here is some supporting evidence for you. Brands, both big and small, have been using niche bloggers in their marketing campaigns for quite a while now. Here's a couple of examples.
Audible
Audible, in case you didn't know, is a popular audiobook service owned by Amazon. The service has a history of launching marketing campaigns that involve both top tier social media celebs and smaller content creators.
For one of such campaigns, they partnered with micro-influencers like Karl Conrad, a tech blogger with a following of nearly 90 thousand. The micro-influencers who partnered with Audible for this promo campaign used the #YouGottaHearThis hashtag and photos of them using Audible in everyday life.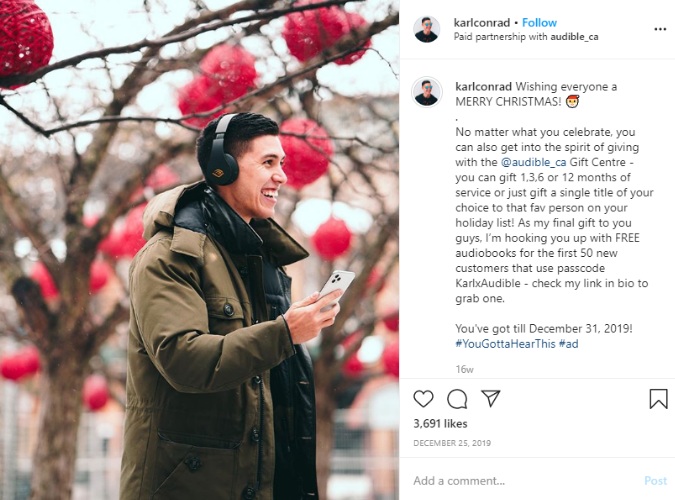 Banana Republic
A popular American clothing brand Banana Republic partners with niche influencers who flaunt BR outfits in various settings. Under hashtags #itsbanana and #yesbananarepublic, Instagrammers like Amira model BR clothing with the air of simple authenticity that followers find so very attractive.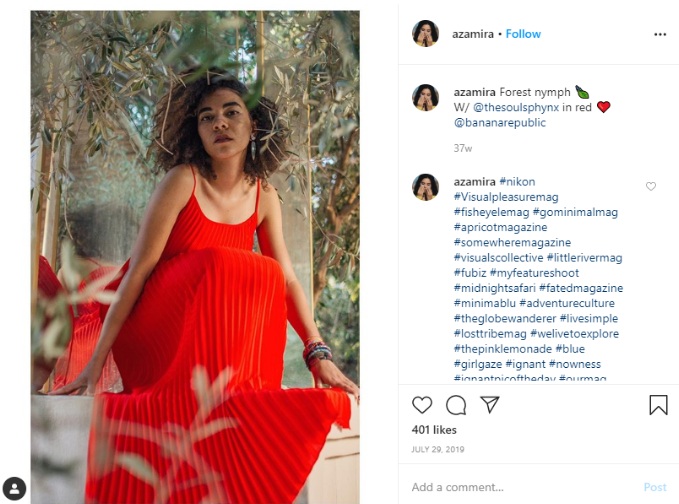 Glossier
Glossier is a smaller brand that sells beauty products. To raise their brand awareness, they've targeted micro-influencers like Nicole Elise with a little over 40k followers. It's not the only time Glossier partners with micro-bloggers. They are cooperating with smaller beauty vloggers on YouTube, for example.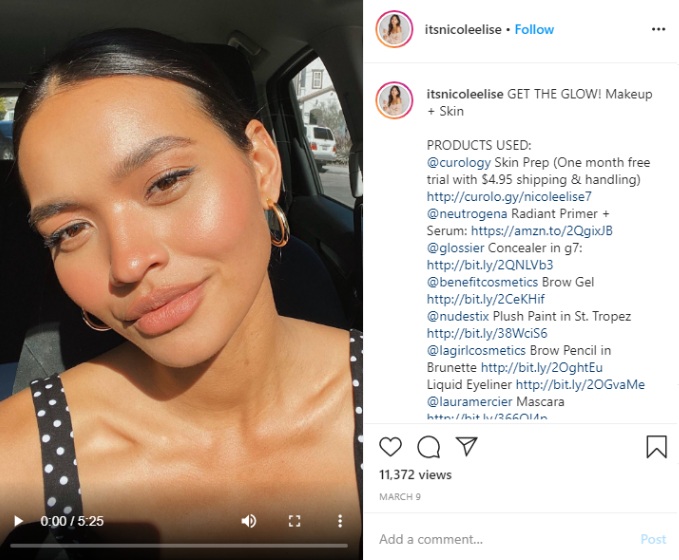 How to find niche Influencers

All in all, there are two ways to look for niche influencers: you either do it manually or using third party marketplaces, services, and software. In case you can spare some time for this and absolutely can't spare money for any external assistance, talk to them directly. Discuss your plans, your vision, your brand's history and the desired format of your sponsored content.
Before you get to cooperation, make sure you are absolutely positive on these two important factors:
Decide what kind of audience your campaign should target. The product and/or service you offer must meet your target audience's needs. What's more, it should demonstrate its ways of application and advantages in practice. Your marketing campaign isn't supposed to target everyone. In case it targets everyone, it targets no one. Do I have to say this won't work?
Decide what the goals of your marketing campaign are. If you need maximum audience coverage within a relatively short period of time, choose a macro-influencer. A marketing campaign that involves a micro-blogger will only be successful under these conditions:
if all sponsored content is original;
if it's made with maximum authenticity and
if audience engagement rates are high.
Now let's address all the common methods of looking for the right niche influencers in detail, shall we?
Social media
The market for influencers is massive. There are over half a million active influencers on Instagram, for example. This means that any business, no matter how big or small, can find their optimal bloggers and get great benefits out of this collaboration. But before you start, it's important to know how to find them on social media.
Here are five ways to find the person you need:
1. Use the three R's rule.
No, I don't mean "Reduce, Reuse, Recycle". The one I am talking about is this:
Relevance. Does a blogger create and share content relevant to your business? If so, their target audience is your target audience.
Reach. The number of subscribers, audience coverage and the level of follower activity.
Resonance. Potential engagement rate an influencer can offer.
2. Evaluate their audience and its engagement rate.
Customer trust is a key factor in your cooperation with bloggers. If you want your campaign to be successful, make sure that the target audience trusts its influencer.
The engagement rate is a great indicator for assessing the level of audience trust. It's the number of comments, likes, shares, saved posts, etc. A high engagement rate also means that a blogger has real subs and not a bunch of bots and fake accounts following them.
3. Pay special attention to their content, values, and overall image.
You don't just need any blogger; you need someone whose values match your brand's values. When you find a perfect match, your marketing campaign will look as authentic as possible and won't confuse followers.
It's also important to note the tone of voice. It must match your vision of how you want to market your product to potential customers.
4. Look at who they are cooperating with.
Which brands did they partner with before? How often do they post sponsored content? Pay attention to the general meaningfulness and consistency of content. It's worth mentioning that the optimal frequency of sponsored content is 1 sponsored post per 5-10 original posts.
If your potential partner all but bombards their audience with ads, it's unlikely you'll get any engagement from that audience. And don't ask them to post your content as soon as possible. They probably have their own schedule and content plan. If they start posting more frequently, your ads might not work.
5. Talk to them directly.
Use DMs or private messengers to talk to them personally. And remember that your message should be addressed specifically to the person you send it to. Don't spam identical messages to lots of people at once. This is lazy, disrespectful and won't get your partnership off to a good start.
Help your potential partner trust you. Give them as much useful information about your brand as possible. Tell them about your company's goals. Communication means a lot in the first stages and will always be of the greatest importance all throughout your partnership.
trendHERO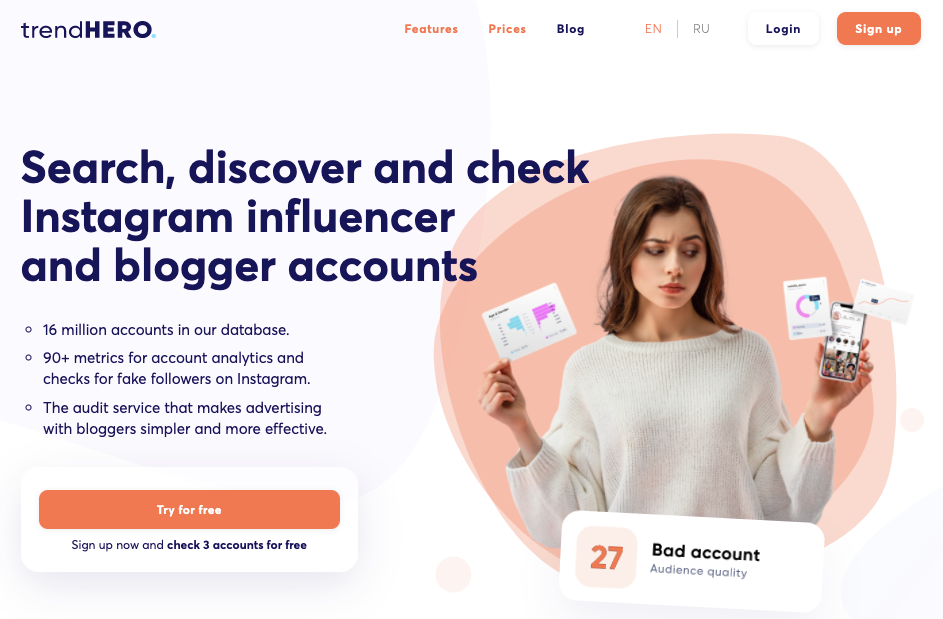 trendHERO is a platform that offers a wide range of instruments for analyzing Instagram accounts and monitoring sponsored content. I think it's safe to say that the service provides essential features both for marketers and bloggers.
While it may be not perfect, trendHERO is extremely valuable for businesses who want to market their products on social media. One of the things that makes it so is that it allows assessing Instagrammer profiles based on a number of important metrics.
Here are some trendHERO features you might find useful:
Deep analysis of any public profiles.
Each report generated offers detailed profile statistics.
The service provides a reputable database of Instagram profiles for marketing.
It's worth noting that the service isn't free of charge. It offers a free trial so you can use the service analytics up to 3 times without paying. After that, you'll have to cough up $3.99 for each profile check. However, if you subscribe to a package deal, the price will be significantly lower. But even if you don't, this price doesn't seem unreasonable. After all, the platform allows checking any account that's not hidden behind the privacy settings. And the reports you get include over 90 various metrics, for example:
Location, gender, type, activity, and interests of audience members.
Detailed statistics on posts, including engagement rate and likes distribution.
Checking business accounts and personal accounts with followings from 100 to 100 million followers.
Audience analysis (mass followers, suspicious accounts, influencers, commercial profiles)
Comment analysis.
Followers and likes demographics.
You can easily save each generated report for future reference.
Influencer marketing agency
Let's admit it; not every business has time, staff, and/or funds to look for influencers without any outside help. So in case you don't mind spending a part of your marketing budget on third party assistance, consider contacting one of the influencer marketing agencies.
For a reasonable price, these agencies will make it much easier for you. They'll find the content creator you need, discuss partnership conditions, manage content, and provide detailed reports.
There is no lack of influencer marketing agencies out there. But of course, you'd want to partner with reputable ones. I mean the ones that have proved their efficiency on multiple occasions in the past.
You can find a lot of these online by doing a simple Google search. There are plenty of listings on the Internet. For example, you can use the one made by Influencer Marketing Hub.
Other ways
Influencer marketplaces & platforms
At the early stages of their marketing campaigns, many marketers utilize the assistance of specialized marketplaces and platforms. They, on the one hand, make the process significantly easier. On the other hand, using a platform like this won't cost as much as using the services of a marketing agency.
For example, Iconosquare is one such platform. This analytics service is geared towards working with Instagram and Facebook and as such, it's doing its job well.
It's no wonder that marketers use services like this one quite often. They are easy to use, offer a nice combination of simplicity and efficiency and they work fast. On the flip side, you can't really be sure that a content creator's following is your target audience.
Here's another example, Snoopreport. This service works somewhat differently. It allows tracking activity of any public social media profile. Thanks to Snoopreport, you'll learn which posts your chosen blogger liked and commented on and which users they are following.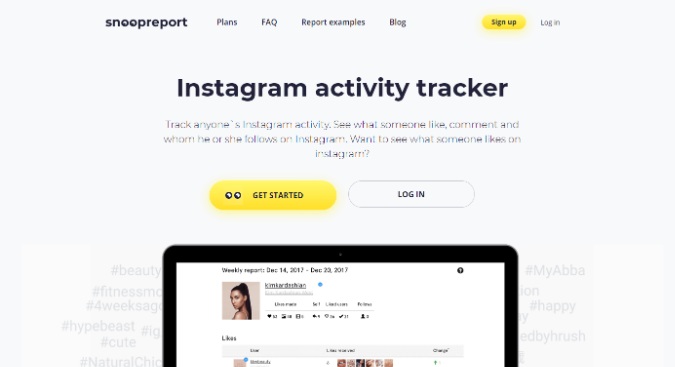 You can use it for personal purposes or for marketing research, but marketers are the ones who find the platform most valuable. After all, it offers to monitor the activity of any social media accounts. Whether they are competitors, content creators, or customers. Thanks to this, you can do your market research and plan engagement strategies. You can learn more about your target audience preferences and find the right niche influencers. Besides, you can stay updated on all the hottest social media trends.
Not a fan of outsourcing? Not to worry, there are still a lot of options for you so you can do your unassisted manual search any time you want.
Geotags
Geotags are perfect for small local businesses. I'm talking about beauty shops, coffee shops, small grocery (and other) stores. In other words, any place linked to a certain location on your town's map. Browse your feed page to see which users frequently post content in your area. Who knows, maybe some of them are your potential partners.
Just make sure that the quality of content is consistently high, as well as the engagement rate.
Hashtags
Look for hashtags that are in one way or another associated with your brand. Remember that sometimes it makes sense to think out of the box and use not only the most popular hashtags. If necessary, add a location hashtag to your search.
Here's a tip: to avoid wasting precious time, go straight to the Popular section.
Subscriptions
Once you think you've found one or a few influencers that match your requirements, look into their subscriptions. Chances are you'll find some bloggers there that have your target audience among their followers.
Recommendations
Ask your customers about bloggers they follow. Have a look at some niche groups on social media. And don't forget about Instagram's in-built tools: check out the Recommendations section from time to time for similar accounts. You can check your own subscribers as well – what if you have your potential partners there?
How to check if an Influencer is actually influential using trendHERO
Now let's go back to trendHERO and see how it works in more detail. All you have to do is sign up and voila – you can see your account's dashboard in front of you.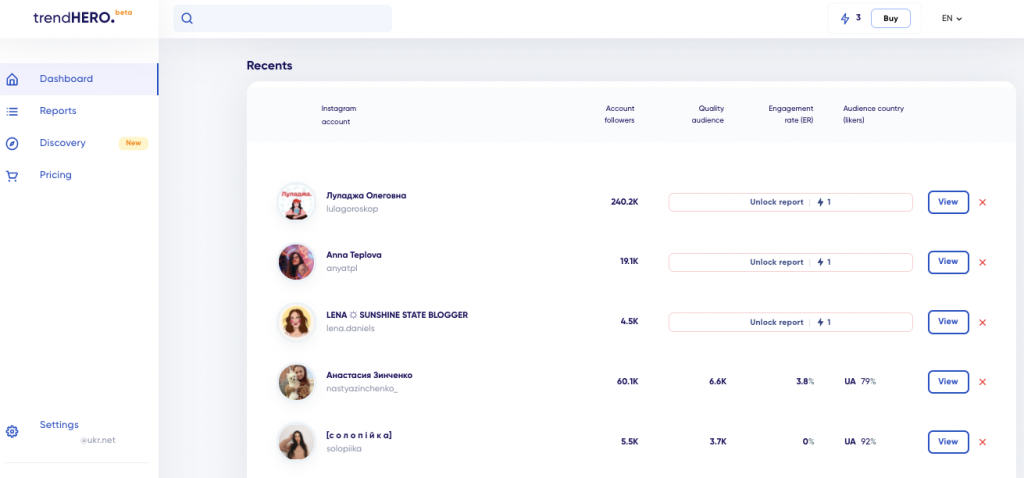 Here you can see all the features you need:
The field for entering the name of the account you want to check;
Demo reports (to try and see how the service works using the offered accounts);
Your report history (results of all Instagram profile checks you ever performed).
So let's say you want to check how much influence a certain blogger has over their audience. After you enter their username, you'll be redirected to a page containing a brief overview of the analysis results. Many of the important metrics will be hidden so it's likely that at this point you won't have all the information you need. To get a full report, you'll have to use one unit of internal trendHERO currency.
As an example, I'll use the account of Kristina Micic, a popular beauty blogger and a micro-influencer on Instagram.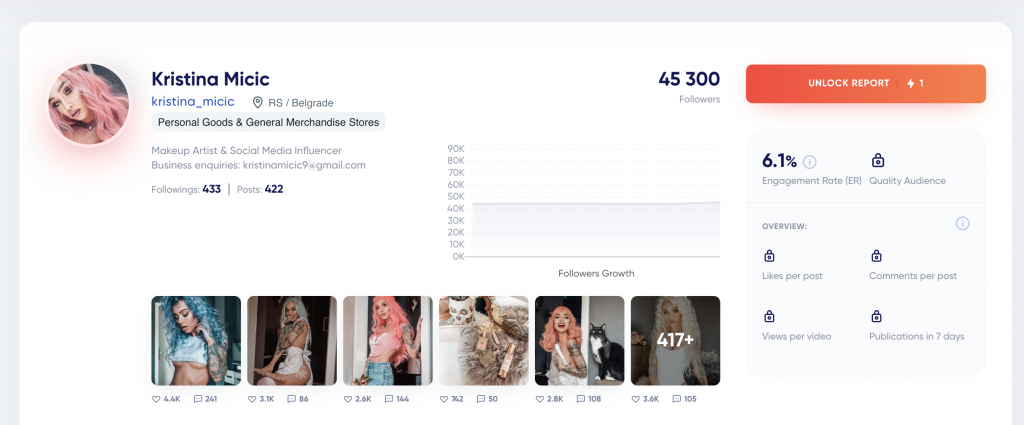 Now you can use a currency unit (they give you three of those for your free trial). As soon as you do that, you'll get access to full information on the blogger in question. Most likely, it will be enough to see how much potential is there in your possible partnership.
The service informs you that collecting data might take up to 12 hours, so don't be surprised that some info doesn't get displayed at once. One of the most important metrics you'll see here is 'Quality Audience'. It's the number of accounts you can completely sure about. They belong to living humans who can potentially become your quality followers.
However, there are other curious metrics to pay attention to:
1. Audience type. The service builds a diagram that shows the percentage of various types of followers:
Real
Suspicious
Commercial
Mass followers
Influencers
What you need as a marketer is real followers (the ones with personal blogs) and commercial blogs. Influencers are accounts with 5000 followers and more. These last ones are unlikely to become your subs unless they are super interested in what you have to offer.
The higher is the mass follower and suspicious accounts percentage, the faster you need to dump the idea of partnering with this content creator.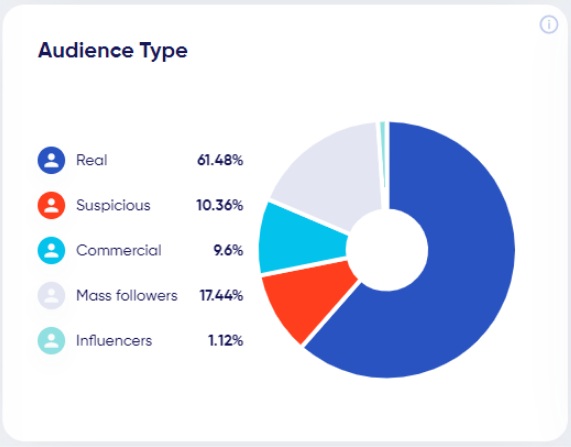 2. Audience interests. Once you have determined what your target audience and your preferred niche are, this metric is the one to note. It draws a sketchy picture of who's following the account you are checking. So let's say that if your niche is about beauty products and in your report, you can see many followers interested in beauty products, take a note.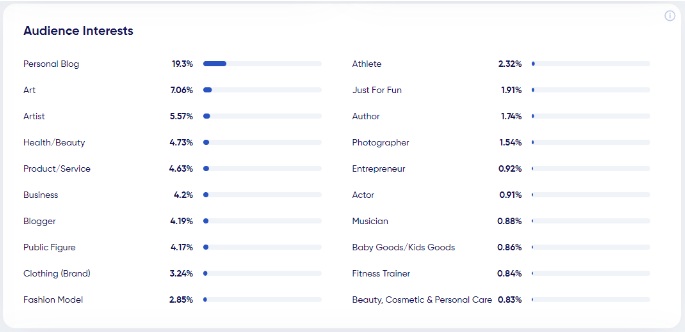 3. Audience reachability, audience authenticity & the average number of likes.
Audience reachability is the share of accounts with less than 1500 followers. The fewer followers someone's got, the higher the chance they will see your content in their feed.
The authentic audience includes personal and commercial blogs.
Since Instagram decided to remove the feature of likes (and in some countries, bloggers can't use it any longer), it might be a problem to monitor the level of engagement. trendHERO took care of that. The 'average number of likes' metric shows how actively followers interact with an Instagrammer's content. However, you've got to keep in mind that if the said influencer uses traffic cheats, this metric is useless.



4. Following growth (decrease). trendHERO also offers charts showing how much an influencer's following has increased (decreased) during the last four weeks. This lets you see how this profile is doing. Does it grow? Does this blogger work on promoting their account? These are the questions that get answered here.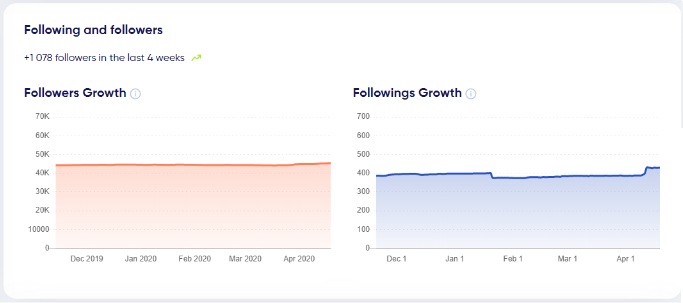 5. Post frequency and percentage of likes from followers. If a blogger gets lots of likes from people who aren't subscribers, it's not a good sign. This might mean that they use promotion methods that are not quite honest (like traffic cheats). Or this means that their audience only sees their content in Recommended. And it's not the most engaged audience; they don't have any trust for this particular profile. Soin all likelihood, a marketing campaign involving this kind of a blogger won't get you anything but a disappointment.
Have a look at the likes percentage chart. The higher is the share of likes from followers, the more trust this blogger enjoys.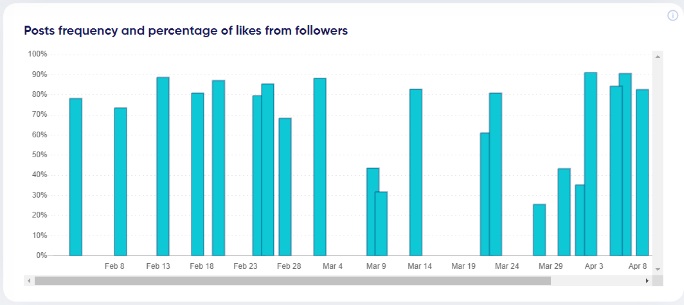 6. Comment type. trendHERO saves your time and offers to assess the quality of comments a blogger receives. In case the share of suspicious comments is over 5%, it might mean this account holder is using cheats. On the other hand, it's important to understand that not every short comment is necessarily a bad thing.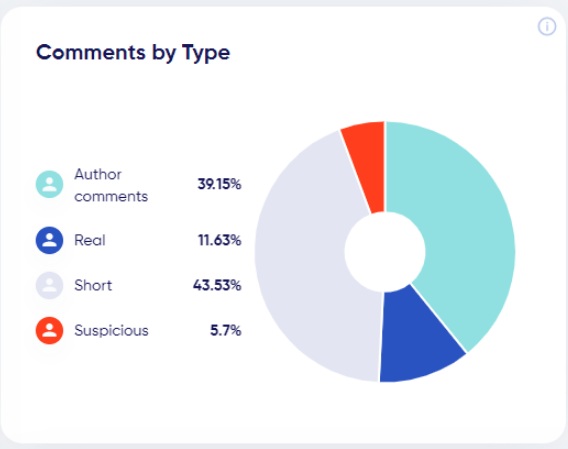 Of course, these are not all the metrics you get to see. The reports trendHERO offers are quite thorough and include a lot of details. There is more of comment analytics, posts analytics, audience gender and location details, and much more.
How to contact niche influencers
Contact them personally. Use Direct or Facebook messenger, or email, in case they have their address on their profile page. Don't get discouraged if they don't answer immediately: chances are they get a lot of messages and might not notice yours.
Tell them about the company you represent and don't forget to mention that your goal is a mutually beneficial partnership.
Don't send generic messages to lots of bloggers. Make it personal. Tell them why you'd like to choose them as a partner.
Let them know in no uncertain terms what exactly you want to get from this partnership and what they will get in return.
Specify the price of your collaboration. Don't be shy to offer a quid pro quo partnership. Lots of niche bloggers are ready to advertise products or services in exchange for gifts or special offers.
Discuss your partnership details. It would be great to know that you are on the same page when it comes to important details. Things like payment methods, frequency of payments, posting schedule, and others should be talked over in advance. Leave as little space for misunderstandings as possible.
Always answer each and every question thoroughly. As is the case with any business relationships, honesty and transparency are the best policy.
How to get niche influencers to work with you
And to wrap it up, here are a few tips that might help you make this partnership as easy and pleasant as possible. I'm sure both marketers and bloggers want everything to go smoothly, according to everyone's vision and within the established deadlines. Trust me, you do want them to be happy with you and recommend you to fellow bloggers.
No matter how surprising this may sound, bloggers are human beings. They put as much work into growing their own brand as you do in yours. So when you talk to them, talk to them as equals.
Be as transparent as possible and express your ideas and desires as clearly as you can. A content creator who knows everything about your goals is a content creator who makes content that satisfies you both.
Offer fair prices for your partnership. The compensation must always match the effort.
Build personal relationships. Invite your partner bloggers to events, give them gifts. Try to learn what they want to achieve in terms of their account growth and help them with that.
Don't make strict demands as to how an influencer must talk to their audience. It's likely they have a better understanding of their community. They know what kind of content will get a better response. Besides, followers will always notice if their content feels forced and disingenuous.
Make sure you work closely together on content creation. Let them choose the direction they want to go and which they think is the best for them. Strictly scripted content might (and will) lead to a decrease in engagement.
Help them understand your brand better. For this, feel free to share your company goals, mission, and style.
Conclusion
In this information-saturated world, you can tell your potential customers about your product competently and organically. And one of the most effective ways you can do that is with the help of niche influencers – bloggers trusted by their following. The most important thing here is to select the right bloggers from the existing pool of candidates and work on a detailed brief.
There is a substantial amount of research that proves the efficiency of niche bloggers in terms of social media marketing. This kind of partnership will raise brand awareness and will easily convert into an increase in sales.