Over 70% of US companies use Instagram for business promotion and marketing. But it's virtually impossible to optimize marketing campaigns or even develop a content strategy without in-depth metrics research. Instagram follower demographic analysis is an important part of the process.
Why is it necessary to analyze Instagram follower demographics?
Analytics is an essential part of any type of online marketing, including SMM and Instagram marketing. The descriptive analysis of the platform audience allows understanding just how effective your marketing strategy is. Aside from that, it allows determining where traffic comes from, the best times for posting, audience preferences, and many other factors you can't do without as a marketer.
Simply filling your feed with content doesn't cut it. You have to find followers who'll read it and eventually, potentially become your customers. Not just any followers, mind you. As a marketer, you have to always remember that only your target audience will buy your products or services or generate leads.
That's why follower demographics analysis is so crucially important. It helps you get a deep insight into your target audience, understand what they need, and tweak your marketing strategy to cater to those needs.
An in-depth audience analysis saves you a great deal of time and money and allows for effective decision-making. Let's say you already have a marketing strategy you are happy with, paid for some targeted ads, and posted some quality content. Audience analysis lets you predict the results and see what kind of marketing tactics work better.
How to analyze follower demographics on Instagram?
There are two key methods to do this. First, you can research metrics offered by the platform's native analytics instruments in the Insights section. Second, you can go to a third-party Instagram analytics resource.
Find out followers demographics using Instagram Insights
One of the great things the platform offers is the ability to get access to the most important profile analytics in your account settings. It has to be noted that in order to get that access, you'll have to switch to a Professional account. But since it's free of charge and takes about 10 seconds of your time, it's really a non-issue.
Once your account is converted to a Professional version, you'll see the Insights button as soon as you tap on your settings icon. Insights section offers metric analytics on three important aspects: content, profile activity, and audience. The latter is just what we need in this case.
The Audience tab is where you can find the basic information about your followers to build a target audience profile. The metrics you find here include:
Gender: follower male to female ratio.
Age: followers by age categories (13-17, 18-24, 25-34, 35-44, 45-54, 55-64, 65+).
Top locations: top 5 cities and countries the majority of your followers come from.
Hours & Days: the average amount of time your followers spend on the platform and the days on which your audience is at its peak activity.

How to use Instagram demographic analytics tool from trendHERO?
trendHERO is a service completely dedicated to detailed Instagram profile analytics. It offers over 90 metrics and data graphics. What's more, it allows in-depth research of any IG account provided the account you'd like to analyze isn't hidden by privacy settings.
The report includes infographics on such data as:
Audience analysis based on location, gender, preferences.
Follower and followings growth.
Posts frequency and likes to follower ratio.
Comments by type.
For illustrative purposes, I'll show how to analyze various metrics using trendHERO report for an Instagrammer Jenn Im. Jenn Im is a Korean American influencer and one of the most popular fashion & beauty bloggers. She got famous thanks to her YouTube channel but her IG profile doesn't let behind and currently has 1.7 million followers.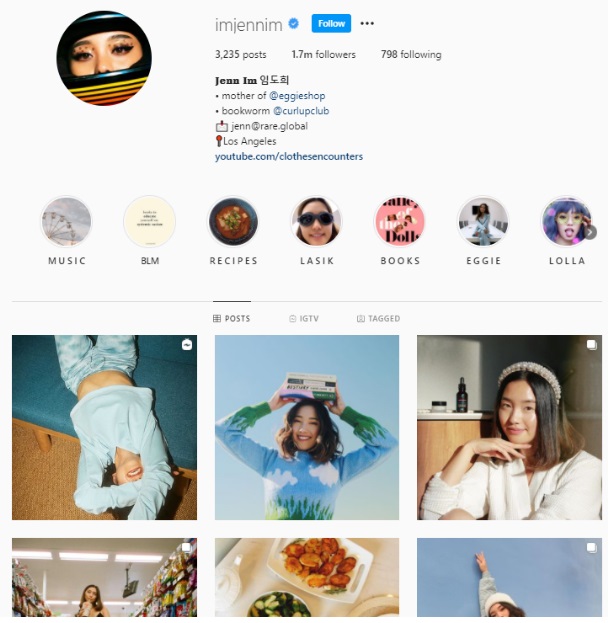 Gender
As trendHERO infographics show, Jenn Im's audience is predominantly female. There is nothing surprising about that, of course, considering her chosen niche of fashion and beauty. However, the percentage of male followers seems to be fairly high too. This might be attributed to the consistently high quality and entertaining value of content the influencer produces: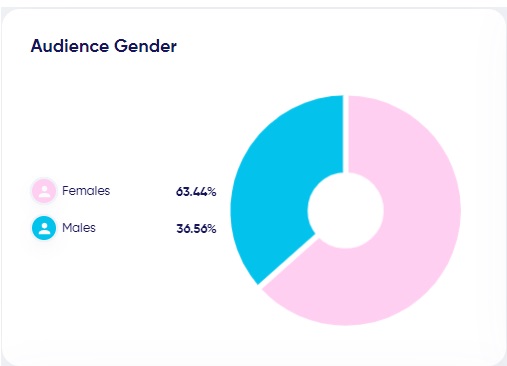 Audience location
The majority of Im's audience comes from the US, which is understandable since she is an American-born influencer residing in Los Angeles. Note that a large chunk of her audience lives in predominantly English-speaking countries. At the same time, 3.06% of her followers come from Indonesia which is not an insignificant part of her audience.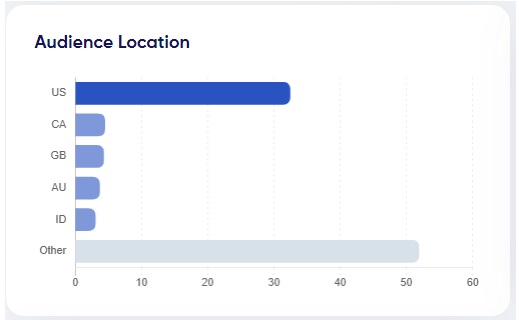 trendHERO features
"So what's so special about it?", you might ask. You can find the exact same information on Instagram user demographics without leaving the app, after all. Instagram will helpfully tell you about your followers' gender and location whenever you want to check your Insights. Do you even have to spend the time to use a third-party analytics service?
The answer is you do, in case you really want to get a detailed report on a user profile. The analysis trendHERO offers information that delves deep into many specifics of your audience. This allows building a marketing strategy that takes into account multiple factors Instagram Insights misses.
Likers by gender
Apart from follower gender and follower to like ratio information you can pick up on Instagram Insights, trendHERO offers data on gender-based likes. This is an extremely useful piece of information that allows building a comprehensive target audience profile.
As you can see, the vast majority of Jenn Im's followers that like her publications are women. This means that her female-oriented content did find its target audience and keeps consistently catering to its needs and preferences: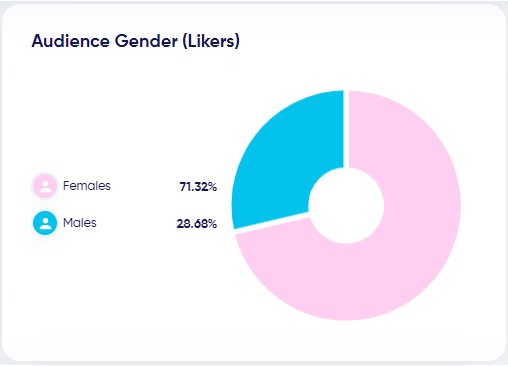 Likers by location
While Instagram Insights simply tells you where your followers are from, trendHERO provides you with useful info on location-based likes. This data would be especially important for small local businesses oriented at customers from their area.
The majority of Im's likers are from the US (again, no surprise here). However, you can see that a large part of her likers (4.41%) comes from the Philippines. This is not exactly surprising either. Instagram is massively popular in Southeast Asia.
More cities and countries
As I mentioned earlier, Instagram Insights provides information on follower demographics based on cities and countries. However, it only allows seeing the five locations where followers are the most active. While there's no doubt this data is quite important, it doesn't let you see the full picture.
trendHERO expands on this aspect and offers info on the top 10 cities and countries. What's more, you can also see followers from which countries like your publications most often.
This information is important for a few reasons. First, it allows diversifying your marketing strategy based on the activity of users from various places. Second, it helps to detect any inauthentic activity that might be happening on your profile. For example, if the majority of your followers are from the US but likes mostly come from Asian countries, it's definitely a red flag.
This is not the case with Jenn Im's profile. The majority of her followers and likers are from LA, closely followed by followers from New York:
Free trial
While trendHERO is a paid service with various subscription plans to choose from, you can sign up and navigate through the website free of charge. What's more, once you sign in for the first time, you'll be offered a free trial. This includes a free-of-charge analysis of three Instagram profiles of your choice. Bear in mind, however, that some information will still be hidden from you. This includes info on location-based likes, gender-based likes, likes by audience type. You'll also have to subscribe to a paid membership if you want to receive a PDF report or info on 500 similar bloggers.
PDF reports
To make sure that you have access to any reports generated by the service even when you aren't online, trendHERO has the option to download your reports in a PDF file. Keep in mind that his feature requires an active paid subscription. However, the convenience it provides is more than worth the price.
How can I check an Instagram influencer's follower demographics?
Checking Instagram profiles for follower demographics is extremely easy and includes just a few simple steps. As soon as you sign in, you get redirected to the trendHERO dashboard. Type an IG user name in the search bar at the top of the screen:
The service will generate a detailed report. It might take minutes or up to 12 hours. Waiting time depends on the size of the profile you are checking and whether it was checked before. In case someone before you already ran this profile check, you might get your report as soon as within a minute.
Conveniently enough, you don't have to refresh your browser to see if your report is ready. As soon as the check is over, you'll get an email notification.
It's worth mentioning that you can check any Instagram profile like this, whether it's yours or someone else's. As long as it's not a private account, you'll get that profile analysis.
What to do with the results of the Instagram demographic analysis?
As with any information you gain from profile analytics, you can always use it to improve your profile stats and/or promote your business.
Instagram demographic analysis of your own account allows determining:
target audience preferences;
the way your audience reacts to your content;
optimal times for posting;
correct content format;
the most effective methods of promotion;
what kind of marketing tactics don't give the desired results.
Needless to say, checking other accounts might prove to be no less beneficial. By analyzing some other profile's demographics, you can see:
what successful methods and tactics you could incorporate in your own marketing strategy;
the level of their audience authenticity;
what kind of content appeals the most to their target audience;
And many other aspects.
Conclusion
No competent social media marketing strategy is possible without follower demographic analysis. Only by constantly monitoring any changes in your audience statistics and characteristics can you build a productive plan of action.
What's more, audience analysis helps to detect any mistakes and errors, find marketing tactics that offer the best conversions, and subsequently introduce the appropriate course correction.
Although the platform does provide its users with some basic analytics, it might not be enough for building a comprehensive strategy. More often than not, you simply can't do without third-party analytics services. trendHERO offers in-depth profile analysis that complements and significantly expands on Instagram Insights.