Instagram first came in sight of marketers in 2013 when it was open for advertising. To say that a lot has changed since then is to say nothing at all. Today, Instagram is one of the most appealing platforms for marketers worldwide. Trust me, there is a reason why nearly 70% of brands are heavily investing in marketing campaigns on IG this year. So it's about time to learn more about the opportunities Instagram marketing offers. And what better way to start than considering the most useful Instagram marketing tips?
Why marketing through Instagram is a must for every business
According to Statista, the Instagram population as of summer this year numbers 1 billion active users. For over 80% of these users, the platform is the main source of information about the new products and services. 11% of users from the United States choose IG to shop for products and over 60% of users admit they get interested in brands and what they have to offer thanks to Instagram Stories.
What do these numbers mean for your business? At the very least, it means that if you can find your target audience on Instagram, you simply can't ignore the opportunities it offers any longer:
1. Raising brand awareness.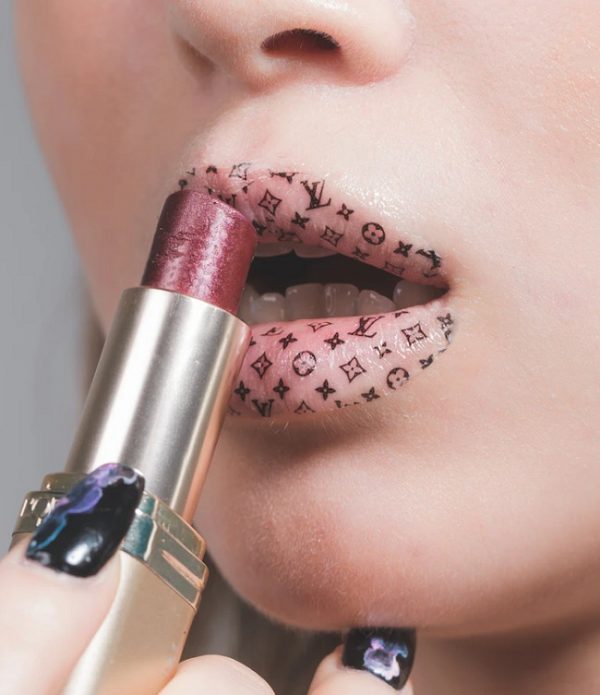 The platform provides marketers with a great opportunity to grow a business from scratch. If you can offer something that's really cool, a top-quality product, people will follow you both online and offline. By putting out great visual content, both photos, and videos, you can show the entire world what you do, what your brand is about, and build a strong brand out of a small business.
2. Communicating with customers.
Instagram makes it really easy to keep your finger on the pulse in terms of what your TA wants. By viewing their feeds, you can really see what interests they've got, what inspires them, and align your content with their needs. An Instagram profile gives you a great opportunity to do various Q& As and giveaways, collect feedback and use numerous other methods of engaging your TA in a conversation.
3. Improving sales.
When your followers love what you share with them when they feel that connection with your brand, trust, and loyalty are the logical results. This means that they will buy your products and come back for more – and subsequently, an increase in sales.
4. Expanding your TA.
Collaboration with influencers opens up new vistas in terms of reaching new audiences. They become your brand advocates. This means they give you and your products the strongest reputation boost by giving their followers genuine, well-grounded recommendations rather than advertising.
5. Generating leads.
Instagram lead ads are probably the easiest and the cheapest way to generate leads. The platform's algorithm shows them only to those users who are interested in what you have to offer, based on their activity on the platform.
Best Instagram marketing tips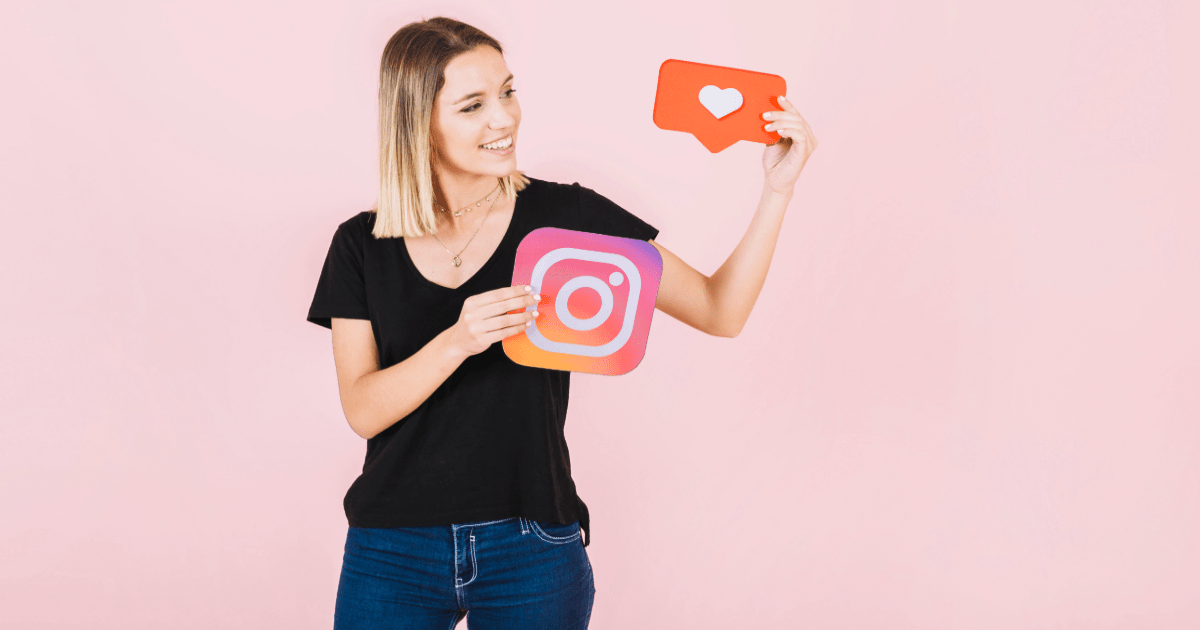 And now that you see that your IG profile can become a great channel for your brand promotion, let me offer you some useful tips on how to use it for marketing.
1. Define your goals
This actually concerns starting a business profile on any social platform. Ask yourself why exactly you are doing this. Think of the numbers you plan to achieve.
The key performance indicators (KPI) for Instagram are the following:
number of followers;
number of likes and comments;
number of mentions;
number of leads (people interested in buying your product);
number of attracted customers.
As you chase followers and likes, don't forget that what your business needs, first of all, is sales. Everything else is just a means to this end. This is why you need to constantly evaluate the effectiveness of your Instagram marketing strategy. If it doesn't provide the results you planned, don't hesitate to change them.
It's crucial to understand that Instagram marketing isn't the go-to option for any business. If your business is about selling construction materials, drills, or pumps, the platform isn't likely to do you much good. On the other hand, if you deal with foods, beauty & makeup, DIY and handmade, apparel, books, or entertainment, it's right up your alley.
2. Know your target audience
You have to know who exactly your customers are and who are those users you want to interact with on the platform. Are they actually there? What you need is a detailed customer profile. To outline it, answer these questions:
What is your customers' sex, age, social status?
What are your TA's values?
What is it exactly that your customers find interesting on Instagram?
What kind of content do they post?
What do they need?
You'll need this customer profile for a few reasons. First of all, to have an idea about what kind of content they find engaging. Second, this is how you can find targeted followers.
3. Create a content plan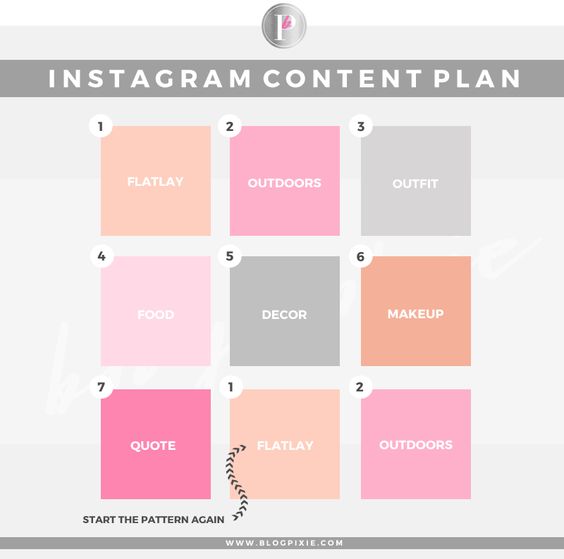 If you want to market on Instagram, you'll need a clear plan of what, how, and when to do it. If you post your content haphazardly and without any clear system to rely on, forget about any kind of payoff. It just won't work.
Outline a clear, detailed plan at least a month ahead, with 2 or 3 posts per day. It doesn't mean that you have to get all the visual content ready in advance. However, you must know what your posts will be about and what type of content you'll need.
4. Customize your IG profile
Once the planning stage is over, get to work, and create your brand's profile. The first thing you need to think about is your username. Since it's the name of your profile everyone will see, it would be better to use your brand's name.
Choose the appropriate profile picture, keeping in mind that it should be a small image in a round frame. It would be best to use your brand's logo and make sure that it's sharp, clear, and nice to look at.
The next step is creating a bio. Don't forget to mention your contact details, (phone number, email, link to your website) and let other users know what kinds of products or services you're offering.
For starters, when you don't have any followers yet, post some content on your feed (that's when your content plan comes in handy). Don't forget to add descriptions, hashtags, and purchase details to the visual content.
5. Attract targeted followers
No one likes seeing the number zero in the Followers section. You might even get discouraged or even think of buying fake followers. But here's the thing: everyone has to start somewhere and building your online presence requires some hard work. As for the fake followers, they are completely useless: bots don't make purchases and don't show any interest in your products. Besides, the platform doesn't favor accounts with an inauthentic following; bots get removed on a regular basis.
On the other hand, you can attract some followers organically by using authentic methods like giveaways and rewards for shares. And from there, you just follow a deliberate promotion strategy, which includes:
publishing quality content people want to follow;
following your TA and communicating with them;
using relevant hashtags under each post;
doing giveaways;
using geotags to mark your location;
cross-posting your Instagram content on Facebook and other social media;
embedding your Instagram feed on your website.
6. Switch to a business account
If you plan to market on Instagram using a regular personal account, you need to think again. Instagram business accounts offer features you can't access from the regular ones, and they offer considerable bonuses for the commercial account owners:
complete account statistics;
promo campaigns;
contact button.
Obviously, using a regular account is much easier. But you'll never be at the top of Instagram marketing without using the business account features.
Switching to a business account is easy. Just go to your profile page and tap the three lines pictogram in the top right corner. Choose Settings (1), then Account (2), and then Switch to Professional account (3). After being redirected to the next screen, choose Business (4).
That's it, now you just have to fill in the required information and link to a Facebook page (in case you have one).


7. Create your brand's visual style
Creating a content plan is very important but it's no less important to decide how it looks. After all, it's a known fact that visual representation affects brand awareness and sales in no small way.
There should be a distinctly recognizable style to the way the posts in your feed look. This will make your profile stand out among others. One of the easiest ways to create this uniform style is by using presets.
This includes the Stories panel covers that are in perfect sync with your unique brand style.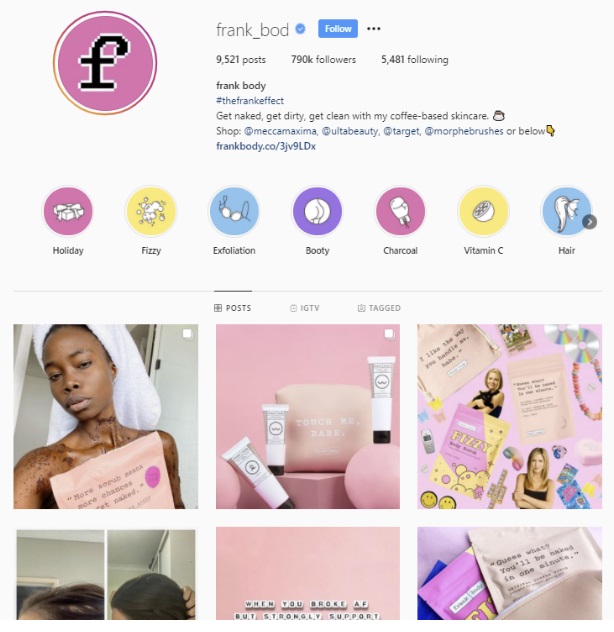 8. Post the right kind of content
Instagram is all about visuals so it only makes sense to make all your visual content as eye-catching and impressive as possible. At the very least, your photos and videos must be clear, well-lit, and have a great composition.
But what's even more important is that your visual content is meaningful. Because beautiful photos are nice but if they are all looks over substance and say nothing about your brand, they won't keep your potential customers interested. Which means that they won't help you promote your business.
In case you don't know what to post, here are a few ideas for Instagram marketing content:
Behind-the-scenes posts. Show your followers what your office or store looks like and how it works.
Quotes and graphics. Play with text and graphics to create visually engaging content without using photos.
Reposts of your followers' publications. Share your followers' content to let them know you closely interact with your audience.
Tutorials. Make a short tutorial for your followers to let them learn something new.
9. Don't forget about the great descriptions
Yes, Instagram is all about visuals but it doesn't mean that you can completely forget about text descriptions. Remember that your voice as a brand is just as important as its visual representation. As is the case with the visuals, all your descriptions should be written in a uniform style.
On Instagram, you have 2200 characters to write a description for your post. This number gives you a lot of flexibility. You can write both short notes or tips and detailed descriptions alike. Just remember those who view your content will only see the first two lines; the rest is hidden under the More button. So take into account the fact that people on IG normally don't like reading a lot. So do your best to fit the most important information in those two lines.
10. Use your hashtags wisely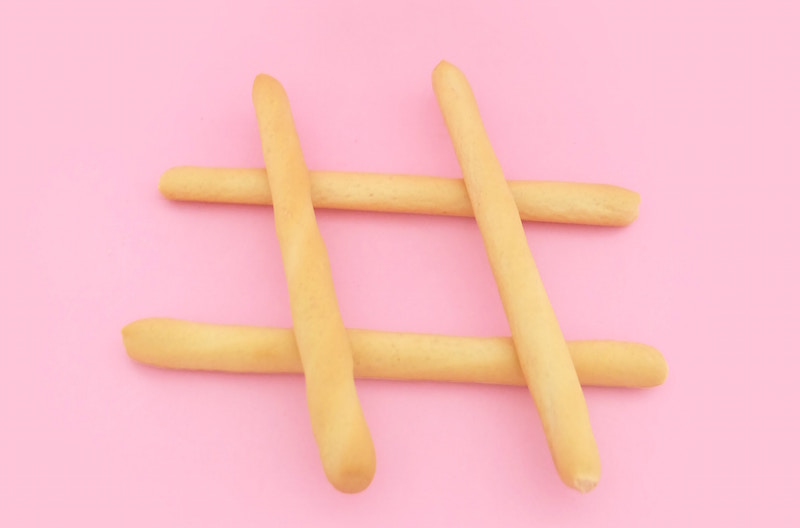 Hashtags are an amazing way to let a large number of people know you are there. Instagram makes it possible to use up to 30 hashtags per post. It's totally up to you whether you want to use all of them or not but you must always make sure that all your hashtags are relevant to the topic of your post and to your niche.
Hashtags categorize your content and make it more searchable. Here's what they usually use them for:
to make your content appear in search results;
to help users keep track of giveaways and contests;
to help them navigate through your feed;
to promote your brand;
to use as a product filter.
It's worth noting that using hashtags as a separate marketing tool might not prove effective. However, they can help greatly when you want to categorize your content, and when you are making your first Instagram marketing steps.
Hashtags attract attention to your brand, to an event, a trend. They expand your reach and raise brand awareness. You can actually think of your unique brand hashtags, which will be great since they can follow hashtags now.
11. Make use of Stories
The vast majority of all brands that sell their products and/or services on Instagram don't forget using the great marketing potential of Stories to their benefit. Neither should you. Every third popular Story on Instagram comes from a brand. They are the key element to any good marketing strategy.
Stories help your customers feel the connection with your brand. They are real, they are relatable. And as such, they give you the opportunity to build a trusting relationship with your audience.
12. Quid pro quo advertising
This is one of those Instagram marketing tools that turn out to be rather cheap (if not free) but very effective. The idea is to recommend/advertise a friendly IG account while they do the same in return. When you plan to use this method, there are a few things to consider:
Your target audiences shouldn't be the same, but they must be quite similar. It wouldn't make sense to advertise a direct competitor. But it makes a lot of sense to recommend someone who operates in a related niche. For example, a makeup artist can effectively collaborate with a photographer.
To suggest a quid pro quo collaboration to someone, make sure that they have around the same numbers in terms of followers and engagement as you. Checking out the authenticity of their following, as well as their ER, is easy using trendHERO tools. By the way, checking your own account wouldn't hurt either.
This isn't the method to use often. If you go overboard with mutual advertising, you can lose more followers than you get.
Make sure that your mutual recommendation posts don't get published on the same day.
13. Commenting and networking
Networking is all about making new useful acquaintances, establishing relationships, or even friendships. Just like in the previous case, you find profiles with similar audiences and numbers, you contact them and collectively organize an activity that benefits you both. Usually, it's a collaborative contest or a giveaway. As a result, you exchange audiences and increase your ER.
Another way to increase your audience is active commenting. It's best for those who spent a while on IG and promote their profile personally. The idea is to leave meaningful relevant comments under the publications of top users and your followers. Remember that active commenting does not equal spamming. Every comment you write must be to the point and appropriate to the topic of the post.
It's important that you interact with your followers in the comment section and react to their questions and opinions fast.
14. Advertise with influencers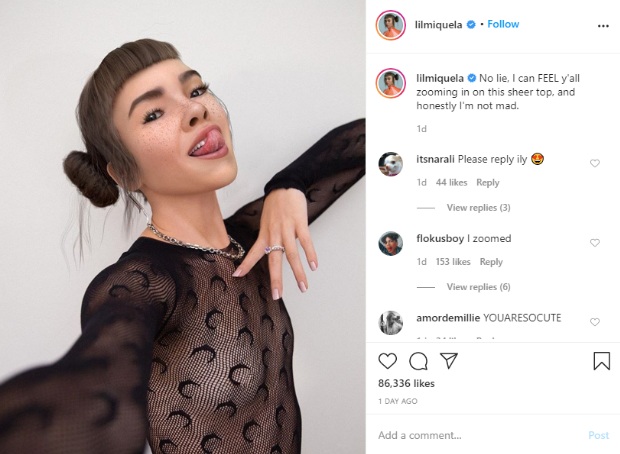 Influencer marketing increases your reach and provides a great inflow of followers. But there's a catch: it's only effective when you know the influencer you are dealing with has an authentic following and a high engagement rate.
So how do you find out if an influencer is good for you?
Ask them to provide you with their profile stats; this way you'll be able to assess the quality of their audience. Do your own research too. trendHERO analysis offers quite a detailed report on ER numbers, the percentage of authentic followers on an influencer's account, and likes and comments analytics.
Pay attention to how often they post sponsored content and how their followers react to it.
Take into account their location, in case you run a local business.
What kind of influencers you choose for collaborations depends on your goals and your marketing strategy. While it makes sense for a big international brand to work with influencers with millions of followers, small local businesses would do much better collaborating with micro-influencers. More often than not advertising with a few influencers with 2-4k followers each is much more effective than paying a hefty amount to a top influencer.
15. Instagram games and activities
Various kinds of events, giveaways, and challenges will sparkle your audience's interest and attract new followers.
Giveaways. Gifts and discounts for comments and shares. Every giveaway must be simple and tailored specifically for the platform.
Flashmobs/challenges. Your followers post info on the flashmob-related actions in their feed using the event-specific hashtags, which significantly increases your reach. As a flashmob starter, you can offer fun prizes to motivate your audience.
Contests. Contests are similar to giveaways and while they can dramatically increase your reach and ER, they often don't require big investments. You only have to pay for your announcement post promotion and the prize. Or invest your time, in case your prize is a service.
16. Post promotions and targeted ads
The idea is that you are the one who chooses the audiences you want to see your content. The goal is to create sales and raise interest in your product and/or service. If you have a business account, you can advertise a certain publication to the TA you choose by tweaking the Promotions settings in your account, choosing your budget, and adding a payment method.
The main idea of targeted ads is to send a certain message to a certain audience (people from a certain location or time zone, of a certain age, social status, or interests). This means that you advertise your product or service to your potential customers only.
17. Use Instagram analytics services
While Instagram has its own analytics tool, the truth is the information it offers doesn't always match the information provided by IG analytics services. The in-built Instagram analytics tool is still not perfect, which makes the services that offer more accurate data truly invaluable.
What kind of analytics info should you look for? ER (engagement rate), quality of audience, follower geography, age, and gender, growth, likes and comments stats, etc.
trendHERO offers in-depth Instagram accounts analytics and offers data on all of the above and more.
18. Promote your profile offline
If your business operates offline (you own a store, a restaurant, a photo studio, a beauty shop), you can use it to attract followers outside the platform. Incorporate your IG username and logo into your interior design. Use nametags to send them to friends, partners, and customers.
Conclusion
Just like any other method of marketing, Instagram marketing requires a judicious approach and a comprehensive, coherent strategy. Make no mistake: this is hard work. But the good news is you'll be completely absorbed in the process before you even know it. Believe me, the results of your hard work won't be long in coming.
Include Instagram in your marketing strategy. Make it a full-scale sales channel. Monetize your profile, learn, grow and you'll succeed in all your goals.