Millions of people keep an eye on the lives of influencers every day, and thanks to these people social media stars earn millions of dollars. Instagram helped nurture the celebrities of the new generation as well as firmly established the popularity of existing. They are world-famous, successful, recognizable, and welcomed at any event. Some of them succeeded in developing businesses, others just constantly work on personal brands and rake in the money for promotions. You should know them all by sight, that's why we have compiled a list of top Instagram influencers of different niches. Hurry up to check suitable faces for your industry, and, perhaps, will get a new advocate for your brand very soon.
The biggest Instagram Influencers on various niches
When I say "the biggest", I mean opinion leaders whose number of Instagram followers has exceeded one million or will reach this figure pretty soon. I have managed to cover the major niches and get together their famous representatives who carved out a staggering career in influencer marketing.
So, who are the top Instagram influencers in 2020? Less talking, let's just cut to the chase.
Top Celebrities on Instagram
He doesn't even need to add a last name to his Instagram username. It seems there is no single person in the whole world who has never heard of this Portuguese football player. Cristiano Ronaldo has the largest following on Instagram among all the celebrities. He shares family pictures, shots, videos from football pitches, and his training. The greatest football player in the world is also the greatest player on Instagram.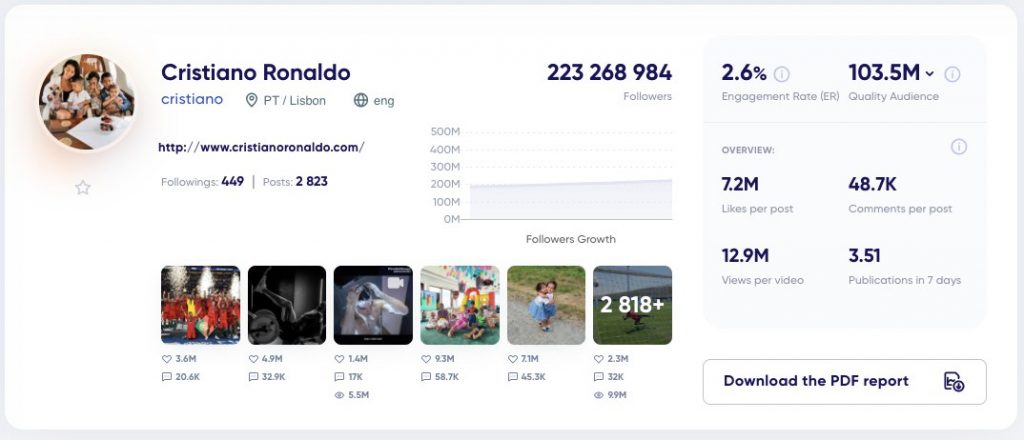 Here are the stats of the stellar Cristiano got from trendHERO – the tool for analytics and checking Insta-profiles as well as search and selection of influencers for marketing campaigns. Thanks to the tool, you can find out that Cristiano Ronaldo has got almost 6 million new followers for the last month! Such a lunatic growth that is impossible to track manually!
The youngest member of the Jenner-Kardashian clan is overwhelmingly popular. With the help of social media, she launched her own cosmetics brand – Kylie Cosmetics. In 2019, Forbes called Kylie the youngest billionaire in history to earn his fortune on his own (the magazine estimated it to be exactly $ 1 billion). However, she has already lost this title as it soon discovered that she faked tax returns. Nevertheless, a business lady can boast millions of followers in her Instagram account. Usually, she shares the pics with her daughter, quite revealing shots of her body, and family ones with her stellar sisters.
An American singer, actress, model, composer, and many-sided person. She is just 27 years old but has already managed to become a brand ambassador of Coach, Adidas and Louis Vuitton, launched her own cosmetic brand Rare Beauty, released Selena Gomez Eau De Parfum, and pleased her fans with other significant achievements. People perceive her as an icon of style. Both girls and adult women copy her hairstyles, imitate the application of makeup and her outfits. For the past 10 years, the unstable love affair with Justin Bieber has been one of the most discussed topics and generated a killer buzz around her personality.
18-year-old singer Billy Ailish is a musical breakthrough of 2016. She owns 5 Grammys and makes the whole world jump at her concerts and hum "I am a bad guy" from morning till night. Generation Z is obsessed with this unique and audacious singer. You will recognize her by bright hair, catchy loose outfits, and freedom of expression. Teenagers adore this girl who dares challenge the world and go against all existing rules.
Ariana Grande started her career in the Broadway musical in 2008. 12 years later she is known as a singer, actress, songwriter, music producer, and, to crown it all, a winner of the Grammy Award. Her Instagram account is a collection of selfies, personal news, music videos. According to the music streaming service Spotify, she has become the most popular singer so far.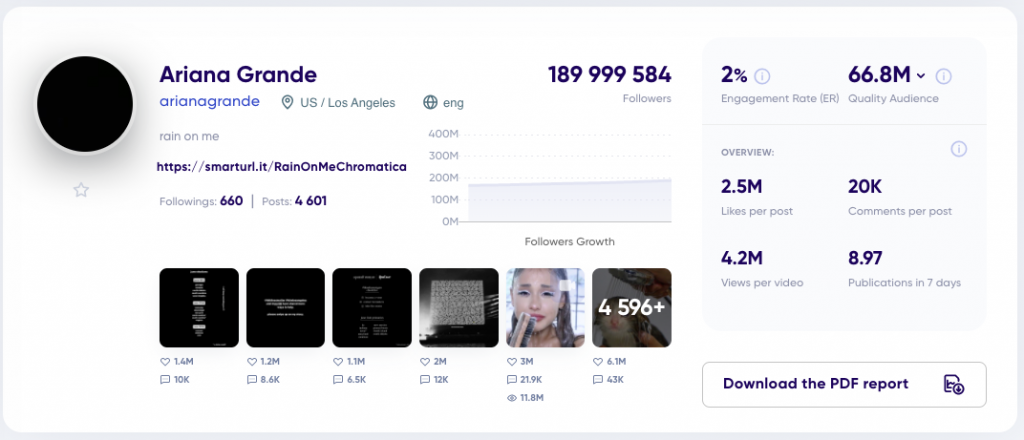 As far as you, Ariana Grande has got 66.8M quality audience. Real people, commercial accounts, and influencers fall under this number. Who are the other 124M then?
Other top celebrities on Instagram to keep an eye on:
@taylorswift
@therock
@beyonce
@shakira
@badgalriri
@justinbieber
@gigihadid
@justintimberlake
@leomessi
@kimkardashian
The Leading Fashion Bloggers
Aimee Song is a fashion influencer from California, an owner of a clothing brand @songofstyle, an author of two books "Capture Your Style" and World of Style". Her second passion is interior design. She even started blogging in 2008, studying interior architecture in San Francisco.
The Italian blonde became popular thanks to her fashion blog The Blonde Salad which she started in 2009. She demonstrated with a good example that everyone can stay trendy with ordinary clothes. At the moment she is one of the most famous fashion bloggers in Europe. She has got thousands of loyal fans who follow this entrepreneur, influencer, and designer – all in one cute lady.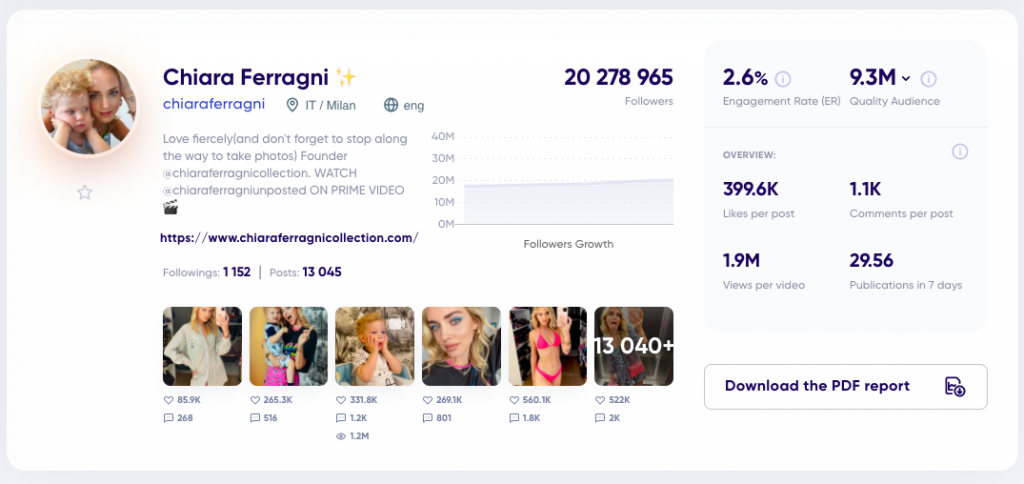 Chiara is very active on Instagram. She publishes a few posts per day. As trendHERO shows us, her standard is almost 30 posts per week. That's cool. Instagram always encourages activity.
Impeccable style with the notes of sexuality, Disney Princess appearance, endless desire to share fashion secrets, and adorn this world brought Negin to the destination where she was always supposed to be. A girl from a fairly ordinary family became the idol of the fashion world and founded her own cosmetic production.
Emily Ratajkowski is an American model and actress who literally blows away with her outfits and sense of style. Her looks are often revealing and too hot. Female and male audience adores Emily for her audacity and a quite uninhibited way of life. She is also an owner of the swimwear brand @inamorata .

Lyn Slater is a professor of sociology from New York, the most fashionable granny on the Internet, and a fashion icon without exaggerations. Lin, known under the pseudonym Accident Icon, clearly demonstrates that age is not a hindrance to stay trendy.
Other leading fashion bloggers to keep an eye on:
@maryleest
@sonyaesman
@pernilleteisbaek
@sabinasocol
@carodaur
@jessicawang
@helenabordon
@camillecharriere
@iamgalla
@rowanrow
Top Beauty Instagram Influencers
This is a self-taught make-up artist who does just as well as any female. He is a maestro of beauty wonders, an extraordinary person, as well as a top beauty YouTube and Instagram influencer.
Nikkie de Jager is a Dutch makeup artist and beauty vlogger. The Queen of Glow, so she calls herself, shares beauty tips and tricks, features favorite beauty products, and shoots beauty tutorials, as you could understand from her nickname. In 2019, she came out as transgender and, at present, is an advocate for the LGBTQ community.
Jeffree Star is an American make-up artist, singer, blogger, stylist, model, and DJ. He gained popularity on the social network MySpace thanks to the shocking androgynous image, a large number of tattoos, and regular scandals. Star also launched his own line of cosmetics, given it the simple name Jeffree Star Cosmetics.
Huda Kattan has the largest following among all beauty influencers. She is an Iraqi-American makeup artist and entrepreneur – the founder of the cosmetics line Huda Beauty. Someone once told: " She is a real eastern princess who succeeded in building the Beauty Empire!" There is nothing more to add.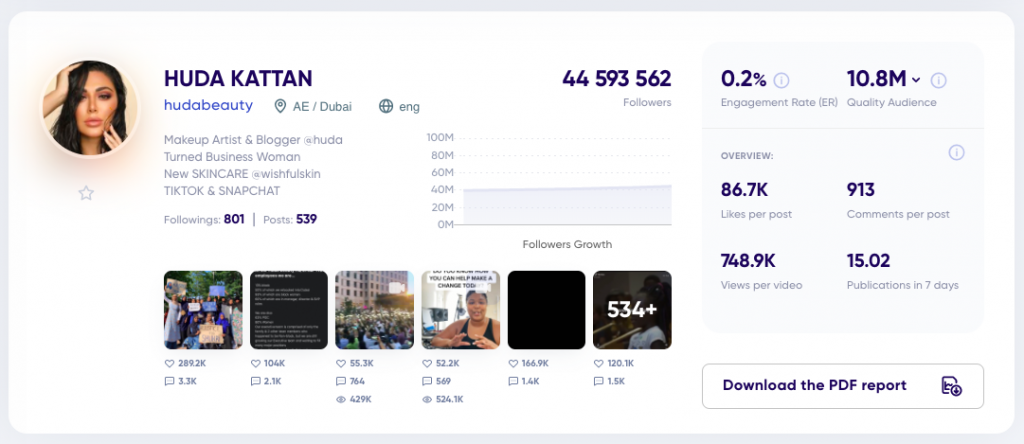 When we take into calculation 44M followers, it turns out that the ER of Huda posts is quite low. You may calculate it manually (find out how in greater detail in this blog post) or delegate this task to trendHERO. The tool will show you the ER of any Instagram account at light speed.
Naomi Giannopoulos is an American beauty opinion leader and a professional makeup artist. She was freelancing as a makeup artist for weddings and various photoshoots for a long time. Later, she had a chance to study at the Polimoda Fashion School in where she was trained by Roberto Cavalli's design team.
Other top beauty Instagram influencers to keep an eye on:
@nikki_makeup
@patrickta
@ctilburymakeup
@vladamua
@ssssamanthaa
@gossmakeupartist
@shaaanxo
@daniellemarcan
@mannymua733
@kandeejohnson
The Best Food Bloggers
Everyone has heard of Jamie Oliver at least once. This renowned chef and restaurateur secured the title of the most famous man in the kitchen. His passion for cooking is visible to the unaided eye, and his Instagram account is bustling with amazingly delicious dishes.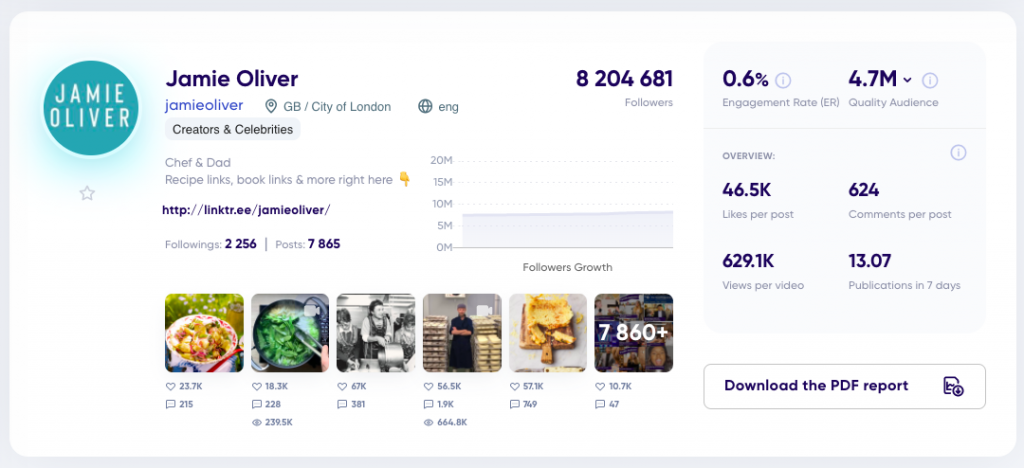 The videos by Jamie Oliver get almost 630K views on average. I can only imagine how many people made their culinary masterpieces by his videos.

Gaby Dalkin from California is a chef, cookbook author, and food/lifestyle writer. Her mission is to make everyone's life easier and more delicious. I must admit, she copes quite well in bringing these strong words to life. Gaby shares various recipes in her account and takes incredible pics of her tasty creations.
Matt is a self-taught baker who draws the audience with his mouth-watering desserts as well as handsome appearance. He shares his recipes, the process of making sweet masterpieces but also does not hide the fails. Matt has launched his online baking school and is also a member of Food Network.
Molly is a smiling food blogger. Each of her cooking chefs-d'œuvre is incredibly photogenic, and, we're sure, delicious so much. This cute lady is an author of the American cookbook, blogger, and host of the culinary show Food Network Girl Meets Farm.
Michaela, but called Ela very often, is a food stylist, recipe creator. As far as you may understand, she is passionate about healthy vegan food. Michaela creates healthy vegan dishes and shares the recipes with her readers on her website and on Instagram.
Other top food bloggers to keep an eye on:
@joythebaker
@nobread
@nelkafood
@saltyseattle
@lokokitchen
@witenry
@deliciouslyella
@ashrod
@wrightkitchen
@idafrosk
The Most Followed Travel Influencers

Two adults and three kids travelling throughout the world – this is Gee family or Family Travel Journalists! They constantly share amazing pics from their wandering and tell stories of their adventures. Have a look, and you'll not be able to leave.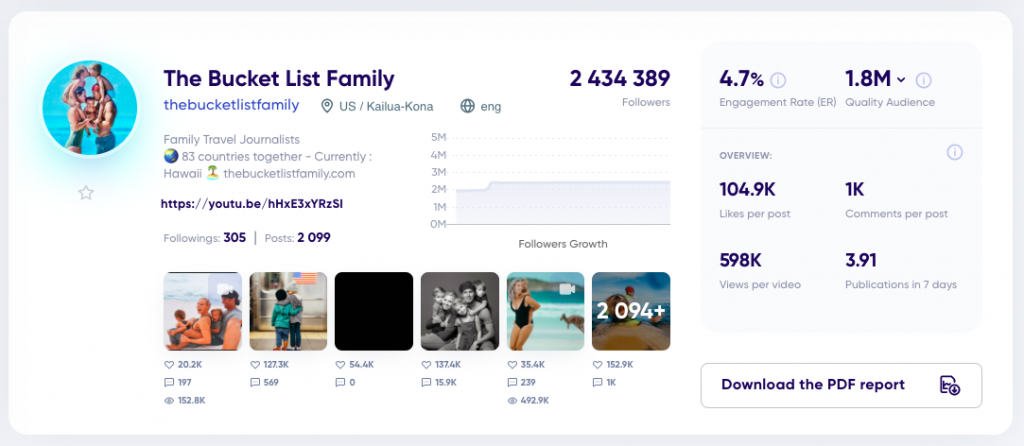 A family of travelers has got a quite good ER. Having 2M followers and 4,7% is a cool result. Using trendHERO, you will get 90+ various metrics to analyze any influencer far and wide. Sign up here and get 3 checks for free.

It's truly amazing how beautifully people can see the world. Jack Morris has been travelling since 2012 and can boast of several million followers in his Instagram account. His blog is a blend of luxury pastimes as well as escapes with a backpack in secluded and far-away places.
This is a travel account of Murad and Natalia Osmann who were the first to take pictures in the style of #followemeto – a girl taking a man's hand and leading him to the most iconic places on Earth. This wonderful couple shows incredible corners of the world, and drives their followers to start packing bags immediately!
It seems that Jennifer Tuffen has already been everywhere. She is a British travel influencer who prefers to go off the beaten path and open new icon places. Her Instagram account is a source of positive vibes as all the pics are flamboyant and catchy.
Paul Nicklen is a Canadian photographer, director, and marine biologist. He is not that kind of influencer you used to come across on social media. Paul photographs animals of the Arctic and Antarctic, generating global awareness about wildlife in these isolated environments. Every photo is a real masterpiece. Check yourself.
Other popular travel accounts on Instagram:
@chrisburkard
@adventurouskate
@polinabrz
@ournextflight
@danielkordan
@melissa
@funforlouis
@taramilktea
@tuulavintage
@jannid
Top Lifestyle Insta Creators

Oliver Proudlock is a TV personality and fashion entrepreneur who became famous thanks to the reality show Made In Chelsea. Always stylish, fit, and ready to gladden followers with a new pic. Attention! He posts pictures with his irresistible @emmalouiseconnolly. Just for you to know, just in case.

Zoe's blog covers various topics: fashion, beauty, day-to-day life. She's good looking and her positive vibes transmit through each photo in her account. In a word, she tells stories, and several million followers listen to her with pleasure. Will you join?
Marie Lopez or EnjoyPhoenix, is a French influencer who supports a healthy way of life, collaborates with famous brands, travel the world, and runs an online boutique Leaves and Clouds. She is quite open and sincere, and constantly share news from her life on Instagram and YouTube.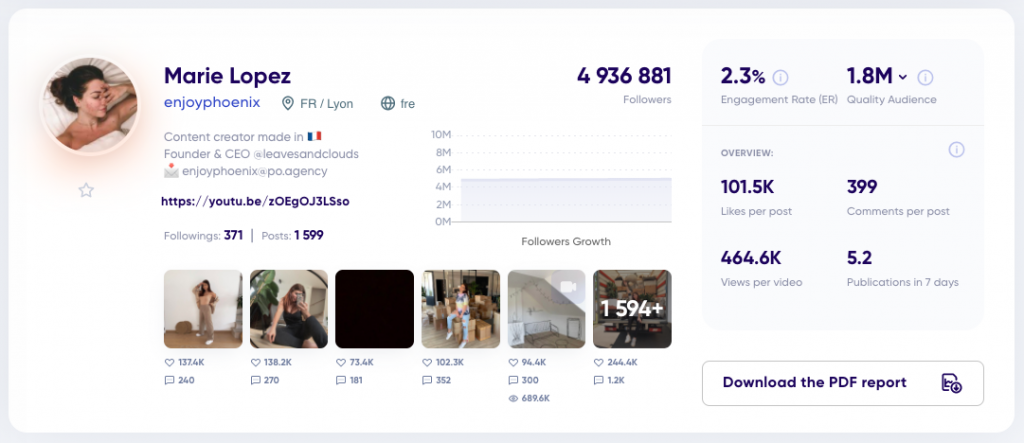 According to a deep analysis by trendHERO, Marie gets 399 comments per post on average. I will say even more. The tool also can determine the type of comments – which of them are real, and which are suspicious.
Lauren is an American TV personality, fashion designer and writer. It's a pleasure to follow this businesswoman as it proves with her example that women are powerful and can achieve everything in life.
Steffy can fit several niches: mommy blogger, fashion influencer, interior zealot, and so forth. Being so versatile, she produces various content, and, thus, attracts a diverse audience.
Other top lifestyle bloggers on Instagram:
@meghanrienks
@simplykennedy_
@sydneyleroux
@joannagaines
@christineandrew
@rachparcell
@abeautifulmess
@lilly
@rosannapansino
@emilyschuman
The Most Famous Sport & Fitness Bloggers
Kayla is an inspiration incarnate. She is a fitness trainer who can encourage everyone to get off the couch and go in for sports. This fit and sporty lady shares her tips and tricks about training, gives pieces of advice, and shares success stories of how her clients who lost weight.
With such a huge number of subscribers, Kayla's posts do not gain a huge number of likes. By the way, trendHERO provides a feature which the location of likers even by the city as well as their gender, type, and an average number of followers.
"Dreams don't work unless you do" – says Sommer Ray. The same is with an attractive body, you know? Sommer is an American fitness model, known primarily for photos of her fifth point and dedicated fitness posts on Instagram.
This lady is convinced that it's more important to focus on health, not aesthetics when going in for sports. Visit her Instagram account and debate with her, or join the team of sporty and fit people.
Jen Selter is an American fashion model and fitness instructor. Take your kids and husbands off the screens. Jen is too hot. She shares her training on Instagram and often chooses iconic locations to conduct them.
This list will not be complete without a handsome man. Simeon Panda is one of the most influential fitness professionals in the world. Close to him, you'll definitely feel safe, like behind a rocky wall. No exaggerations.
Other famous sport & fitness influencers:
@sjanaelise
@eakinwale
@progressive_calisthenics
@eddiehallwsm
@massy.arias
@syattfitness
@bretcontreras1
@laurabiceps
@soheefit
@bicepslikebriggs
Healthy Lifestyle Instagram Influencers
Lucy Mountain is a fitness expert and a foodie based in England. Healthy recipes, descriptions of useful products, home workouts, and inspiration to stay healthy throughout life. All these in her Instagram account.
"Health + active living + workouts". I have stolen these words from Mona-Jane Hannemann's Insta Bio. There also her cute kids and handsome husband.
Rachel Brathen is a yoga instructor and author of the bestseller Yoga Girl. Her Instagram account really brings certain appeasement and gives a lucid mind. What else is needed in this turbulent modern world?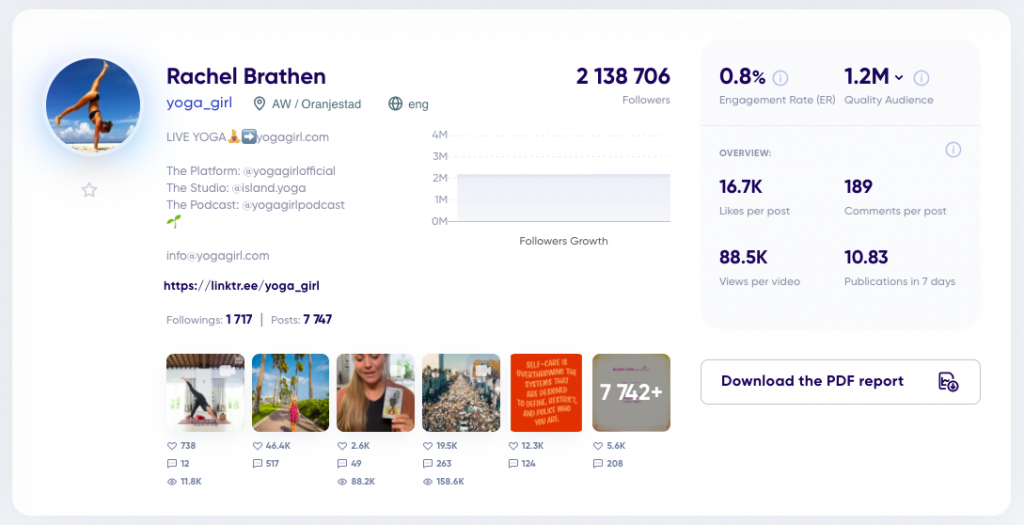 The metrics of growth and decrease in Rachel's audience are quite unstable. According to the chart, she has attracted new people for the last several months. However, she has also already lost 5K followers.
Charlotte is a real queen of a healthy lifestyle. In her Instagram account, she teaches to be kind to yourself and eat well. Short and to the point.
Lauren Ash is a wellness visionary, yoga and meditation guide, engaging speaker and creative writer, and a few more roles. She is passionate about healthy and conscious living. This is infectious in a good sense, of course. Try yourself.
Other healthy lifestyle Instagram bloggers:
@vanessaromito_
@wellandfull
@msjeanettejenkins
@mynewroots
@nutritionstripped
Photography Creators with a large following
Welcome a renowned photographer who captures high-intensity shots of climbing expeditions and natural panoramas. National Geographic Photographer, I guess that about says it all.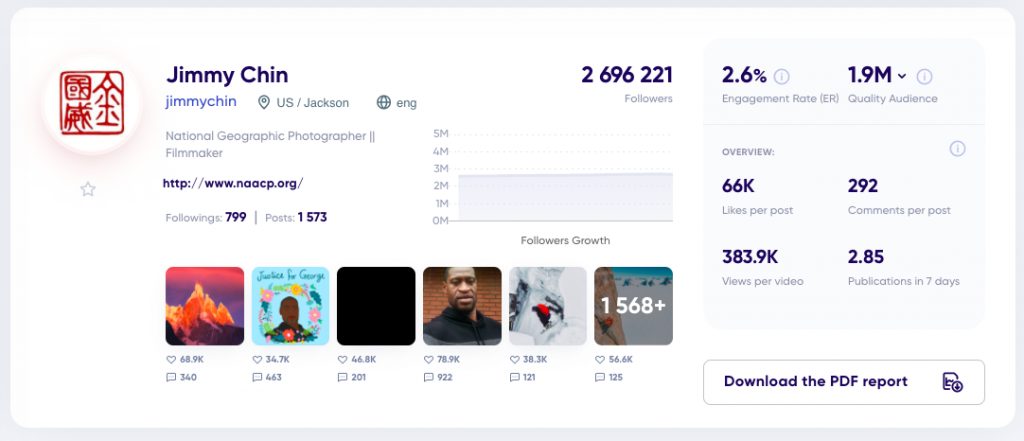 As far as you see, Jimmy Chin can boast of not bad ER. Nevertheless, with the current algorithms of Instagram, such a posting frequency is simply unacceptable for the influencer.
Photographer, filmmaker, and director of commercials stands out from the crowd thanks to his special ironic style of "surreal glamor". You have never seen such a subtle and yet creative approach to photography. Inimitable style, overwhelming ideas!
Michael Yamashita photographs for National Geographic. His dual passions of photography and travel are brought together, and the result of this creative combo you can see in his account.
İlhan Eroğlu is a travel photographer as well as Sony Alpha and Haida Filter ambassador. The world through his lens is truly mesmerizing.
Theron Humphrey is a photographer, adventurer, and animal addicted. Mostly, he posts to Instagram the pics of his dog in beautiful surroundings. And this is inspiring to know how close people can be to their pets.
Other photography creators you should follow:
@muradosmann
@martinschoeller
@vincentjmusi
@stevemccurryofficial
@bruce_gilden
@petesouza
@ellenvonunwerth
@nick_knight
@amivitale
Mommy bloggers
Samantha Eason is a mom of two marvelous boys – Isaac and Maddox. Basically, she is more of a lifestyle blogger. However, kids appear on her account very often, and she mentions that parenting and motherhood is her passion.
Naomi Davis is a lifestyle creator and a parenting blogger from NY. She raises 5 children and documents their family adventures, activities, and day-to-day life. In a word, this amazing woman celebrates family, motherhood, and upbringing.
Elle Walker has got 3 kids – Pressley, Ford, and Tess. On Instagram, you will see a ton of her family pictures. In addition, Elle is one of the creators of parenting YouTube channel WhatsUpMoms that is the leading one in this niche. She knows a lot about motherhood, will you join?
Amber Fillerup Clark is one of the most famous influencers of the parenting niche. She has got 3 cute children and does not miss an opportunity to share their pics on Instagram. Amber says that being a mom is always her first priority but she also adores fashion, beauty, and running her two businesses.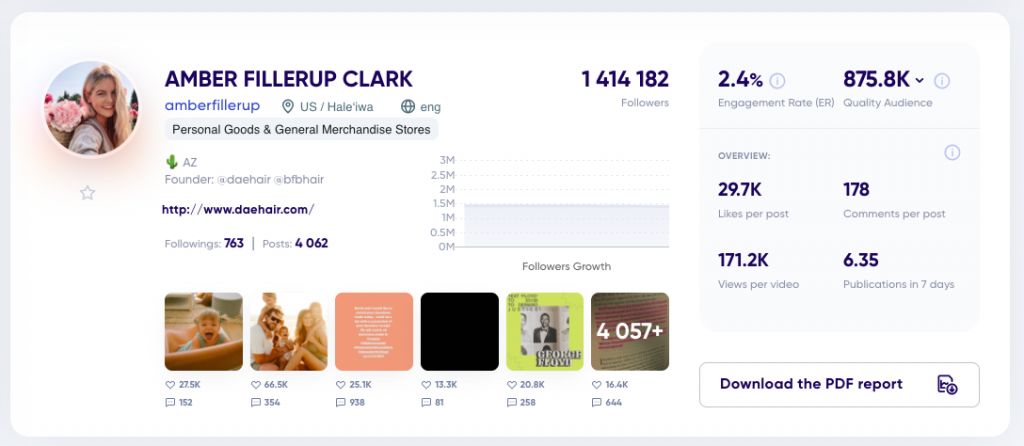 Most of Amber's audience are real people. However, trendHERO helped me determine that she has lost 10K followers in the last 4 weeks.
Ginger Parrish is a mommy blogger who raises three boys! She shares her family life pics with pleasure and tells day-to-day stories on Instagram. It seems that they live a life of leisure and are all incredibly happy together. So nice to look at such families.
Other inspiring mom bloggers to follow:
@mommyshorts
@jessicashyba
@bonniehoellein
@momswearheels
@diaryofafitmommyofficial
@emilyskyefit
Conclusion
Here is an ultimate list of influencers from various niches who are the most renowned and are literally top on Instagram. No matter whether you're going to pick someone out for collaboration or just want to familiarize yourself with famous faces, you are in the right place.