There's no denying that Influencer marketing has its advantages and downsides. But one thing is for sure: it's not going to leave the social media scene any time soon. According to a recent Influencer Marketing Hub survey, the vast majority of marketers admit that partnerships with influencers really work for them. So it comes as no surprise that there are multiple influencer marketing platforms to help brands make their marketing campaigns more effective.
Let's have a look at the best active influencer marketing platforms and marketplaces in 2021.
What is an influencer marketing platform?
Before we get to it, it would hurt to have a clear idea of what an influencer marketing platform is. Basically, an influencer marketing platform offers a set of tools to analyze social media profiles and their performance. On the one hand, it helps social media profile owners see how their target audience reacts to their content and do some course corrections accordingly. On the other hand, it allows marketers to choose the right influencers for their marketing campaigns and predict how successful these campaigns will be.
Unlike marketing platforms, marketplaces have their own influencer/blogger database. It's where marketers go to pick influencers to partner with based on their ad campaign requirements. Interestingly, many marketplaces offer analytics as well.
Top influencer marketing platforms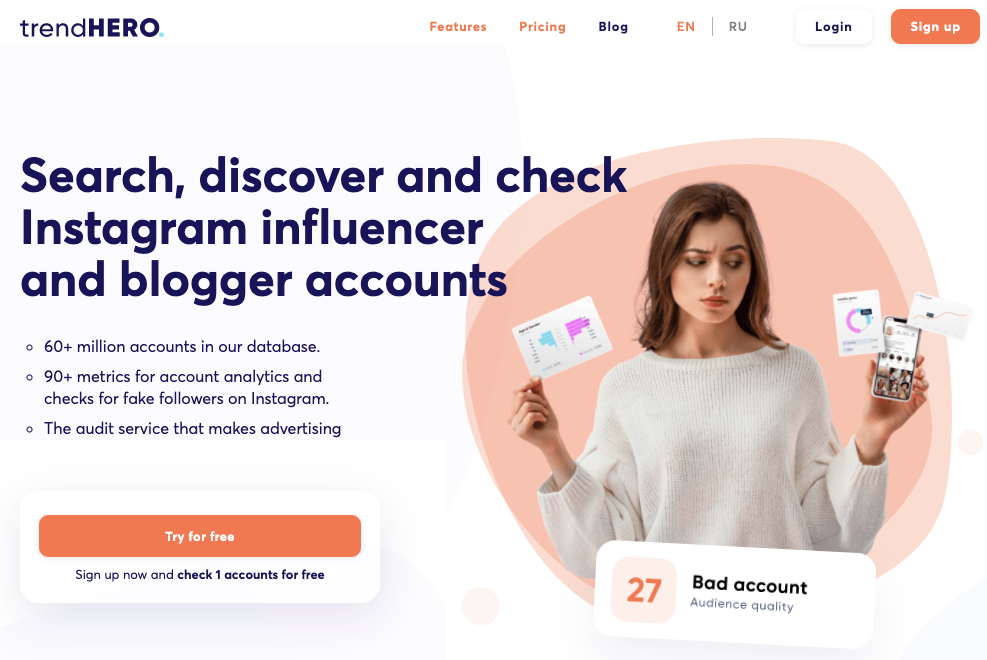 Partnering with influencers whose audience has no interest in their content means wasting your marketing budget. This platform understands that. trendHERO is an Instagram analytics platform that offers a wide range of instruments to analyze and track public profiles on the social platform. The features available are extremely helpful for bloggers and brands alike.
Tools
In-depth analysis of any public Instagram profiles. You get a report with detailed statistics on all the account metrics that matter.
Instagram profile search. Search for suitable Instagrammers based on a large number of criteria like language, gender, location, follower count, and more.
Finding audience overlaps. Make your marketing campaigns more effective by targeting unique audiences or those that overlap.
Instagram profile tracking. Allows tracking a profile performance over time.
Sponsored content search. Look for your brand mentions (or your competitors') on Instagram Stories and posts.
Features for influencers
Detailed profile analytics. Comes in handy when you want to learn more about your audience, content efficiency, and profile growth.
Tracking. Do you want to try a new content format? See how it performs over time.
Features for brands
Detailed profile metric reports. All you need to know about an influencer's profile, including their engagement rate and audience authenticity.
Monitoring marketing campaign progress by tracking profile metrics in real-time.
Lists. Compile lists of influencers including their basic metrics and track their performance. All lists are available for importing and exporting.
500 similar bloggers & audience interests. Found a content creator that suits you perfectly? Get a list of 500 influencers with similar audiences and other parameters. Additionally, check their audience interests and make sure they are interested in your content.
Audience overlap. Find out the percentage of overlapping/unique audiences on influencers' profiles.
Ad posts. Find your brand mentions or see whether your potential influencer partners collaborate with your competitors.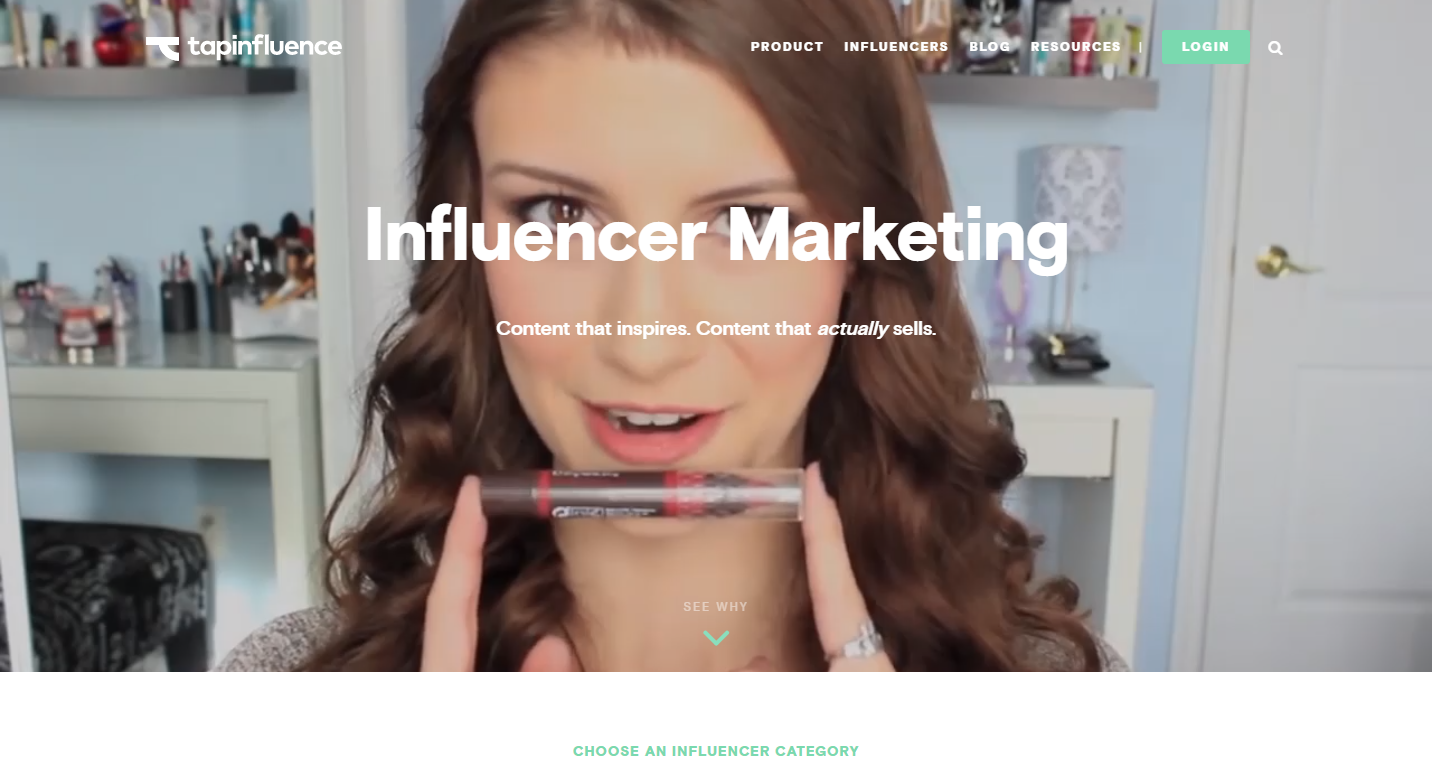 Tapinfluence is one of the most recognizable influencer marketing platforms that's been around for almost a decade. The platform has a database of over 500K bloggers and helps bring marketers and content creators together. What's more, here you can launch, manage and analyze your ad campaigns from start to finish.
Tools
Influencer search. Use the keyword search, visual search, or find profiles and analyze their stats
Marketing campaign workflow. Start and manage your marketing campaigns of any scope and complexity in one place.
Analytics. Measure every important metric to make your campaigns more effective.
Content promotion. Give your content a boost by setting up a targeted ad campaign.
Features for influencers
Tapinfluence offers content creators to join their network and this way, get easily noticed by marketers. Joining the platform is free and all you have to do is connect your social media profiles, produce great content, and wait for the brands to invite you to bid on a job opportunity.
Features for brands
Although Tapinfluence has built quite an influencer network on its platform, brands and marketers are its main customers. As was mentioned above, they can pick suitable content creators, look into their profile metrics and content, and partner up with the chosen ones. They can also start marketing campaigns from scratch and see them through.
Brands they work with
Whole Foods, Seiko, Canon, Volvo, Target, and others.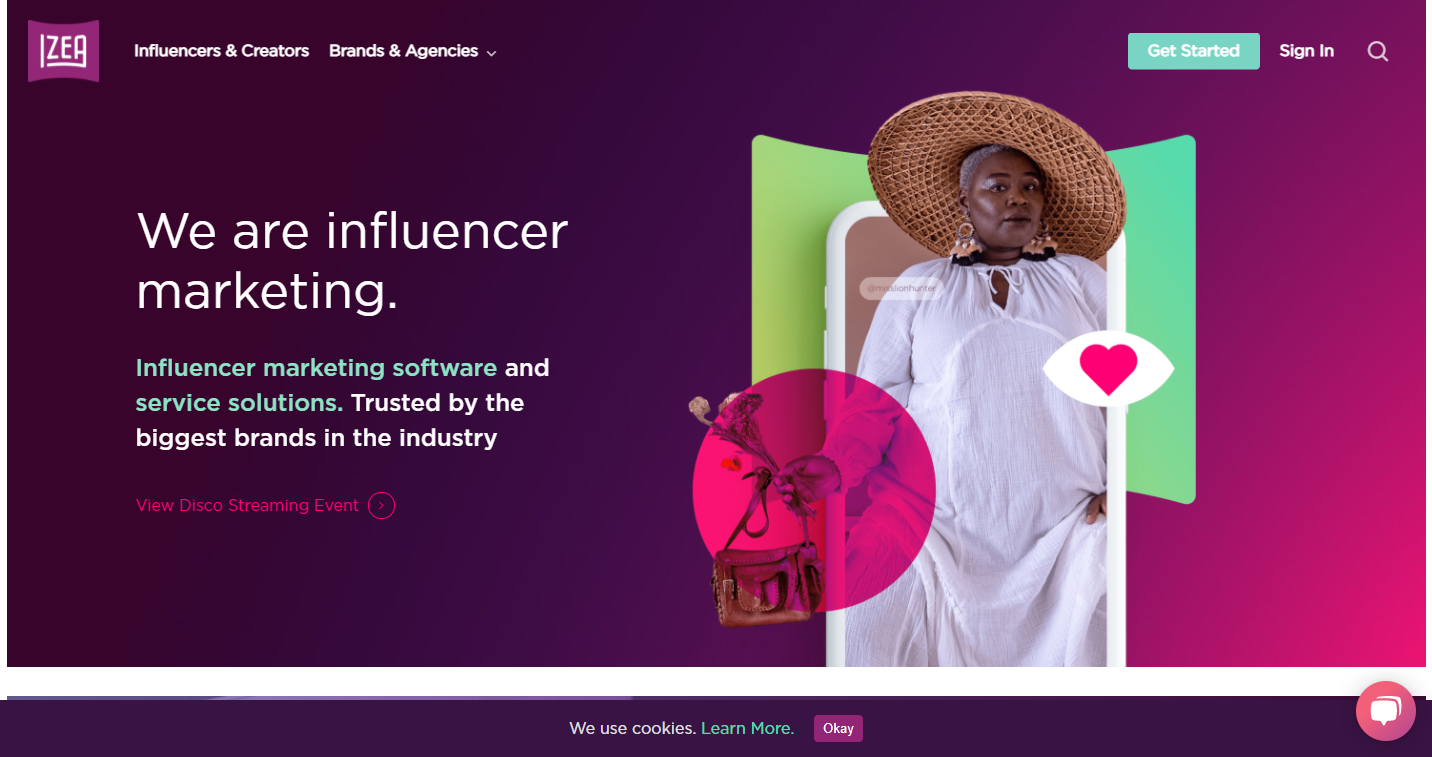 Izea is probably one of the oldest marketplaces out there as it's been on the market ever since 2006. Since recently, it also owns Tapinfluence, by the way.
All marketplaces look pretty much the same: they bring marketers and influencers together and offer a little more apart from that. Izea is one of the happy exceptions to that rule. You don't just come here to pick a content creator to suit your marketing campaign. As is the case with influence, you can also launch and manage your marketing campaigns of any complexity using the platform's tools.
Tools
IZEAx Discovery. A tool for finding influencers and content creators perfect for your campaigns. Includes a search engine, in-depth analytics and performance tracking, and brand mentions search.
IZEAx Unity Suite. Start a marketing campaign, manage its performance, monitor analytics, and promote your content.
Influencer marketing services. Hire a team of SMM experts, launch global campaigns.
Shake. An influencer marketplace.
BrandGraph. IZEA's AI for analyzing influencer content.
Features for influencers
Izea offers a safe and transparent network for all influencers and content creators who want to monetize their online presence and/or get paid for creating content for brands. There are two options available. Influencers might want to join IZEAx, the platform's principal platform for content monetization. Or they (and all content creators in general) can start with signing up for Shake, a content creator marketplace.
Features for brands
Just like the previous platform, Izea is first and foremost tailored to marketers' needs and has an impressive set of features for them. Your work here goes far beyond a simple search for eligible influencers. There is a large number of analytics tools that will help you analyze their audience, engagement rate, and much more. What's more, you can start a marketing campaign, whether it's local or a global one, and manage it at every step.
Brands they work with
Subway, Levi's, Comcast, Whole Foods, eBay, Target.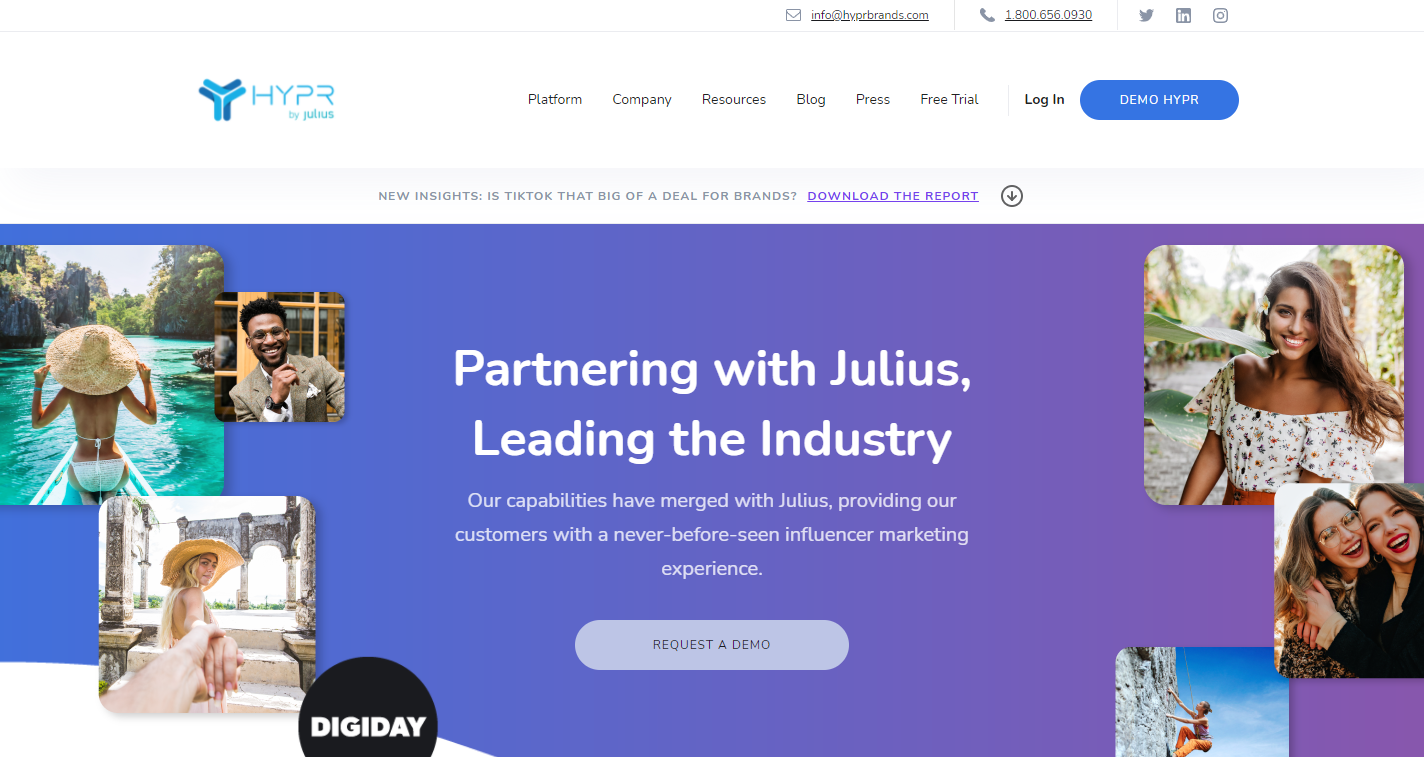 Hypr is yet another influencer marketing platform that's been around for a decade. Like its counterparts, it has an extensive database of influencers and content creators to choose from. In fact, the platform boasts a cloud of 12 million content creators from over 100 countries with information on them updating on a regular basis.
Tools
Search and discover influencers from all over the world. You can apply various filters to find exactly what you need and analyze influencers' audiences.
In-depth influencer evaluation. Use the platform's powerful algorithms to ensure your marketing campaign success.
Complex influencer CRM and payment system. Organize your interactions with content creators at every stage of your partnerships.
Campaign tracking. Manage your campaigns from start to finish on your dashboard.
Measure your campaign performance over time.
Complete data control on a single user dashboard.
Features for influencers
Hypr is tailored specifically for brands and marketers and currently, there are no options to cater to content creators. The platform invites influencers at their own discretion.
Features for brands
Social media profile analytics
ROI monitoring
Marketing campaign measurement & management
Influencer search
CRM
Brands they work with
Pepsi, Mediacom, Revlon, National Geographic, and others.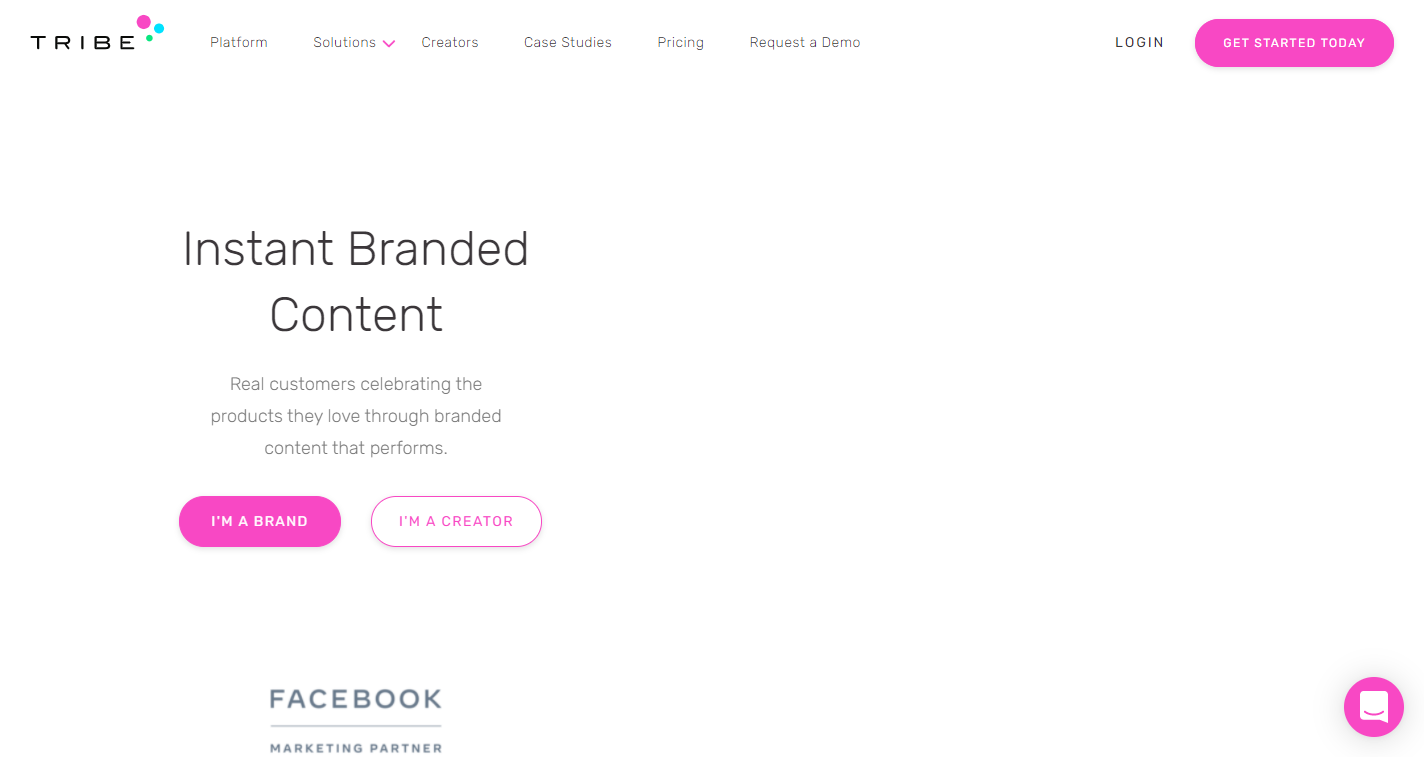 Tribe is an Australia-based influencer marketplace specifically focused on micro-influencers. According to the platform's developers, it's the fastest-growing influencer marketing platform today. Tribe is the place where marketers can advertise their campaigns to content creators and content creators can make their unique, quality content visible to brands.
Tools
User-friendly Campaign Builder. Create an easy campaign brief in a few simple steps.
Influencer tracking. Up to 100 content creators on your dashboard.
Campaign performance tracker. Evaluate the progress of your campaigns using the platform's AI.
Extensive branded content library.
Community of brand fans. Create your own network of content creators and invite them to take part in your campaigns.
Features for influencers
First of all, it's worth mentioning that Tribe takes influencer authenticity seriously. The platform has its own AVS system and makes sure that every content creator in their network has an authentic audience. All content creators should have at least 3K followers. In case they meet all the requirements, they can decide on how much they want to charge for sponsored content and then start to look for active campaigns. They can apply by submitting their branded content, wait for it to be approved, and once it is, post it on their social media profile.
Features for brands
As it happens with marketplaces, brands here are offered a much wider choice of tools and features to work with. However, starting on Tribe is very simple for any marketer. You just have to post a brief describing what your campaign is about and all the basic requirements for influencers and their content. After at, you just wait for submissions and pick what you like. Marketers can opt for one of the two types of campaigns, influencer marketing or content. While the former implies the submissions you choose will be posted on influencers' social media, the latter can be licensed and used at your discretion.
Brands they work with
Adidas, Lego, Miller, Spotify, Samsung, Braun, Nutella, Discovery, Nissan, and many others.
Scrubs is an influencer marketing platform that brings content creators and brands together, simple as that. The platform boasts one of the largest content creator databases (more than 20 million) on Twitter, Facebook, Instagram, and YouTube.
Tools
Influencer lists by niche and location.
Influencer discovery
Campaign management
Engaging SMM experts to help with your marketing campaigns
Features for influencers
The features offered to content creators are pretty basic. You just register on the platform and wait for the marketers to notice you and invite you to collaborate with them.
Features for brands
Brands that sign up for Scrunch services get the opportunity to find the influencers they need and track and manage their social media campaigns from start to finish. They can monitor influencers by bookmarking them and organize and oversee their outreach by including content creators to as many lists as they like. The system alerts you when there are suitable content creators.
Brands they work with
Vogue, Under Armour, MTV, Youfoodz, Subway, Red Bull, GQ, and others.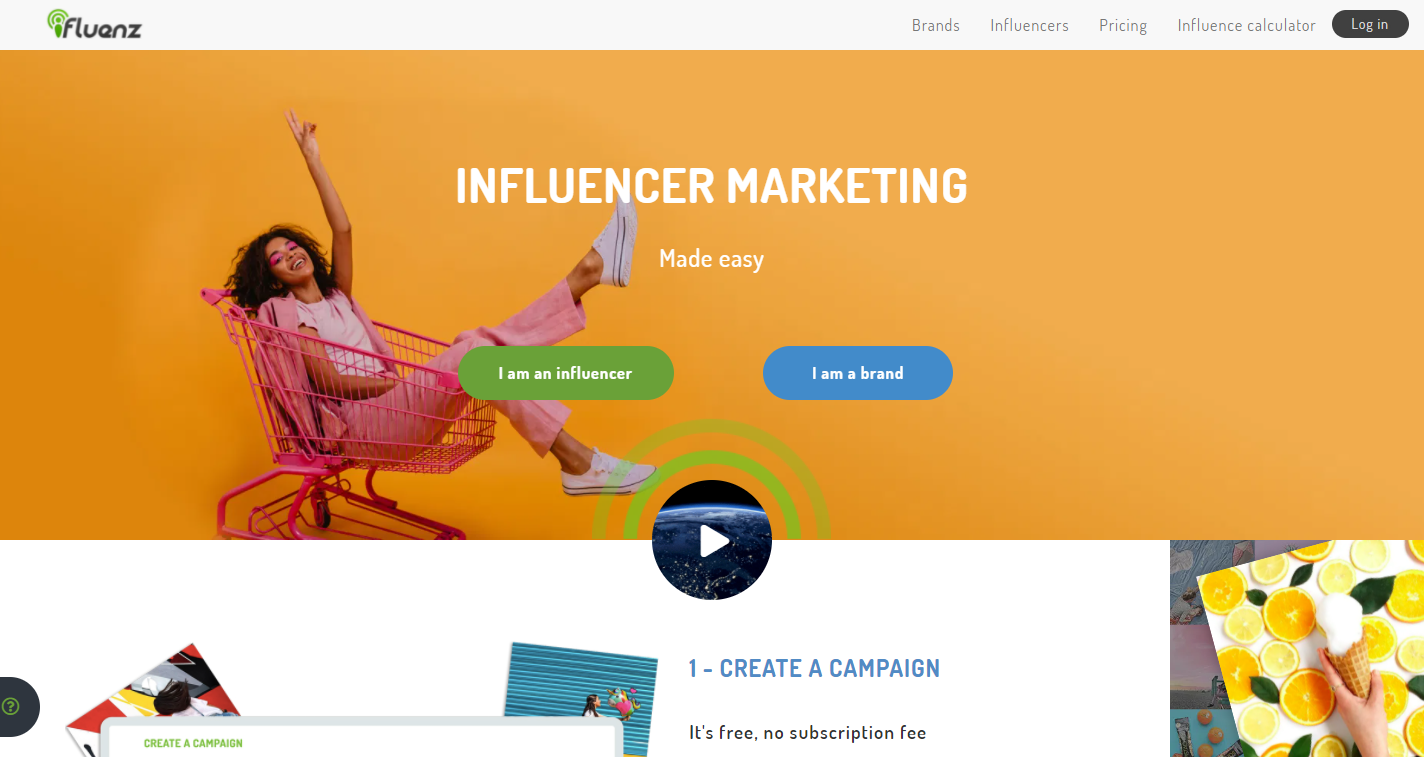 iFluenz is primarily aimed at Instagram and has a database of over 20 thousand Instagrammers from any niche and category. The platform's AI allows searching for and evaluating content creators, as well as dividing them into categories based on the most important metrics. All influencers signing up for participation in iFluenz go through a vetting process to make sure their engagement numbers are acceptable.
Tools
Campaign creation. Set up a marketing campaign in just a few minutes using the platform's software.
Influencer discovery. Find suitable influencers, review content submissions, and approve/reject them.
Monitor campaign performance in real-time.
Features for influencers
The features for content creators are quite standard for this kind of marketplace. You sign up, you go through the vetting process, you get approved. Once that's done, you can look for brand proposals and make your submissions. Get approved, discuss the details, get paid.
Features for brands
You won't find anything revolutionary here either. Spend a few minutes to create a campaign description, specify what types of influencers you want to collaborate with, and wait for submissions. Next, start a partnership with a content creator of your choice and track your campaign performance.
Brands they work with
Uber, Yves Rocher, Azzaro, Universal Music France, Porsche, Maurice Lacroix, UGC, and many others.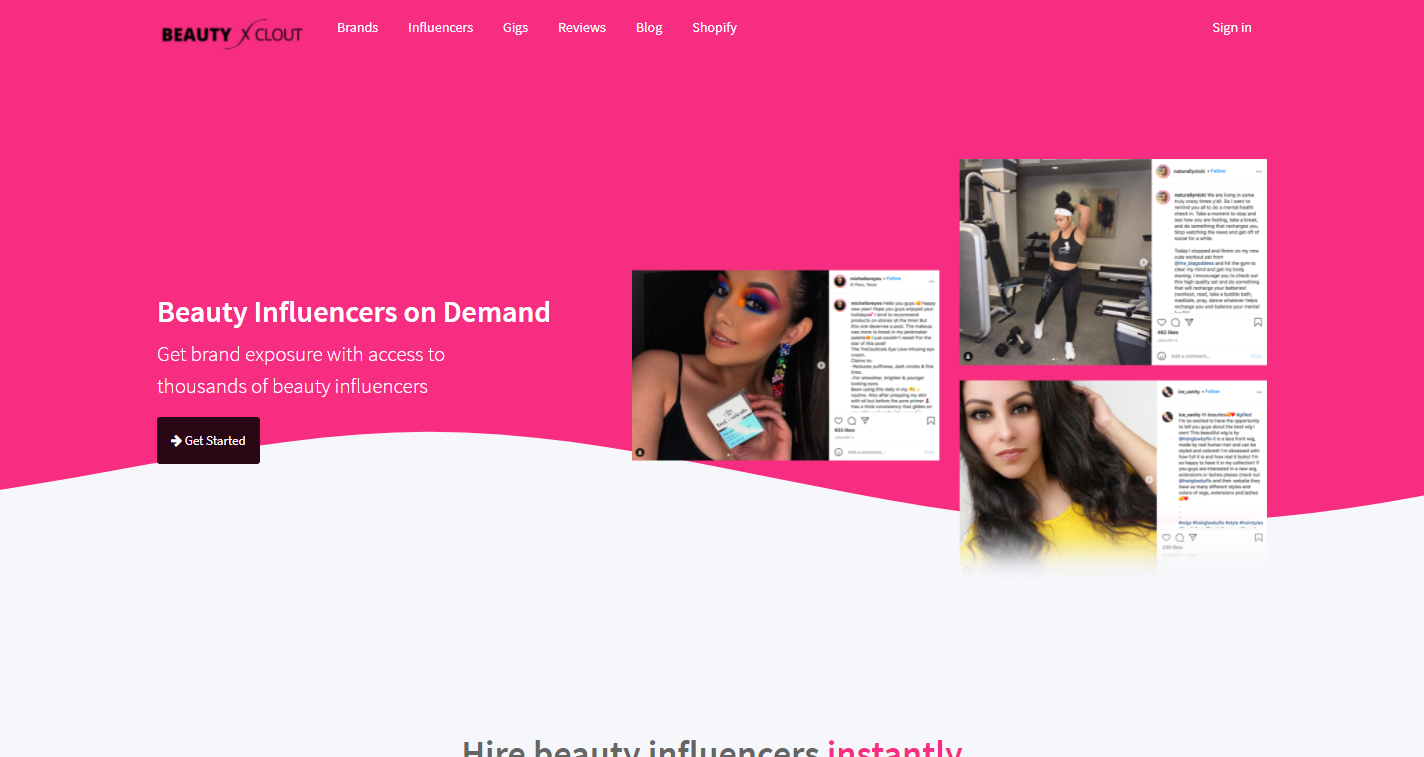 Beauty clout is a marketplace aimed, as the name suggests, at the specific niche of influencers. So if you are a brand that offers beauty and fashion-related products, this might be a great place for you. There is a large database of content creators and influencers on Instagram, Facebook, YouTube, Twitter, and standalone blogs.
Tools
Influencer & content creator search. Find thousands of beauty and fashion-related profiles, see what they offer, and choose the ones that suit you best.
Connect your Shopify store to the platform. Offer or barter your products without leaving the app.
Features for influencers
As a marketplace, beauty Clout is pretty basic, with just a few simple features. All you have to do is create an account, choose the social media you want to collaborate with brands on, and apply for brands' opportunities. It's worth noting that the platform will require your bank details in order to process payments. For whatever reason, they do not have the option of PayPal payments.
Features for brands
Create a detailed proposal including your product description and your requirements and invite influencers to offer their content. You can partner up with a single content creator or collaborate with as many as you like at a time for the purposes of your campaigns.
The platform gives you access to some influencer profile analytics.
Brands they work with
Treuceuticals, Private Label Extensions, and other beauty brands.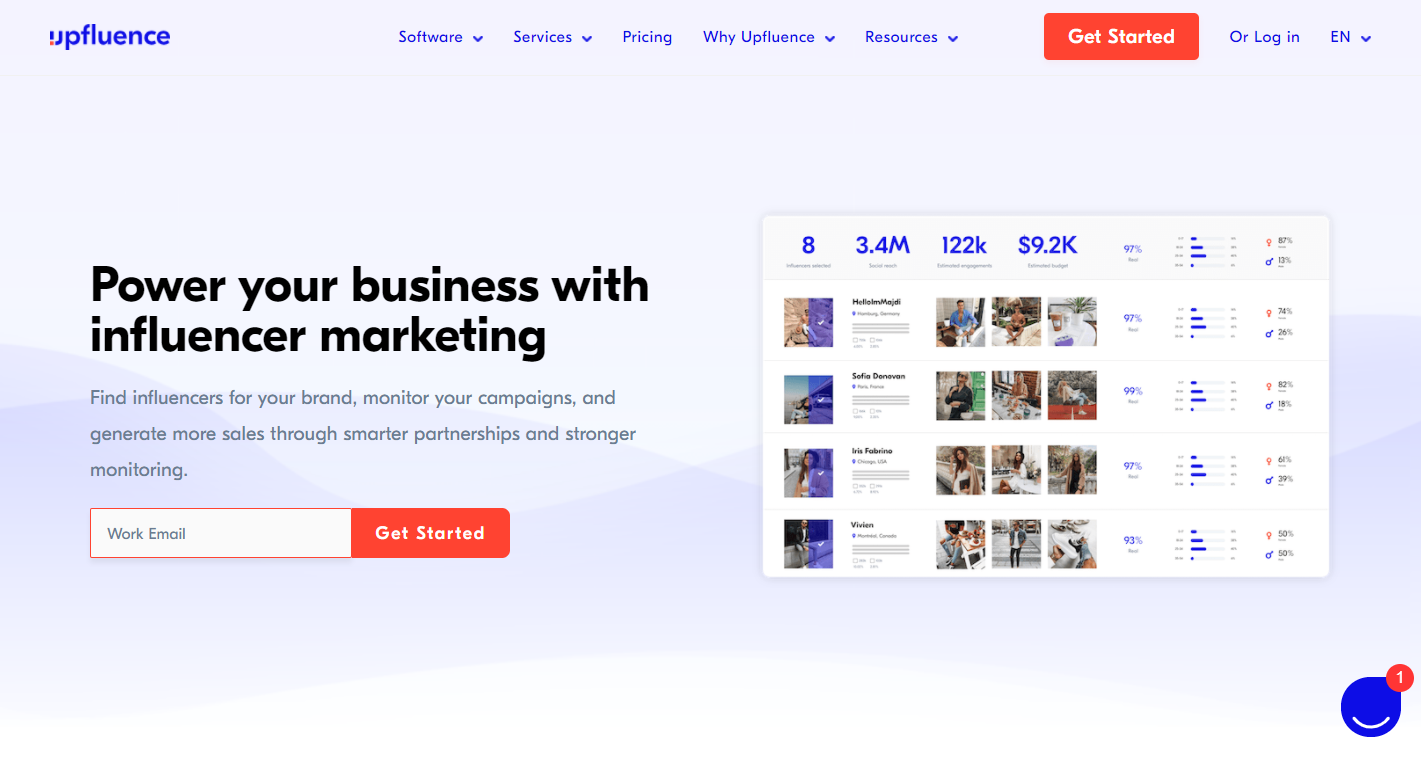 Upfluence is a marketplace that offers campaign management and influencer discovery software. It's here that marketers can find exactly the content creators they need and manage their collaborations at every step of the process, including post-campaign evaluation. The platform is tailored for brands and influencer agencies.
Tools
Software to turn brand fans into ambassadors. Add social media pop-ins and widgets to your website and/or Shopify store and analyze your customers and visitors.
Influencer search. Find influencers based on over 20 criteria.
View influencer profiles and compare their stats.
Email templates for enhanced influencer outreach.
Campaign management.
Influencer tracking. Measure your campaign ROI by tracking sponsored content.
Features for influencers
Upfluence's software allows indexing and updating influencer profiles across multiple social media platforms. However, it focuses on businesses and doesn't offer features for content creators.
Features for brands
Influencer campaign management
Influencer search
Content creator profiles
Automated broad-scale outreach
Sponsored content tracking
Brands they work with
Over 1600 brands including Amazon, Verizon, Farfetch, Zappos.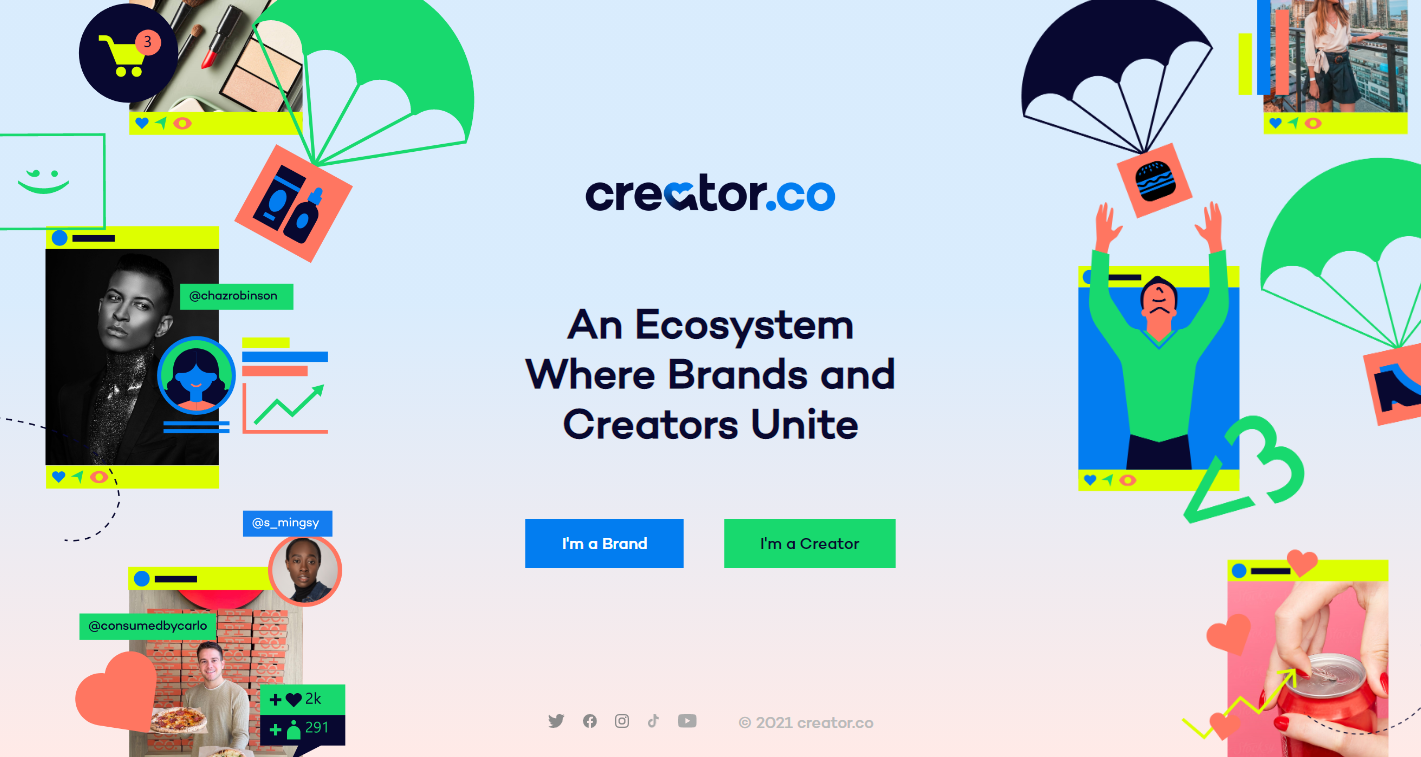 Creator.co is an influencer marketplace that understands the importance of small businesses and small-scale content creators. It's exactly what they are aiming at, with an increased focus on quality over quantity when it comes to content production. The platform offers a database of half a million content creators easily accessible to marketers.
Tools
Campaign creation
Automated campaign workflow
Influencer and campaign analytics
Targeted ad campaigns utilizing UGC
Features for influencers
In terms of features, Creator.co seems to offer a little more than other marketplaces. Here, content creators can do more than just discover new brands and collaboration opportunities. They also have the chance to stay in step with the latest social media trends and possibilities. They also get access to a free media kit that helps them get noticed by brands.
Features for brands
For marketers, it all starts with building and describing their campaigns. The platform helps them avoid the trouble of sending endless messages in order to engage influencers. All they have to do is wait for the influencers to come and submit their offers. Once a campaign is launched, they can track it at any time, all year round.
Brands they work with
Vasanti, Colgate, Walmart, Inkbox, Garden of Life, ZeroWater, and many others.
Who uses influencer marketplaces?
When it comes to influencer marketing, there are usually a few parties to it. On the one hand, it's brands and/or marketers who plan to launch a social media marketing campaign. More often than not, they are looking for content creators to partner with in order to organically integrate their sponsored content in social media.
Alternatively, there are agencies that constantly look for new faces on the social media scene. They look for authentic content creators able to offer high-quality content. Many popular influencers are now represented by agencies of some kind or independent agents.
Finally, there are influencers and content creators themselves. They invest a lot of time, effort, and often money to produce quality content. Understandably, they are interested in collaborations with brands to monetize this content.
The majority of marketplaces have something to offer to all of these categories. However, they are mostly tailored for marketers, brands, and agencies who actively pay for using their software and tools to discover influencers, partner up with them, and track their campaigns.
Benefits of using an Instagram marketing platform
While Instagram marketing platforms can have a multitude of extremely useful features, there are usually three main reasons why using a platform like this can be beneficial:
1. Easy access to Instagram profile analytics. To choose the right content creator, you have to make sure their audience is your target audience. But apart from the basic audience metrics, you also have to know how authentic it is. After all, high audience quality translates into high Reach and Engagement values. And these things are what make your campaign successful.
2. Easy, user-friendly influencer search based on multiple search criteria. Such that will, for example, help you find influencers in a certain niche or with a certain follower count.
3. Easy access to information on previous sponsored content integrations. Sometimes you need to make sure they don't collaborate with your direct competitors. Besides, it never hurts to know how often they post sponsored content, evaluate its quality, and maybe even contact the brands they previously worked with to learn more about your potential partners.
trendHERO offers all of the above and more:
You can look for suitable content creators based on 12 criteria: niche, location, language, gender, follower count, number of followings, posts, likes, comments, engagement rate, level of activity, and growth. All this helps to find exactly the content creators you need.
List of similar bloggers.
Once you've found the influencer that will definitely speak to your target audience, you'll have the opportunity to use the "500 similar bloggers" feature. It offers a list of content creators with similar parameters. This makes your influencer search significantly more efficient, especially when you plan to launch a large-scale marketing campaign and want to partner with multiple creators.
Checking profiles for inauthentic activity.
trendHERO collects relevant, highly detailed data on Instagram profiles' audiences and their quality. The metrics you are looking for are engagement rate, audience reachability and authenticity, the percentage of bots and commercial profiles among their followers, audience demographics, and follower growth. All this information is illustrated by infographics.
Sponsored content monitoring.
The Ad Posts feature allows measuring the effectiveness of your sponsored content and tracking the marketing campaigns run by your competitors.
Tracking profile metrics performance over time.
Track your own account growth, your marketing campaign performance, or your competitors' promotions.
Select up to 5 Instagram profiles and see how their audiences overlap. This is extremely helpful when you need to maximize your reach during a marketing campaign.
What should you look for in a social media marketplace?
There is no lack of influencer marketing platforms on the market. But this doesn't mean that you should join each and every one of them. First of all, because it might be too much of a load for your budget. And secondly, not all of them might work for you. So here are a few tips on what you should look for in the first place.
1. Make sure that it can help you connect with influencers in your niche and suit your marketing needs. As a simple example, if you represent a brand that produces cars, a beauty & fashion influencer platform won't do anything for you. If you represent a large brand aimed at large-scale, worldwide marketing campaigns, a marketplace focused on smaller brands and micro-influencers shouldn't be your choice.
2. Make sure they have a decent number of content creators on the social network of your choice. If an influencer marketing platform is mostly about Instagram, it won't work for a brand focused on YouTube.
3. Look for a platform that offers a service demo and/or a free trial period to ensure they are what you really need.
4. Make sure their features and user interface are user-friendly and intuitive. Also, make sure that you can always easily contact their support team.
Influencer marketing platforms pros & cons
Pros

Cons

It saves a great deal of time and effort;




It often offers a hands-off, automated experience that increases your campaign efficiency;




It optimizes communications with influencers;




It often saves you from scams and fraud;




It allows creating an influencer network you can work with on various marketing campaigns, present or future.

It's expensive;




No number of powerful software and clever AIs can guarantee your campaign success.
F.A.Qs
1. What is influencer marketing?
The simplest definition is this: influencer marketing is a method of product and/or service promotion that involves social media influencers and content creators. In times when traditional ads lose their effectiveness, influencer marketing comes to the fore because it deals with so-called opinion leaders; those online personalities people usually trust and look up to.
2. What social network is the best one for influencer marketing?
It depends on your industry, your marketing campaign objectives, and your target audience. If you want to cater to people aged 18-34 living in urban areas, choose Instagram. If zoomers are your primary target audience, pick TikTok. If you target older demographics, opt for Facebook.
That being said, according to research by MediaKix, Instagram is the most important platform for influencer marketing. It's closely followed by YouTube, and its mother platform Facebook holds third place.
3. Which social platform has the largest number of influencers?
It seems like Instagram takes the cake in this respect as well. Nearly 70% of the world's top influencers are on Instagram.
4. How much do influencers earn per sponsored post?
When it comes to influencer marketing, there are no fixed rates. On the one hand, celebs can earn millions per sponsored post. On the other, micro-influencers can be perfectly satisfied to get free products or services in exchange for their recommendations and brand mentions.
Influencer rates usually depend on many factors like follower count, engagement rate, and others. Based on these factors, they can earn anything from $100 to $10 000 per post.
Conclusion
As you can see, there are lots of influencer marketing platforms and marketplaces to choose from. Ultimately, you are the one who decides which ones work best.
When choosing a platform, think of your marketing campaign goals and objectives. Think of your target audience. And last but not least, think of a budget you can spare. And remember that the choice of an influencer marketing platform can change from campaign to campaign.