Gone are those days when outdoor media, TV, or radio advertising made a huge impact on sales. Banner blindness, distrust of some celebrities who were ready to advertise all kinds of stuff as well as digitalization did the trick in favour of other forms of marketing. Influencer marketing is one of those forms that work for various brand purposes. Whether it is brand awareness increase, profit generations, or building customer loyalty, social media influencers have already proved they have the power to pull it off.
"Everything just can't be so cloudless with influencer marketing," – you might think. – "What are the pitfalls?"
Okay, the thing is that the market is overcrowded with opinion leaders. It means that the process of research, selection, signing an influencer agreement, and everything in between is time-consuming and exhausting. In addition, you need to have a flair for choosing the right person who will make your marketing campaign effective. To make influencer marketing collaborations light and breezy, it's better to delegate this task to an influencer marketing agency. We have conducted market research and hand-picked top influencer agencies to collaborate with in 2021. Let's have a look at who you can entrust such an important task to!
How social media influencer agencies can help your brand grow
At the very beginning, it's worth breaking down the following issue: what exactly influencer marketing companies can do for your brand in exchange for your marketing budget. Even if you have already made a decision to hire an agency and now are looking for one to meet your requirements, it never hurts anyone to brush up on what benefits this collaboration will bring your brand.
Elaborating the strategy that will yield results
There is a separate department in influencer agencies that is responsible for crafting strategies. You just outline your vision of the upcoming influencer campaign, explain your expectations, and professionals will do the rest. It often happens that marketers do not take into consideration a lot of nuances when creating strategies with the in-house team. During the strategic meeting, specialists from influencer agencies ask the right questions to figure out what you REALLY want to achieve from an influencer collaboration.
Creating meaningful content to attract a target audience
It's most likely that influencer marketing agencies have more experience in influencer campaigns than you. Based on research and previous collaborations, they definitely know better what content in (your) niche will resonate with the target audience. Whether it is a TikTok video, integration in Instagram Stories, or native advertising, chances are high that influencer marketing agencies will make sure that your brand's content is seen and remembered by the right people.
Taking over all the influencer campaign management
Influencer marketing campaigns require a high level of planning at each stage. It's a huge pool of tasks, you know. Choosing the right social media platforms and influencers, briefing, coming up with a creative presentation, curation of content creation, reviews, approvals, analytics, and so on.
Even if there is a marketing team that works for your brand, there are other channels they need to control and other tasks to handle. To cut a long story short, it's better to delegate the collaboration with opinion leaders to an influencer marketing firm and assign your in-house marketing team other important tasks to grow your brand.
Once the campaign is over, social media influencer agencies calculate and measure everything they can: from the number of campaign hashtags applied to registrations/sales using a promotional code or affiliate links. Based on these insights, it will be easier for you or your marketing team to plan your next influencer marketing campaigns. With this knowledge in mind, you will rationally allocate a budget and won't waste time on stuff that brings your brand nothing.
Enhancing your brand's reputation on the market
From creating meaningful content to choosing the most suitable opinion leader to represent your brand, professional influencer companies always do conscientious work to show your brand products and services in the most favorable light. In addition, opinion leaders exchange their experiences working with brands. If you choose an influencer marketing agency that is really able to organize the process of collaboration smoothly, it will also contribute to your brand's reputation. Chances are high that a blogger will recommend your brand as a great advertiser to his colleagues.
And last but not least: you're most likely not to spend the extra money when hiring an influencer marketing firm. If you allocate a fixed budget for the campaign, specialists in the agency will distribute it so that there is enough for content creation, remuneration for a blogger, commission for an agency, etc. When brands organize campaigns on their own, they often are several hundred (at least) over budget.
TOP 12 Influencer Marketing Agencies to work with in 2021
Let's get down to the main part of our article! We have put together a list of the top 12 influencer marketing agencies to help your brand grow in 2021. Choose the one that meets your requirements and start negotiating your collaboration!
Please note: we have listed the agencies in random order. The position of this or that company shouldn't influence your decision to select.

The Influencer Marketing Factory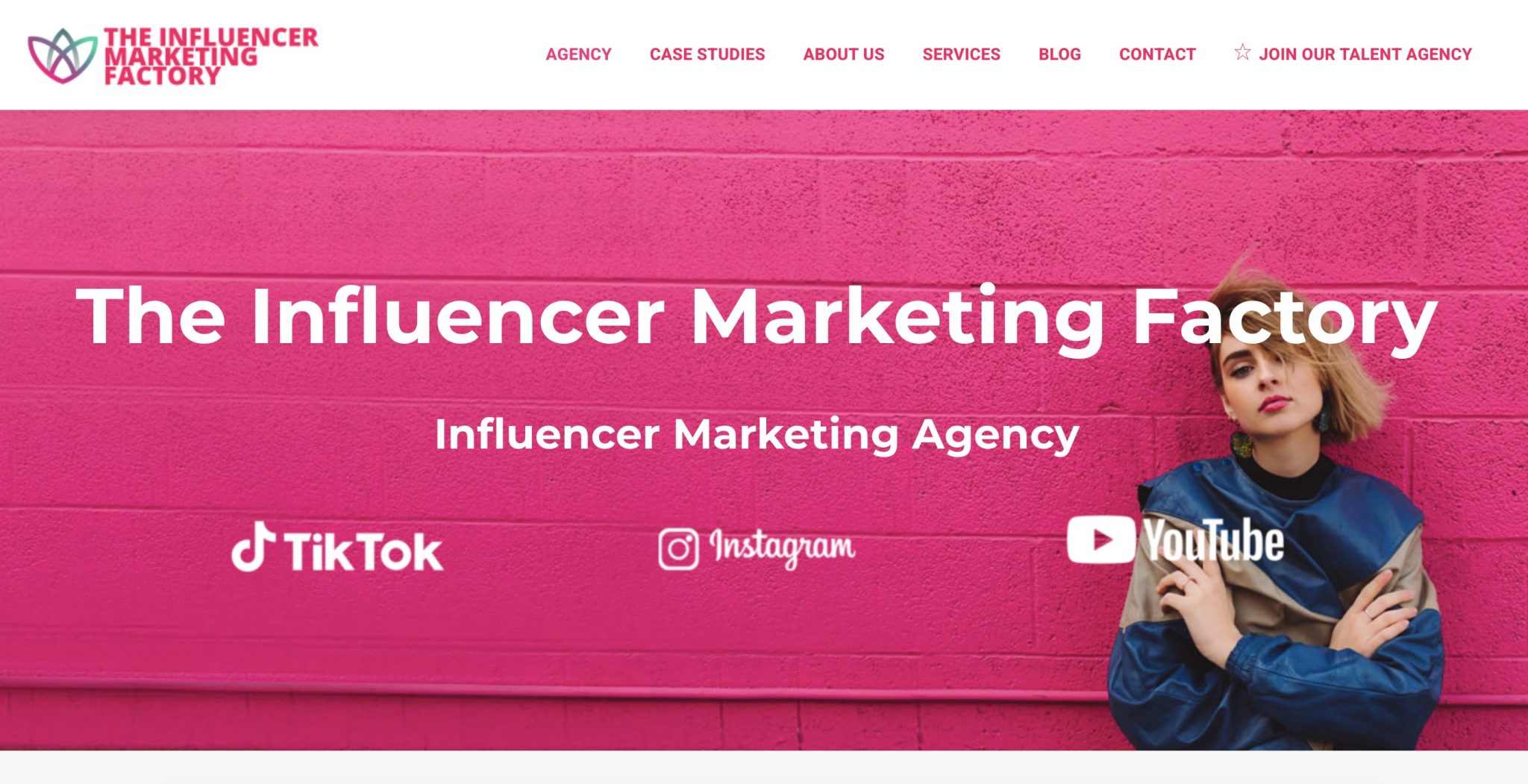 This is a full-service influencer marketing agency that "helps brands to leverage Influencer marketing to its full potential". Telling "full-service", we mean that The Influencer Marketing Factory takes up all campaigns from scratch from influencer research to content management, from target audience identification to analytics and reports.
The Influencer Marketing Factory has a big team of specialists including campaign managers, digital marketing managers, media experts, outreach specialists. Taking on different kinds of tasks, this agency can help your brand with awareness generation, conversions and sales increase, driving traffic to a landing page, app, or eCommerce.
Social Media Channels The Influencer Marketing Factory works with:
Instagram, TikTok, YouTube, Triller, Twitch.
Key Features:
tailor-made strategy for each brand
detailed target audience identification
thorough influencer selection
influencer campaign management from A to Z
working with Instagram Reels
deep analysis of conversions and performances
in-house creativity
Extra Features:
Talent Agency
The Influencer Marketing Factory also collaborates with influencers to help them get more deals with brands on social media.
TikTok Ads Creation & Management
help with getting a Blue Badge
PR support
Clients:
Google, Snapchat, Sony Music, Vestiaire Collective, Hilton, Foreo, Dunkin', Universal Music, Warner Music Group, just to name a few.

IMA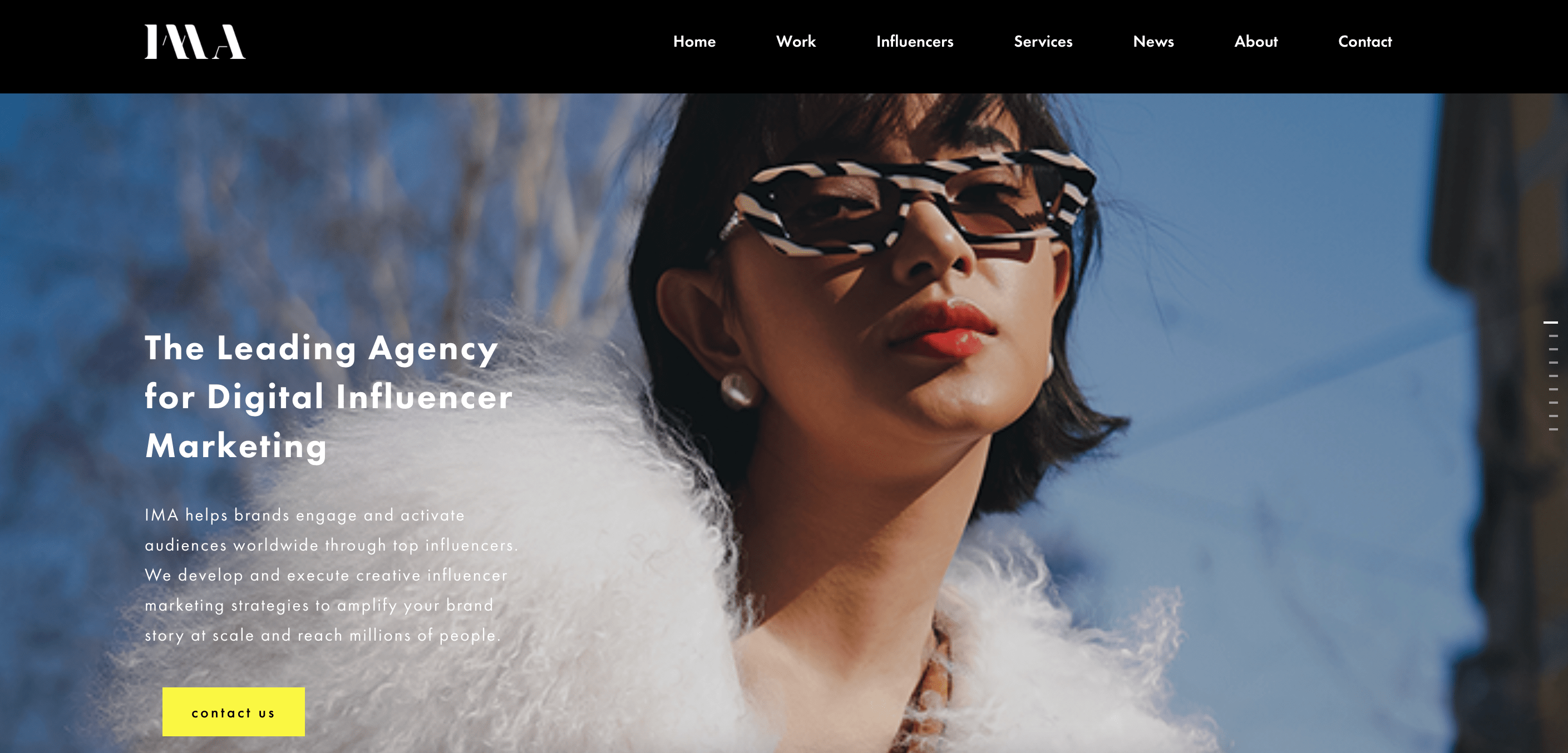 IMA is a digital influencer marketing agency that is aimed at developing and executing creative influencer marketing strategies to help brands reach broad audiences.
IMA collaborates with influencers from various niches, from all over the globe, and of various tiers. It means that IMA will definitely pick up the right opinion leaders from a database of over 19 Million who will match your brand's DNA.
Being for 10+ years in the industry, IMA has already created a lot of global campaigns and helped brands achieve their goals.
Social Media Channels IMA works with:
Instagram, TikTok, YouTube, Facebook, Twitter, LinkedIn, Pinterest, Weibo, Twitch, Snapchat, VKontakte, WeChat.
Key Features:
own network of creators
content strategies
creative concepts developing
production & content creation
tracking and measurements
contracting and payment services
Extra Features:
competitor analysis
social listening analysis
influencer marketing playbooks (executional guidelines) developing
on-site event management
podcasts production
team of legal experts
Clients:
Under Armour, Starbucks, Philips, Levi's, Samsonite, Amazon, Google, Swatch, Swarovski, Nestlé, etc.

INF Influencer Agency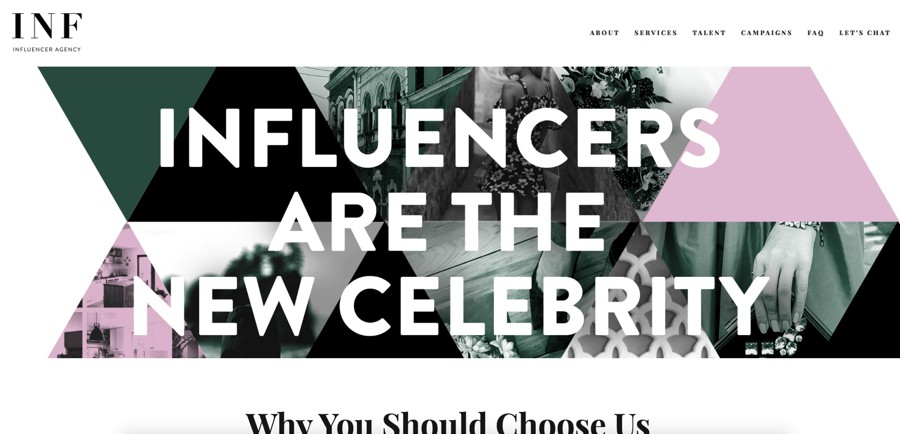 INF Influencer Agency is mainly focused on influencer management than on advertising. This company takes on the management of influencers from beauty, fashion, lifestyle, home, parenting, wellness, and travel niches. Besides this, INF works with brands to help them find a perfect match for their influencer marketing campaigns.
Key Features:
influencer management, casting, relations
digital, print, and on-camera campaigns
product placement
сurated collections
in-depth reports
Extra Features:
legal and accounting team
speaking engagements and appearances organization
Influencer Program Management: contracts & payment, approval process & posting schedule (Influencer Side only)
Clients: MAC, Revolve, Lululemon, Sephora, Kiehl's, Yves Saint Laurent

Fanbytes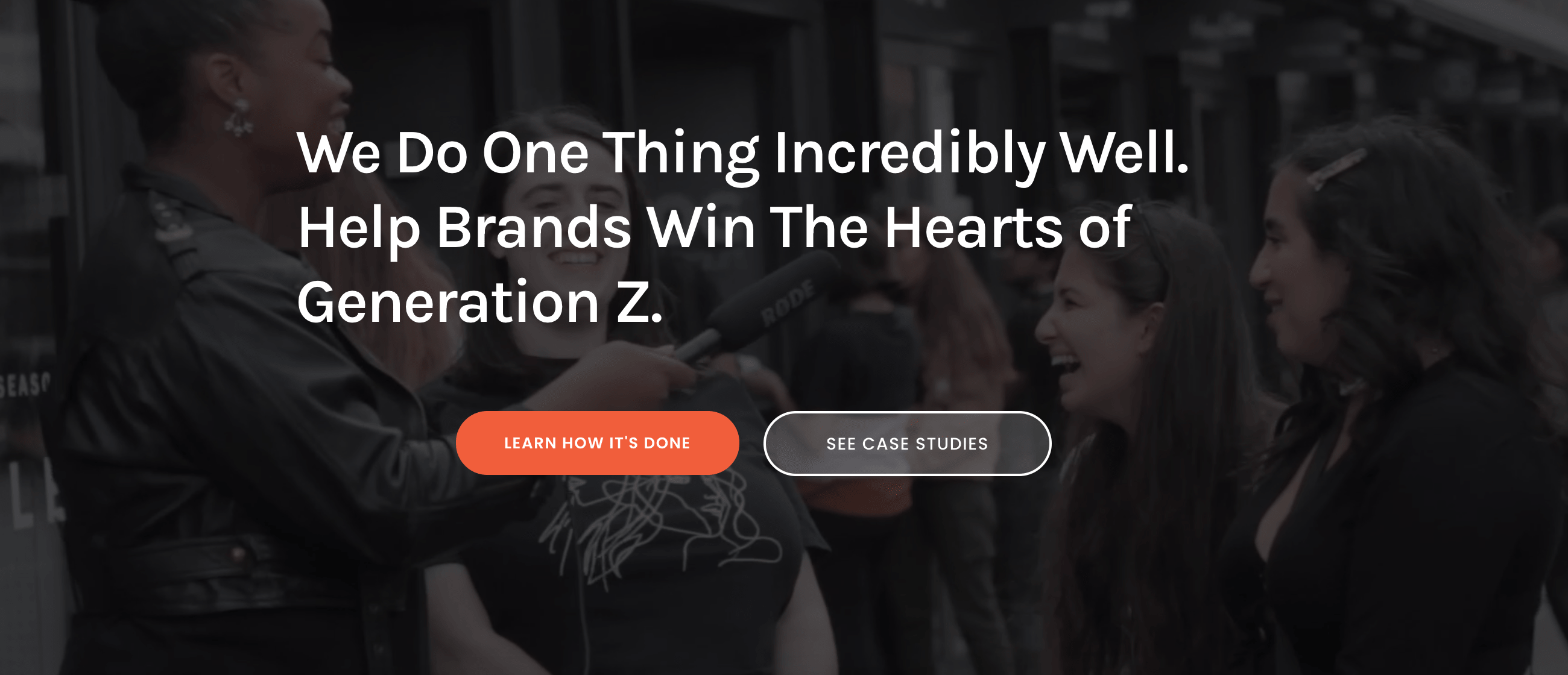 Fanbytes is an influencer marketing agency that helps brands reach Gen Z. The agency has a team of Gen Z experts and influential content creators who know firsthand what content will resonate with 13–24-year-olds.
"We Do One Thing Incredibly Well," – say the specialists of Fanbytes. – "We help brands engage with younger audiences in the most interactive ways on the planet."
If you need to reach out to younger audiences, techies from Fanbytes is the agency you're looking for.
Social Media Channels Fanbytes works with:
TikTok, Instagram, YouTube, Snapchat
Key Features:
expertise in connecting brands and Gen Z
proprietary analytics platform
quick turnaround times of content creation
Extra Features:
Clients: McDonald's, Boohoo, Sony Music, Paramount Network, Missguided, etc.
HireInfluence

HireInfluence is a full-service influencer marketing agency that works with the most prominent brands on the market. Since 2011, HireInfluence has been connecting brands and audiences, sharing content across various social media.
In 2019, HireInfluence was named by INFLOW Global Summit & Awards as the Best Influencer Marketing Agency. This agency focuses on personal touch with each brand to deliver the highest results.
Social Media Channels HireInfluence works with:
Instagram, TikTok, YouTube, Facebook, Twitter, LinkedIn, Pinterest, Twitch, iOS Podcasts.
Key Features:
search and negotiations with influencers
influencer curation in the work process
all-embracing content strategies
ideation and execution
a wide array of activities with influencers: from live streams to blog posts, from unboxings to giveaways
tech + manual success evaluations of campaigns
real-time campaign analysis
Extra Features:
brand promo & events, including Trade Show Pop-Ups, Movie Premieres, Travel Experiences, etc.
long-term IGC strategies, ambassadorships
creative Gifting + unboxing strategies
paid media management
Clients: Burger King, Walmart, Lee, McDonald's, Southwest Airlines, Microsoft, Cosmopolitan, Adidas, etc.
Carusele
Influencer marketing agency, titled 'Carusele', works with both consumer brands and retailers. One of the features that stands Carusele out from the competition is that they use real-time data to optimize campaigns daily. In addition, Carusele promises to provide the client with the actual (not potential) number of views of influencer content by the target audience within the campaign. The agency also applies advanced targeting to reach broader audiences who have somehow engaged with the content.
The Carusele agency is focused on authentic stories and original content as it believes that only this way brands can make people spread the word about them.
The main niches Carusele has experience in working with:
Beauty & Lifestyle, Food & Beverage, Retailers & CPG, Entertainment, Cause
Key Features:
influencer hand-selection through the Carusele rating system + manually
a Content Performance Index usage to monitor the performance of the content in real-time
besides target audiences, Carusele creates custom Lookalike Audiences
evergreen content creation
measurable business results ( sales lift, e-commerce conversions, recall rate)
Clients: Hallmark, Pepsi, Britax, Häagen-Dazs, IKEA, etc.
Viral Nation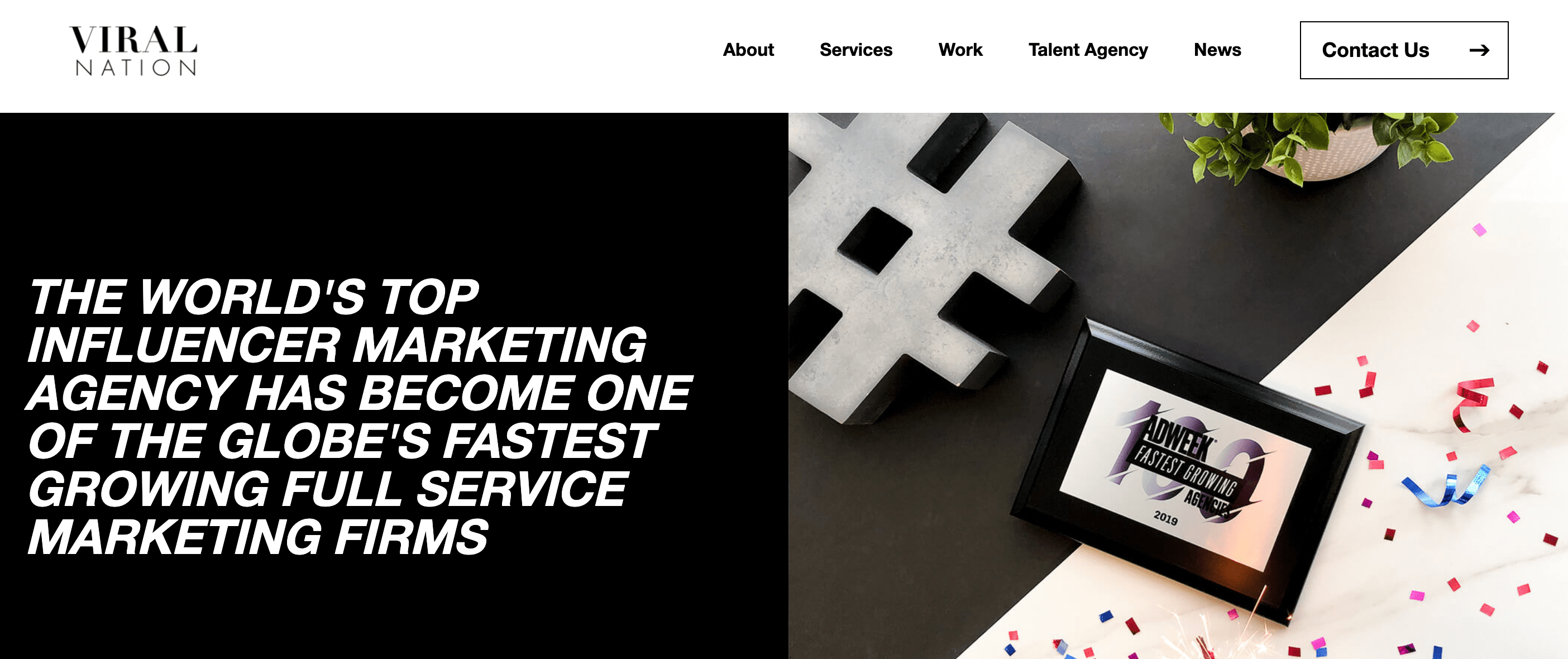 Viral Nation is a global influencer agency that knows how to make your content viral on various social media channels. It is also one of the fastest-growing full-service marketing firms across the globe, therefore, the expertise of Viral Nation in the industry is undoubted.
Viral Nation works both on the side of brands and influencers, acting as a Talent Agency for the latter.
Social Media Channels Viral Nation works with:
Instagram, TikTok, YouTube, Facebook, Twitter, LinkedIn, Pinterest, Twitch, Snapchat.
Key Features:
work with influencers of all tiers
detailed influencer campaign strategy
deep analytics
expertise in social experiential
Extra Features:
collaboration with B2B segment
whitelisting
leadership in the online gaming industry
landing page creation
performance marketing & media
Influsoft tracking and management software
Clients:
Aston Martin, Facemoji, Victoria's Secret, Twitch Q4, Mustela, etc.
Other trusted social media influencer agencies to consider for collaboration
Here are five more influencer marketing agencies that guide the clients through every step of the influencer marketing campaign. They provide the full range of services a brand expects to get from the agency: campaign strategy, influencer research, negotiation, briefing, contracting, content creation and curation, analytics and tracking, optimization, and lots more.
What to look for when choosing an influencer marketing company to work with
The number of influencer marketing companies is so huge that it's like an embarrassment of riches, as said. They all offer similar services, can boast of a good portfolio and mentions in top media. However, before selecting an agency from a wide array, we recommend you taking into account the following aspects:
The cases from your niche in the portfolio
It's necessary to consider how the agency has made an influencer marketing campaign for a brand from your niche. Having an illustrative example, you will be able to evaluate whether you want to get a similar execution or not.
Strategy development and ideation
Tailor-made strategies for each brand and creative concepts for campaigns are the key services you want to get from an influencer marketing agency. Unfortunately, some agencies call themselves 'full service' but in reality, they just find and manage influencers based on the strategy you bring them and ideas opinion leaders generate. A great social media marketing company should be engaged in each stage of the campaign. Keep this in mind!
Content production and management
There are agencies that find an influencer and set him a task to produce content himself based on the brief. On one hand, it gives some creative freedom to an opinion leader. When he doesn't feel fettered, he has more interest and desire to produce something really great. On the other hand, it's much better when an influencer agency takes each stage of the campaign under control. According to the second scenario, you can be more confident that everything will go as it should.
Tracking and analytics both automatically and manually
Most agencies have their own software to analyze content performance. It's a no-brainer that automatic tracking does great but it would be better if a data analyst also monitors the metrics during the influencer campaign.
The frequency of reporting
If your influencer marketing campaign lasts around a month, you should request reports several times per week. It's necessary to be aware of the metrics throughout the campaign and ask for optimization if current results don't satisfy you.
Conclusion
Influencer marketing is a driving force that helps to get more exposure for a brand, increase sales and make the company more successful, in general. It means that you need to thoroughly choose an influencer marketing agency to collaborate with. We hope that our list of the top agencies will assist you in finding a perfect match, and together you will generate buzz around the products or services of your brand.