As traditional advertising steadily loses its audience, influencer marketing thrives. There's a reason why the industry is worth well over $10 billion. Today, ignoring such a promising channel of promotion might be to your detriment, whether you are an owner of an international corporation or a small local brand. And thanks to this fact, we now have examples of truly impressive influencer marketing campaigns. Let's have a look at the most impressive ones and get inspired!
What is an influencer marketing campaign?
In simple words, an influencer marketing campaign is a promotional campaign on social media that involves influencers. It can take many forms, but the general idea is like this. Marketers/brands contact an influencer (or multiple influencers) they want to partner with and the latter recommends their products and/or services to their audience. In this case, brands get exposure and/or sales, influencers get paid, and their followers get the motivation to buy products and/or services recommended by their favorite content creators.
Why does this work? Because the in-your-face advertising isn't as effective as it was. In 2019, over a quarter of social media users were blocking ads on their devices. It's more than likely that the number is much higher now. At the same time, people tend to trust the recommendations made by the content creators they follow. After all, many popular influencers have a distinct style, good taste, and know what they talk about. Their audience is extremely interested to know what they do in their everyday life, what they wear, eat, what places they go to. That's why marketers seek partnership with influencers and content creators: to get the opportunity to indirectly market their products to highly interested, engaged audiences.
From a marketer's standpoint, social media is a popular and relatively inexpensive channel of promotion. Influencers raise brand awareness and boost sales and leads. Brands choose influencers based on the size of their audience, its quality, and engagement. Then they discuss their partnership details and once the marketing campaign is over, measure its results and how it affected their target customers. If the partnership wasn't too successful, they might choose other content creators to partner with in the future. If it did lend the expected results, this might term into a long-term partnership.
And this is what influencer marketing campaigns are all about.
10 powerful influencer marketing campaigns
1. Daniel Wellington & global marketing campaign featuring multiple influencers
When it comes to expensive advertising, this Swedish brand that offers high-end watches and accessories can afford it. However, this time they thought of a clever workaround and used the power of social media to the fullest. For their worldwide campaign, they chose celebrities and lifestyle influencers of all sizes. The content creators published sponsored posts offering a 15% discount.
As you can see, a very simple idea can sometimes give the best results. There are currently over 2 million posts tagged #danielwellington. Moreover, the brand's Instagram profile gained over 3 million subscribers. But the campaign is still going and those numbers change rapidly!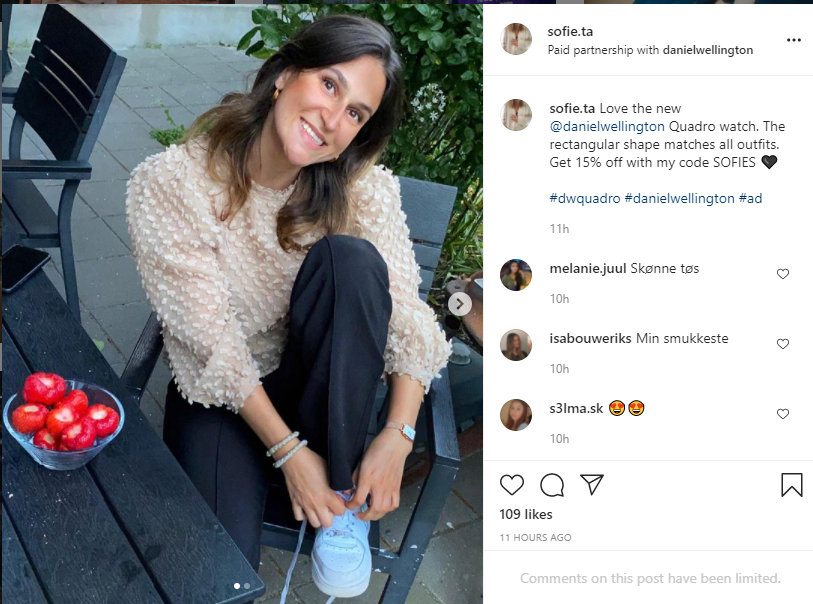 2. Ebay's "Fill your cart with color" campaign
While the previous brand caters to a very specific audience, eBay caters to a wide variety of them. And what better way to reach all those audiences than engaging influencers from multiple niches and places? For their #fillyourcartwithcolor campaign, they engaged a few hundred thousand content creators! And once again, the idea was very simple and extremely authentic. All influencers had to do is to show the things they enjoy. And as a little reminder, add a link to the website so that their followers could choose something to enjoy as well.
Needless to say, this campaign did wonders for brand awareness in 2017-2018 when it was active. They've registered over a million engagements a year, which is a pretty impressive result.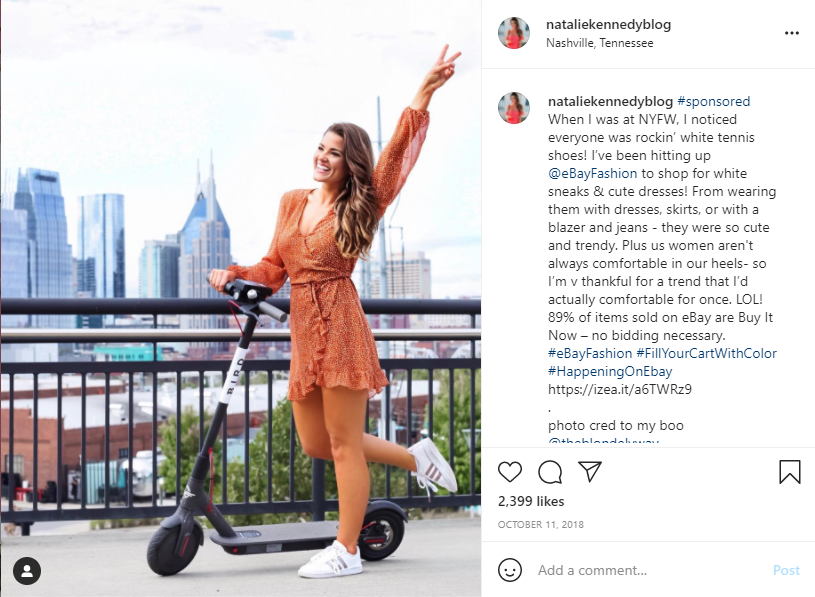 3. ASOS and its "Insiders"
This online clothing retailer's influencer campaign is nothing short of genius. Instead of partnering with random content creators for a sponsored post or two, they turned influencers into their brand ambassadors by creating special Instagram profiles. There, influencers can showcase ASOS clothing to their target audience. It's worth mentioning that all the content creators picked by ASOS already have established audiences. Not necessarily huge ones, though. For example, this London-based Instagram model has a little over a hundred thousand followers on her personal profile: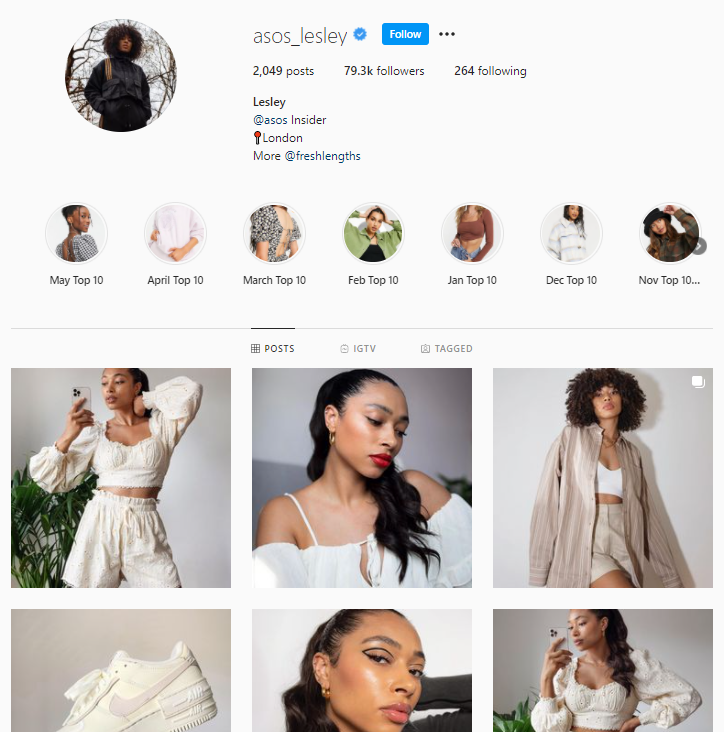 Currently, there are dozens of thousands of "Insiders".
4. Glossier: every woman is an influencer
Glossier, the insanely US-based beauty brand, is famous for its unique approach to influencer marketing. The idea is that every woman can be an influencer, no matter how small her following might be. In fact, Glossier collaborates with micro-influencers and features user-generated content on their official Instagram page on a regular basis. To Glossier, authenticity is the most important thing. And this marketing strategy seems to work out pretty well for them, judging by how quickly this Manhattan beauty brand got a cult following.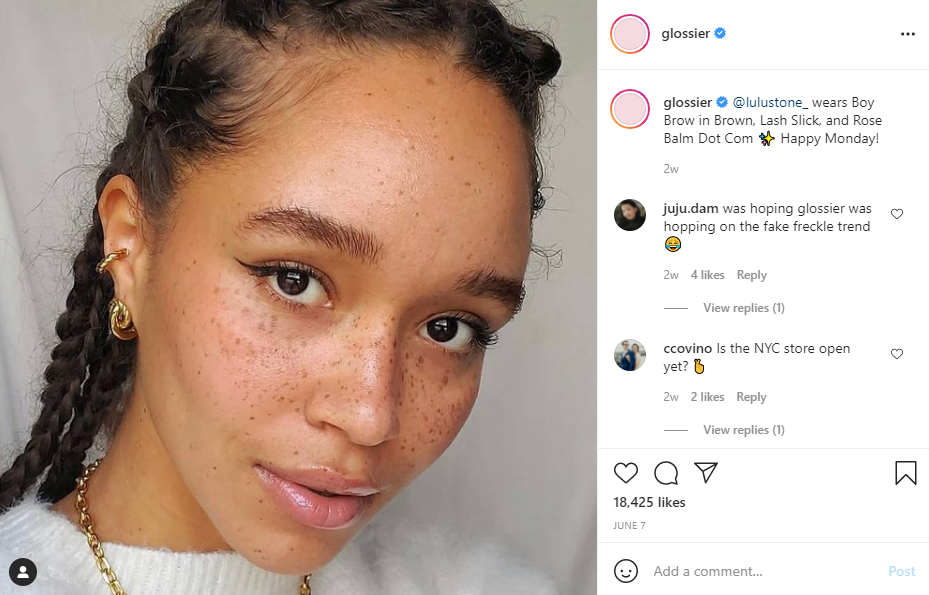 5. Fashion Nova: spread the love
Like so many other brands today, Fashion Nova, another online fashion brand, opted for long-term partnerships with multiple influencers all over the world. Instead of paying for separate sponsored posts, they engage thousands of influencers from every corner of the globe on a regular basis. From celebs like Kylie Jenner to Instagram models with a relatively modest following, Fashion Nova ambassadors speak to all women, no matter age, shape, or size. And it definitely works: few people haven't heard of the brand by now.
There are currently over 1.5 million posts under the #NovaBabe tag on Instagram and around 5 thousand influencers collaborating with the company.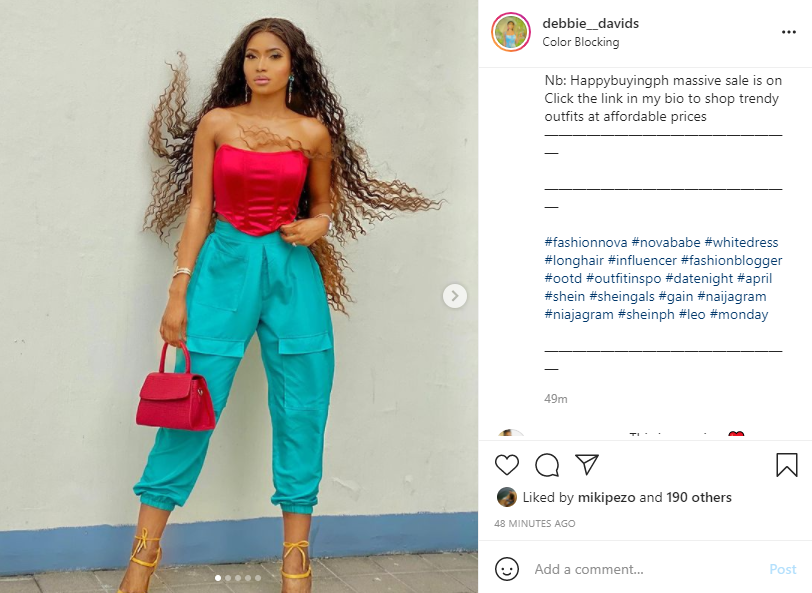 6. Samsung Note 7 marketing campaign
While it's true that many brands choose to collaborate with thousands of influencers all over the globe, it doesn't mean that partnering with a single influencer can't give great results. The Samsung marketing campaign to promote their new Note 7 smartphone is a great proof of that. For this campaign, the Korean electronics giant partnered with a Snapchat artist CyreneQ. The artist posted a series of short videos illustrating her acquaintance with the new smartphone and its features.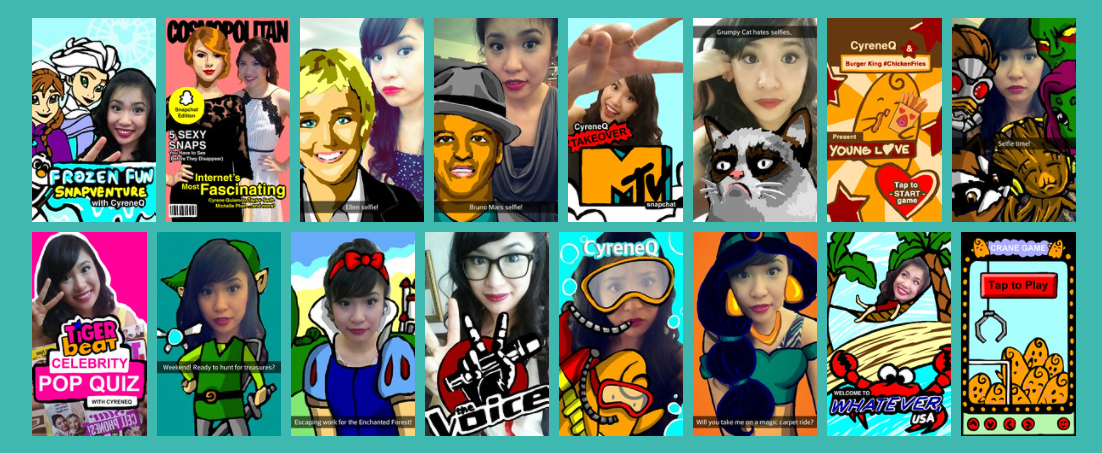 7. Loki the Wolfdog & car brands collaborations
If you think that you absolutely have to be a human to become an influencer, think again. Loki the Wolfdog successfully challenges the stereotypes by partnering with the car and car-related brands. For example, in 2018, Loki was the star of the Mercedes GLS campaign. Apart from that, Loki has been the partner of Toyota US and the BFGoodrich Tires company for years. And judging by Loki's profile, can anyone really be surprised that these truly special influencer marketing campaigns are successful? Stunning scenery + undeniable charisma of Loki the Wolfdog = success.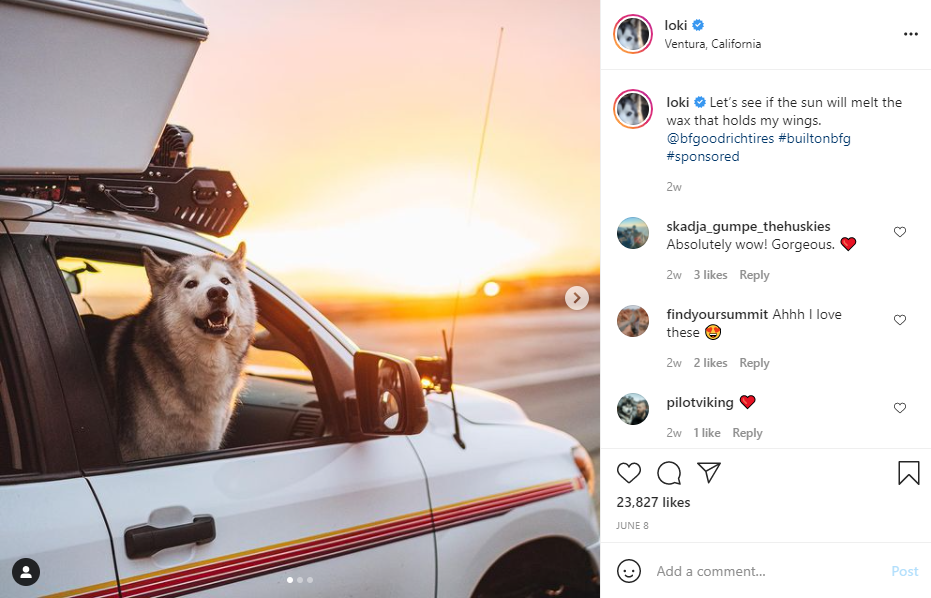 8. Chupa Chups: reconnecting with a younger audience
Chupa Chup's target audience has always been young. And when they started to feel like they've lost connection with this audience, they've invented a way to get zoomers interested in their brand again. And what better way to do that than engage younger influencers and content creators? Under the #foreverfun and #chupachups challenge, they've launched an international marketing campaign that involved vibrant, fun content, both photos, and videos, that attracted quite some interest from the younger fans. The campaign got millions of impressions and a 10% engagement rate!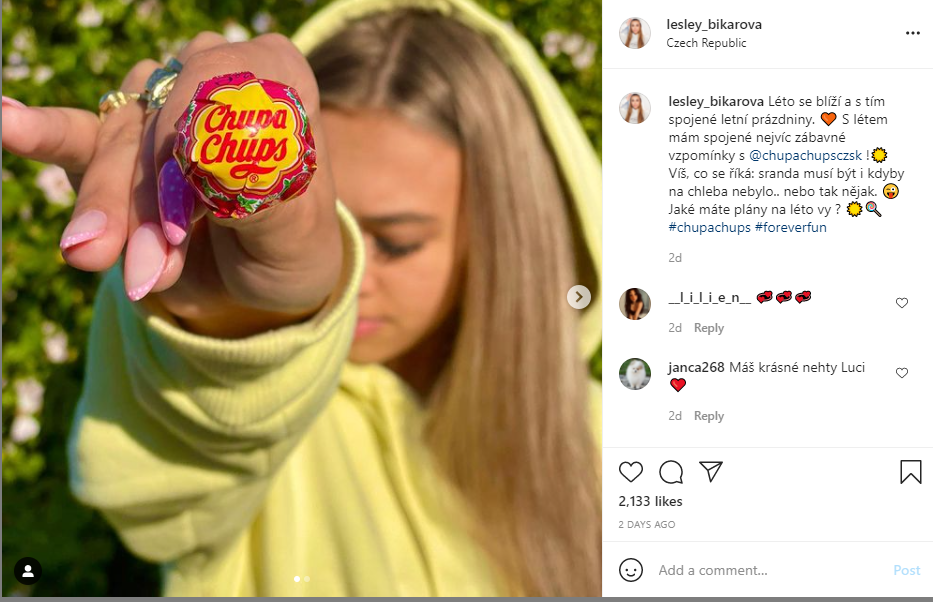 9. Under Armour's female-centric campaign
When it comes to influencer marketing campaigns, this US-based sports clothing & accessories brand knows what to do. When they felt like they needed to get more in touch with their female audience, they've launched an #iwill, #ulikeany influencer campaign on Instagram and engaged female content creators in the fitness niche. The women who partnered with Under Armour had complete creative freedom in terms of what kind of content they want to produce. The inspiring campaign posts show them working out in brand outfits. And it worked! Several million impressions and half a million engagements are proof of that.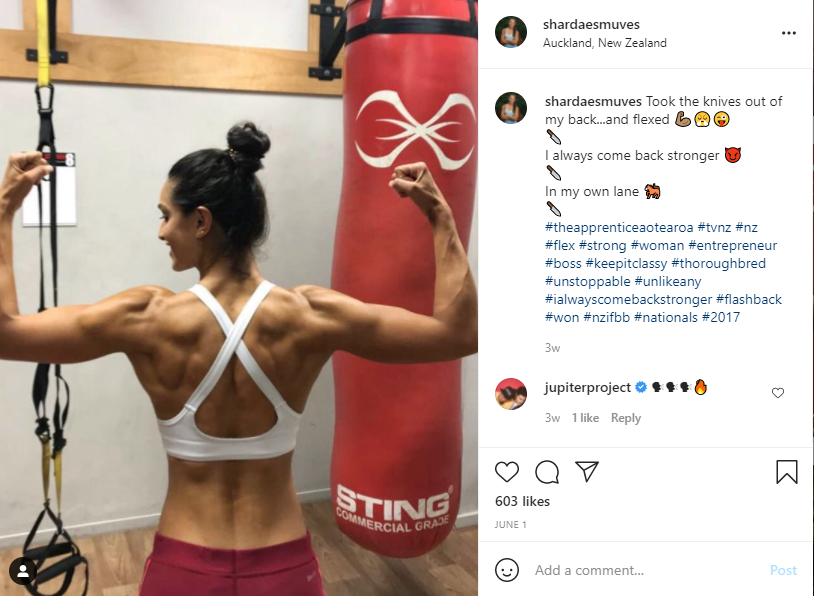 10. Fiji water and #bodyworewhat campaign
This is another great example of a brand collaboration with a single influencer. For their 2017 campaign, the bottled water brand collaborated with Danielle Bernstein aka Weworewhat, a New Yorker and a fashion blogger. The campaign involved a series of short videos and photos where Danielle worked out with her personal trainer while keeping hydrated with Fiji water. This was a great move to get in touch with health-conscious fitness enthusiasts, especially women.
How can an influencer marketing campaign help your brand grow?
The influencer marketing industry is constantly changing and evolving but it's definitely here to stay. More and more brands decide to increase their influencer marketing budgets. It's no wonder that 75% of brands spoke of their intention to do exactly that this year.
Naturally, they don't just partner with any influencers they can find. The supply is massive but in order to know your marketing won't go down the drain, you better do some in-depth analytics before, during, and after the campaign. This is how you assess how effective this kind of partnership will be and choose the right strategy and the right platforms.
Here are a few tips that might help you grow your brand with influencer marketing:
1. Make sure that the content creators you want to partner with can speak to your target audience. What's more, make sure that it's a quality audience. Even before you contact them to discuss the details, take time to thoroughly analyze their metrics. If they have a large following, don't let it fool you. What you really want to pay attention to is audience quality, loyalty, and level of engagement.
2. In case you think you need to engage multiple influencers for your campaign, make sure that their audiences have minimal overlap. Otherwise, no matter how many influencers you partner with, your campaign reach won't be that impressive. Besides, when the same users see your sponsored content on multiple content creator profiles, they might – and they will – get annoyed with them rather than interested in what you have to offer.
3. Create brand ambassadors. Try to find influencers that already use your products or services and enjoy them. Remember that authenticity is one of the biggest social media trends now. The more genuine content creators are when they speak of your brand the more their followers trust their opinion. Needless to say, this trust translates into brand loyalty and those coveted leads and sales.
4. Give the content creators the opportunity to get to know your brand and what it has to offer. If they advertise what they have absolutely no idea about, nobody wins. Make sure they know what your brand philosophy is all about. Let them try your products and form their own opinion about them.
5. Do not disregard micro-influencers. For some, a small follower count might be a major turn-off. And that's a major mistake. Smaller content creators often have much more engaged audiences than big-time stars and celebs. This means that it's most likely that they will be genuinely interested in your brand and products.
6. Analyse their audience's reaction to sponsored content. Impressions, likes, comments can give quite a nice picture of what they think about your campaign and how effective it was. This is one of the most important factors that will let you know whether you should continue your partnership or look for partners elsewhere.
7. Use analytics and specialized software to track leads and sales.
8. Are there influencers you enjoyed collaborating with? Look for similar content creators within the same niche and with similar audiences. You can use automated trendHERO tool to find similar bloggers fast.
Conclusion
The social media influencer market is oversaturated nowadays. It's a highly competitive environment. And this, in fact, is beneficial to you as a marketer. You can choose exactly the content creators you need for your campaign, based on your brand specifics and marketing campaign goals. And don't be afraid of out-of-the-box decisions: as the examples above show, they often bring the best results.
Just remember to fall back on in-depth analytics at all stages of your influencer partnerships.