According to the data published by the influencer marketing platform Izea, sponsored content costs have significantly increased during the last five years. This concerns all the biggest social media networks like Facebook, YouTube, Twitter, and Instagram. Understandably, whenever serious money is involved, all parties of influencer marketing deals want to protect their interests. And at the moment there is literally no better way to make sure all your expectations are met than drawing up an influencer agreement.

Marketing via social platforms like Facebook, Instagram, or YouTube has long become one of the widespread methods of brand promotion. In fact, it has been steadily gaining momentum over the past few years. So much so that influencer marketing now tends to out-compete traditional methods of advertising, including online ads.
As is the case with any other method of advertising, influencer marketing has its own specifics and pitfalls. And there are always two main sides to it: an influencer on the one hand and a marketer on the other.
Questions to ask before you start
Do you have a relatively large and dedicated following? Do you prefer to put a lot of work in your content rather than just post haphazardly? Does your published content resonate with your audience? Do people feel the need to discuss it and share it with others?
If your answer to all of the above is yes then congratulations, you are an influencer. Which means you've got everything it takes to monetize your online presence. Quite likely, you already have and you received a few collaboration offers from brands.
Do you produce a brand new niche product? Does it offer a new perspective on old things? Have you figured out what's its uniqueness is? Do you think you are ready to get in touch with potential customers? Does working with content creators fit in your marketing strategy?
Then it's time to think about how you can organize your work with bloggers in the legal context. Is this required? No, not at all. You can just PM your chosen influencer and exchange a few messages with them and come to an agreement about payment and other details. And then you can complain endlessly about each and every misunderstanding that arises. You can do all that but keep in mind that influencer agreement makes it much easier. You don't have to deal with all the complications verbal contracts inevitably entail.
What is an influencer agreement?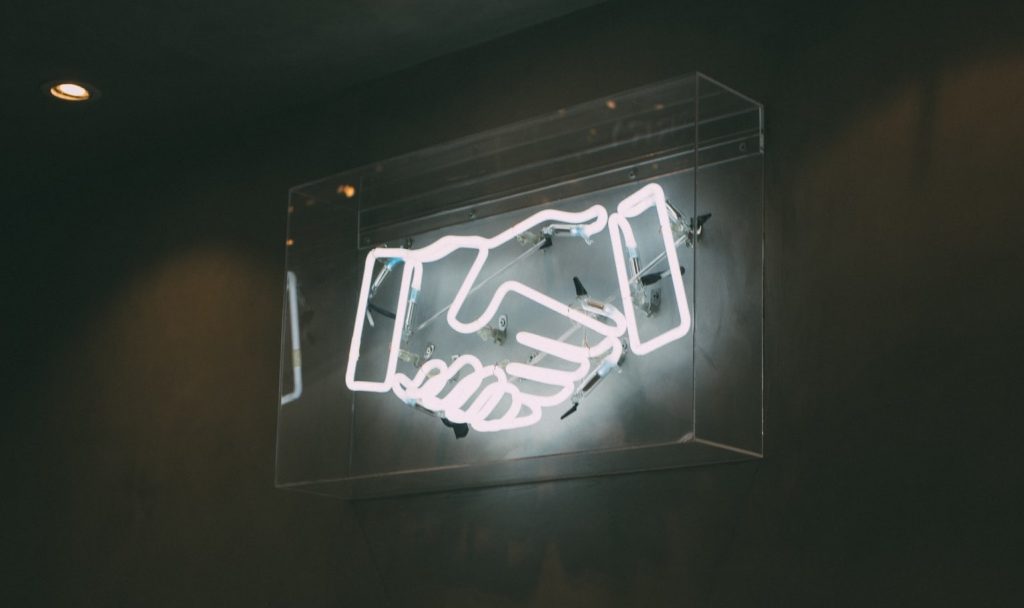 In simple terms, an influencer agreement is a legal document that stipulates all modalities and terms of cooperation between a marketer and a content creator. Do you want to make sure that each party of the deal knows its obligations? Would you like to rest assured there are no misunderstandings in terms of which kind of sponsored content, when, and how will be produced? Then an influencer agreement is what you need.
Here's something you might want to consider when drafting an influencer agreement:
1. Make sure you include every detail of your cooperation in the contract
To make this work, a marketer must clearly understand the main idea of the blog/channel and what kind of core audience it has. The product placement must look as authentic as possible and the subscriber base must be interested in what you have to offer.
On the other hand, an influencer must have a full understanding of the brand they are going to partner with.
2. Make provision for refund policy
Unfortunately, cases when a marketer pays for sponsored content but an influencer fails to provide it, are not too uncommon. To avoid this, include refund policy provisions in your agreement.
3. Specify clear timeframes for content publishing
Content publishing timeframes might depend on certain events and/or other factors. Sometimes a marketer needs their sponsored content to be available for a certain period of time. In cases like these, the according conditions must be reflected in the agreement.
4. Specify all content requirements in detail
Clearly and in detail describe what the sponsored content must look like. Or just include a stipulation requiring that an influencer agrees upon any content (text, designs, photos, videos, etc.) that was sponsored by a marketer prior to publishing it.
5. Federal Trade Commission compliance
FTC requires that any content that draws attention to a product or service with a purpose to raise awareness and interest in purchasing it must be disclosed as sponsored content or an advertisement.
Taking this into account, include it in your contract that all publications concerning your product must be tagged as sponsored.
6. Change of contract
Sometimes, circumstances change and the agreement conditions will have to be changed accordingly. When this happens, the parties of this agreement must inform each other of any such change in advance. Make sure you include this in your contract as well.
I'll discuss what should be included in your influencer agreement in more detail below. For now, there's one little thing that should be noted. You can draft your influencer agreement yourself or find a template online. However, no matter how you do it, have a legal expert look at it before you sign it.
Why influencer contracts are important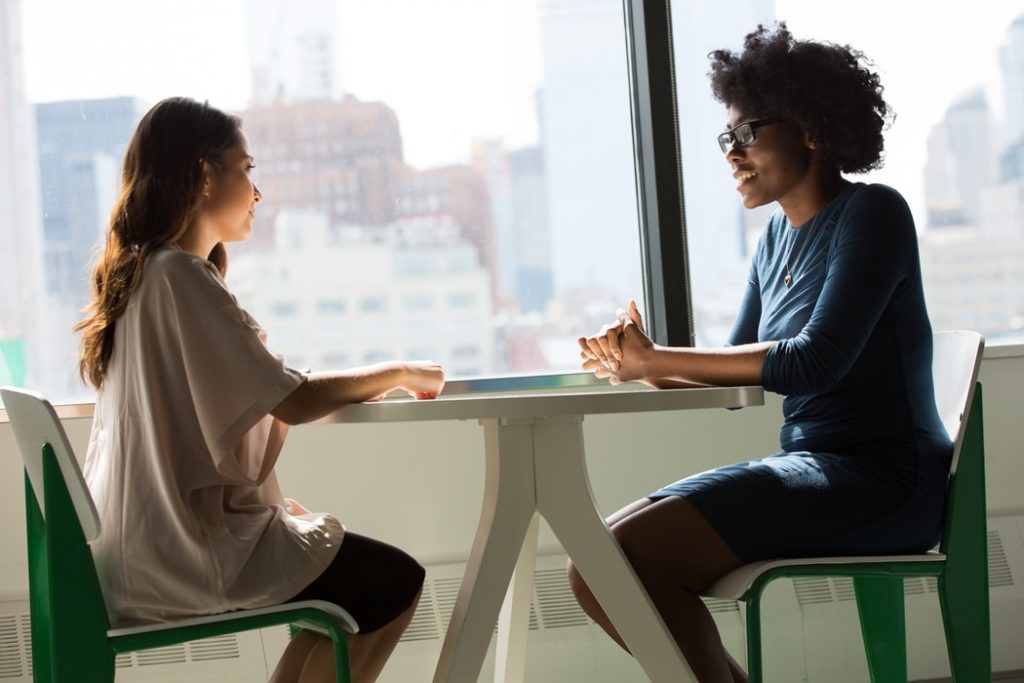 No one wants to put time, effort, and inspiration in their work only to discover that none of this will be reasonably compensated. And no one wants to start a marketing campaign with an influencer who fails to meet requirements. Influencer agreements protect both content creators and marketers. When drawn up correctly, they are hugely beneficial for both parties.
You can feel free to decide what kind of format to choose for your contract, but one thing is certain: it helps to avoid lots of misunderstandings.
After all, these contracts are a great tool for self-discipline. Marketers take on the obligation to make timely payments and content creators produce sponsored content exactly as their partners want it. A correctly drafted agreement includes all the obligations of the parties and minimizes risks.
The bottom line is this. A legal agreement between a marketer and a content creator is an important part of their collaboration. And hashing out all the details and aspects of this partnership brings risks to naught.
What should an influencer agreement include?
This type of agreement might look rather simple, but in fact, there are quite a few pitfalls. There's a lot you have to take into account. Formal requirements to contents of the contract, intellectual property transfer, sсope of work discussion policy, exclusivity, to name just a few.
To save you the trouble here's a checklist of the things you want to see in a standard agreement with a content creator.
1. Exclusivity
Some marketers might not be thrilled by the idea influencers they partner with might want to collaborate with their competitors. As a result, some brands start demanding that content creators work with them exclusively. Needless to say, this kind of stance can be the reason for certain creative differences.
What a content creator might want to do in this situation is to think hard about how important this particular project is for them. Is it really worth forgoing every chance to collab with other brands? And how will this reflect on their possibility to accept similar offers in similar niches in the future?
Many bloggers (vloggers, Instagrammers) have these questions bothering them but they still don't want to miss a lucrative opportunity. In this case, they might want to find a way to get around the sensitive issue of exclusivity. For this, you stipulate the policy of handling the conflict of interests. Or just take on an obligation not to promote similar products from similar brands.
2. Scope of Work
The scope of work is a clause that absolutely should be there in your influencer agreement. After all, no one wants to do more work without being paid. And no one will ever be happy about not getting the results they had in mind when signing the agreement.
Here's what should be included here:
any details concerning the results of cooperation. Content format, number and frequency of outputs, timeframes for content availability, any details on including (or not including) media files, etc.
the order in which any changes should be introduced. Timeframes for reviewing and assessing the content to be published, correction proposals, editing, additional payments. The policy for a discussion of any changes and possible requirements to agree on the changes with any third parties should go here as well.
Here's a small tip to make your life significantly easier. If there's no reasonable need to include any stringent deadlines for content publishing in your agreement, don't. In most cases, the result is what you really need to focus on.
Instead, you might want to include provisions for drawing up and completing schedules and plans. Creative concepts implementation and certain results you want to achieve during your marketing campaign might be worth mentioning too.
3. Contract duration and deadlines
This type of agreement might be long-term or short-term, depending on marketing campaign goals. In case we are talking about the long-term contract, it might make sense to specify the order in which parties will inform each other about the contract termination. If a short-term agreement is what you are dealing with, don't forget in many legislations, any contract extension requires notifying contract parties about such extension in advance. Moreover, it corresponds with the right of each party of the contract to refuse to extend it or re-sign it.
It's also quite important to determine all stages of collaboration that might be important in regard to the agreement in question. For example, deadlines for completing certain milestones.
4. Payments
There is an opinion that marketers should only pay for the result and influencers must only get paid for the work actually done. In reality, it's not how it works in most cases. Basically, it's a two-way street and it's not only marketers who want to feel secure about this kind of partnership. So more often than not a marketer makes a 50% advance payment to make sure a content creator gets to work and completes it within a specified time frame.
Besides the amount of compensation, this section should also include provisions for termination of the contract in case of any payment delays. Any penalties for failure to meet payment requirements must be mentioned here too. What should also be included is preferred payment methods and payment time frames.
5. Intellectual property
First of all, specify which results of this collaboration can be construed as intellectual property. Second of all, delineate all conditions under which rights to such property will be transferred to a marketer.
Another important thing is all information and materials that a marketer will provide to a content creator under this agreement. It should be noted in no uncertain terms that the providing party owns all rights to such information and materials.
6. Creative freedom
There should be some in-depth discussion of how both parties envision the results of their collaboration. What is the level of the marketer's involvement? Who is going to generate ideas? How many options for content format can each party offer? What kind of methods will be used to select and approve creative ideas? How many changes can be introduced before a certain stage of content creation is over? Stipulating all of this in your agreement might save you from a lot of trouble.
7. Other provisions
While all of the above-mentioned aspects are very important for an influencer agreement, it's not all this document is limited to. Here are a few other clauses you want to see in your contract with a content creator:
Confidentiality
Rights and obligations of the parties
Personal data protection
Guarantees and warranties
Liability for breach of contract
Communication policy
How to create an influencer agreement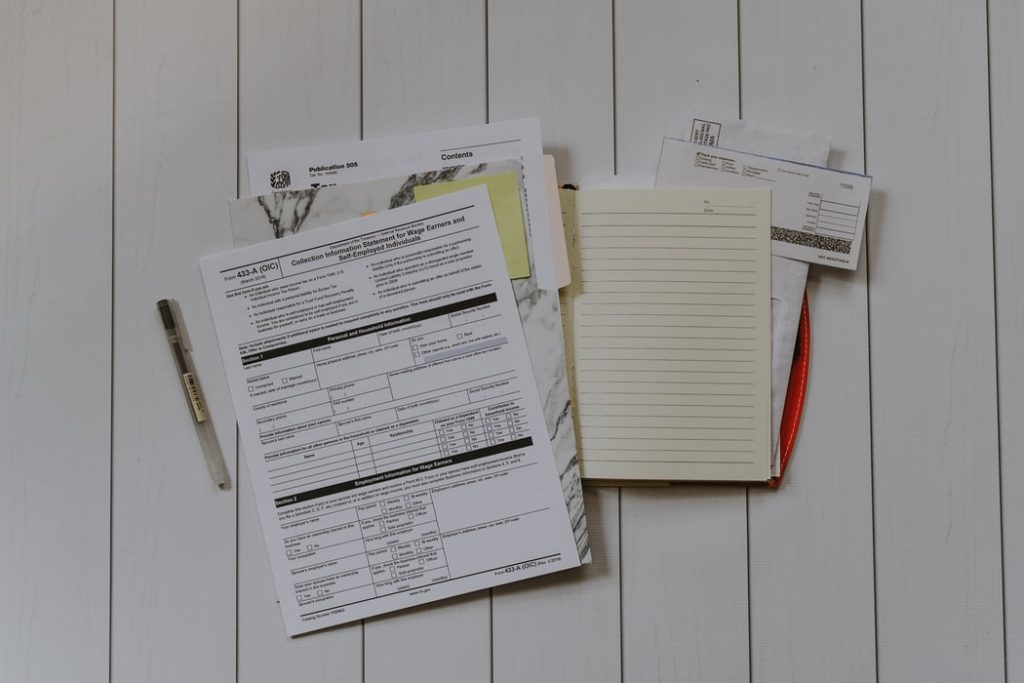 A legal agreement creation might seem like a daunting task. Can you work without it? Absolutely. However, the absence of agreement significantly increases risks, complications, and danger of all kinds of miscommunications. Trust me, you can find a better use for all the time you would spend resolving issues if there was no legal contract.
As I already mentioned, the best way would be to contact a legal professional. They will recommend an optimal format of agreement and adapt it to your needs and goals. And of course, they will make sure that the interests of both parties are respected.
If for any reason you prefer to draft your influencer agreement by yourself, here are some recommendations to follow:
1. Clearly specify details of the parties
This is to make sure you can find your contractor/contractee when necessary, including when you think you need to go to court. The details they usually include in legal documents like this are as follows:
full name/brand name;
address (legal/mailing);
phone number(s);
email;
social media links.
2. Date of contract and description of the subject matter of your agreement
This seems pretty straightforward and simple, but you'll want to make sure that you do it correctly. Describe your marketing campaign and its goals and don't forget to write down the name of a content creator you are partnering with your company's name.
3. Rights and obligations of the parties
Here is a simplified example:
Influencer
Advertiser
Rights
Has a right to opt out of collaboration under certain conditions
Has a right to monitor the progress of work and perform quality control
Obligations
must produce sponsored content in a timely manner and provide reports;
must not disclose confidential information to third parties;
must make sure Advertiser approves all significant changes in content.
must pay for completed and published pieces in a timely manner;
must provide all information Influencer might need;
must not interfere with Influencer's creative freedom.
4. Scope and format of work
Spell out all details on what amount of work you expect a contract creator to do and what type of work you want it to be. For example:
publishing no less than three content pieces per week (including video content, native ads, original photo content, etc.);
drawing up a content plan and providing it to an advertiser for approval;
interacting with subscribers and answering their questions regarding sponsored content.
Apart from that, don't forget to point out what kind of results you expect the content creator to provide. Specify the criteria for the assessment of content quality. This will help a great deal in case of any disputes.
5. Settlements
There are a few important factors that should be noted here:
Requisites (bank details): specify these in the agreement to avoid any misunderstandings;
Time frames: this depends on what you've agreed upon. It might be the day of each publication, a one-time payment after the completion of the contract, or monthly payment, for example;
Amount of payment: specify the amount of influencer's compensation in no uncertain terms.
6. Contract termination
Specify the conditions under which your agreement can be terminated. For example, an influencer fails to meet your requirements and guidelines, disregards deadlines, or generally does a bad job.
You can also outline the dispute settlement policy here.
7. Liability
Specify what kind of sanctions will be implemented in case one of the parties fails to perform their obligations. For example, an influencer will pay a penalty for any delays and failures to meet deadlines and an advertiser for each day of a payment delay.
Influencer contracts examples
Influencer contract
(Image credit: jotform.com)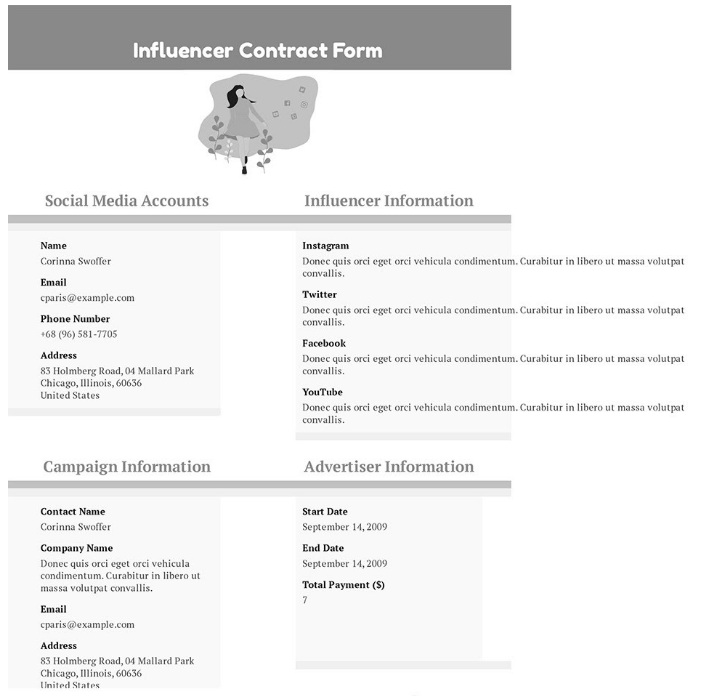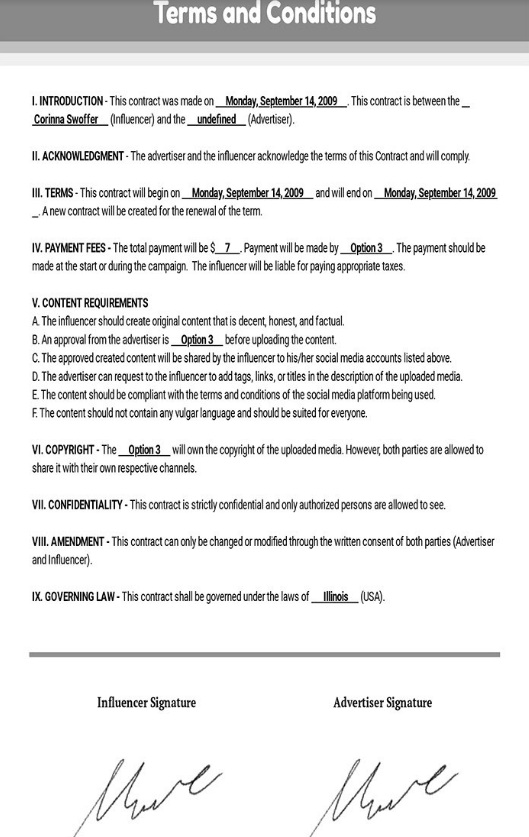 Brand Ambassador Contract
Conclusion
Whether you prefer to use one of the templates online, drafting your own agreement, or let a legal expert do it, there's one thing to remember. Don't sign any agreements without reading them thoroughly. Make sure your influencer agreement respects your interests.