Do you still hope that followers will subscribe to your Instagram account themselves? This social network is the second most visited in the world and over 1 billion people have created accounts on it. In 2020, there are over 500,000 active influencers on the platform, and if you wish to approach them and get 1000 followers, be ready to work hard. In fact, Instagram users choose small accounts for following the most rarely. Moreover, there is hardly any sense to wait that your account will engage a lot of followers itself. You will agree that it is necessary to undertake actions to grow your subscriber list, but what exactly should you do?

Look: this article will provide a detailed strategy of how to get your first 1000 followers on Instagram, so remember every tip and get ready to implement it in real life.
How can I get 1000 followers on Instagram?
Do you check and post on Instagram on a daily basis but your follower number does not grow much? It is time to understand that most of the followers you have are your friends, relatives, colleagues, but your small account can be absolutely unknown to people who are not familiar with you in real life. The situation is even more challenging for accounts of small brands who want to attract their audience and generate leads thanks to it, but can't collect even the first hundred of subscribers.
It is clear that many niches have already been taken on the platform and users have already found accounts that interest them, but there are approaches to how to attract more people to small accounts and you can use them to get a thousand followers too.
Work on your BIO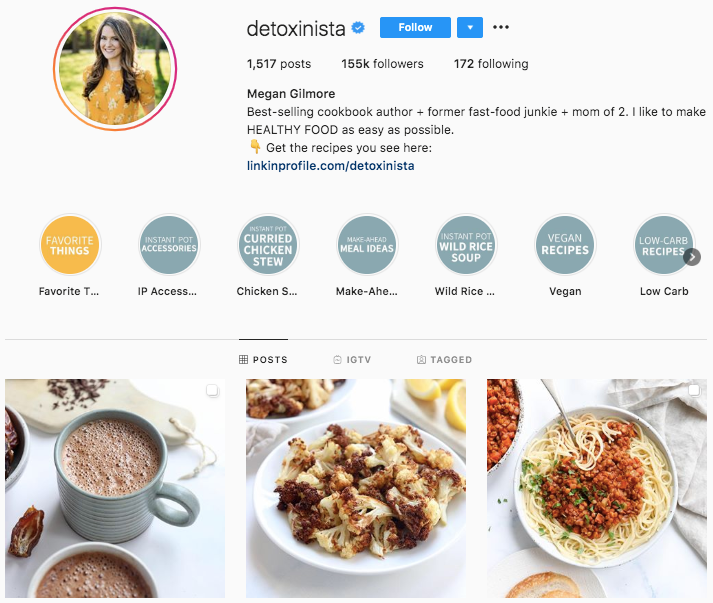 Instagram bio consists of several parts but the username and name are crucial in it. Both of them can be found in the search results, so each of them can be considered your brand name. The same goes for companies that want to develop IG accounts – they should be called the same they are known among clients to be found by them. Experts advise using a keyword in the name that reflects your social direction, while a more detailed description can be provided lower.
Subscribe to people you know to get them back to your IG account
The first follower list consists of people you know. You can check your Facebook friends or search by name, but you will be undoubtedly surprised by how many people you know in reality. People who might be acquainted with you will follow you back too.
Decide what audience is your target
It is important to understand who you are going to attract with your posts. Your second step is to search for accounts that attract your target audience though you should avoid your competitors, of course. When you compile a list of such accounts, it is necessary to interact with their audience and attract their attention to your account.
Encourage communication under your posts
What is important to remember is the fact that your subscribers do not see all your posts, so socializing with them can serve as an attraction to check your profile and feed. Moreover, posts that get higher engagement immediately after being added are shown at the top of the feed and attract more viewers.
Add interesting content
It is important to provide users with the content they are looking for, so it must be various and interesting though consistent too. Experts say that in addition to traditional user-created content, it is possible to repost testimonials, share stories of your clients, make educational posts, ask questions, including quotes, add not only images you have created but also ones taken behind the scene.
Post consistently
Consistency is a very important factor in social media marketing. If you take one direction in your posts, you should stick to it mainly, though some inclusions are possible too. It is also important to identify time frames when users are more active and try to add new posts at this time. Moreover, you should have a schedule to add an approximately similar number of posts a week.
Be careful with hashtags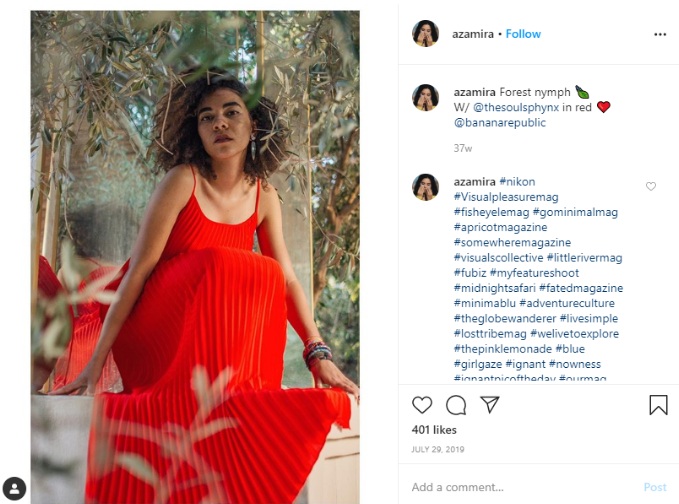 A hashtag is your possibility to be found on Instagram, so you should be careful with their choice. It is possible to add up to 30 hashtags, but a key to success is their relevance to the post and niche taken. Experts advise adding more hashtags with a number of images under 500,000 because there are more chances to be ranked higher in them and be noticed by followers.
Try to appear in Instagram Search Top Results
Exposure is of the utmost importance when it comes to online promotion, so the higher position of your post in Search Results, the bigger number of people will see it. Every top is created for a hashtag and includes 9 pictures only, so it is important to choose less popular hashtags and attract as much audience to engage with your content within the first 2 hours after adding it as possible to be able to get there.
Add various content
Not only images are considered to be Instagram content, so don't forget to add videos and make stories too. Could you think that videos get 34% more interaction than photos? However, it is also important not to forget about the Instagram Stories Live feature that allows communicating with your followers in real-time, while blog updates help to remember great moments and drive traffic to it again.
Join Engagement Groups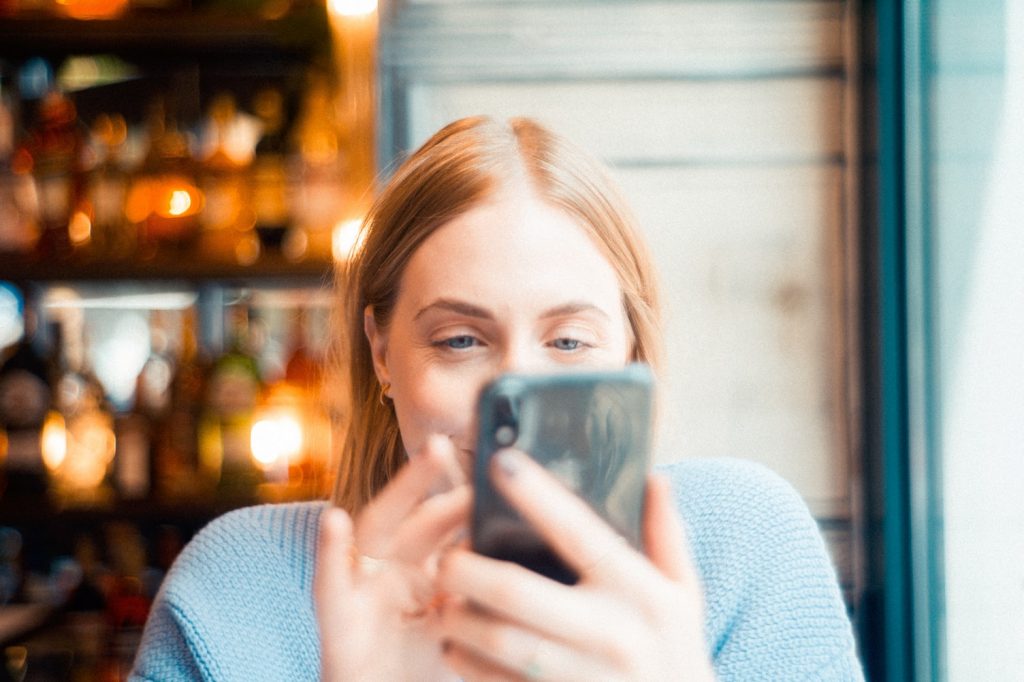 One of the most effective ways to increase exposure and attract new people is to take advantage of pods – engagement groups that unite Instagram users working in one or similar niches. People in these groups have common interests with you, so your online activity can be appealing to them. Moreover, such groups help to boost engagement and get to the top of search results easier and faster too.
Make reposts of great content
Many IG influencers have achieved this status thanks to making reposts of really engaging content. Nowadays, it is necessary to ask for permission to be able to make a repost but many users do not refuse such requests since it attracts new followers to their own accounts too. How can you find good content you may wonder? Check top-performing posts by every separate hashtag and you will see the content worth your attention.
Advertise your IG account on different social media websites and blogs
That is not enough to be only an active Instagram user to increase the following. You should have active accounts on several social media platforms to attract people from them to your IG. If you have your own blog, you can embed your social media content into your texts and by doing so increase brand awareness.
Check your competitors' following and interact with an active audience of theirs
It goes without saying that there are people posting similar to your content. The first thing to do is to find these people and analyze their activity. You will see which posts perform better and get higher engagement. However, your main goal is users who like, comment, repost their content actively. You should engage with them to attract them to your own account and they will bring about benefit to you too. Naturally, it is better to find nano-influencers among your competitors since they do have some impact on their followers and their engagement rate is usually the highest.
Opt for an influencer shoutout
Even if your follower number is minimum, you still can find a nano-influencer and ask for a shootout. However, there is often a threat to be given fake followers, so you should check the influencer account prior to contacting this person. The easiest way to understand, how real the account's following and ER is, is to check Instagram account on trendHERO service. It is enough to enter the username and you will learn a lot of details about it.
Organize giveaways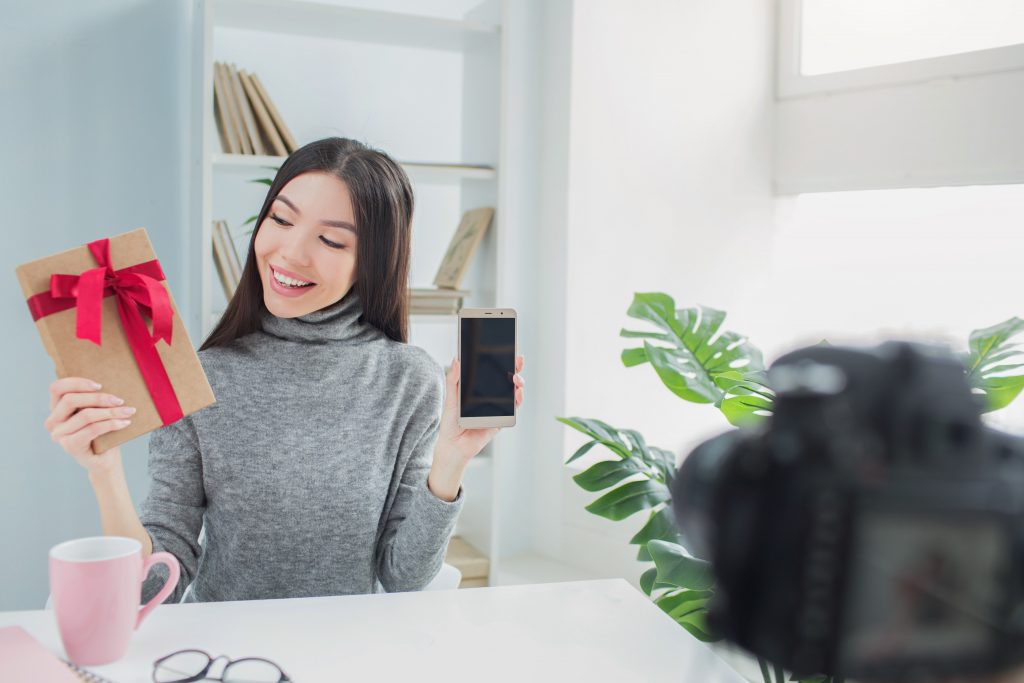 A very effective way to boost the follower number is to host one or several giveaways. It is enough to include an option to follow you to be able to participate in it and you will get the desired audience incredibly quickly. If your follower number is quite small, it is possible to make an announcement about the giveaway planned in the blog or respective FB group.
Brands can even attract other nano-influencers who will mention its name in the giveaway and do that in exchange for the product – no money needed.
Cooperate with famous brands
Undoubtedly, you might have a good camera or mobile phone from a popular company. You can take a beautiful picture using this device and mention the name of the brand in it. Many companies with thousands of followers make reposts of such content and it can help grow your subscriber number too.
Use Analytics tools
Instagram insights and other analytics tools are very important if you are keen to grow your audience. This feature is available only for business accounts, so consider changing one for it. However, there are also other analytics tools and all of them can tell you the engagement rate, new and unfollowers, many other important features. They can help to determine the most efficient content and keep track of changes that happen with the account.
Take advantage of Instagram Followers Apps
Not only you but modern applications can assist with getting 1000 followers fast enough. There are marketing automation tools such as HubSpot, Buffer, and HootSuite. Naturally, some of them are paid, but there are also free tools to use too.
Followers of the Instagram app has been designed to help users to understand who has unfollowed their account, who has not followed back after you subscribed to this account, and which accounts are similar to yours and can be followed.
Crowdfire is another free app to identify inactive followers, ones who have unfollowed the account and ones for you to subscribe to.
Get Followers & Get Likes is helpful thanks to its information about hashtags and followers, while trendHERO is a number one tool to check other accounts you plan to follow or cooperate with. Two more apps to try are Social Rocket that transforms the likes of other people's posts into user's and Tracker for Instagram will be useful when it comes to following and analytics.
Strategy to gain 1000 Instagram followers
There are many tips to consider, but how to use them effectively to get more efficient results? If you have just created your IG account or it is quite young, complete the following strategy:
Change your own account details: check your BIO, adjust your username, and analyze recent posts.
Check your Facebook contacts and recommendations of Instagram to start following as many people you know and who knows you too.
Decide which niche to take and what content you are going to post.
Analyze your target audience and identify the competitors.
Follow active users who are subscribed to your competitors.
Find engagement groups in your sphere of interest and boost your posts.
Respond to comments immediately and encourage further discussion.
Promote actively: cooperate with brands, use blogs and other social media, make reposts of interesting content, ask to shoutout or giveaway, etc.
What happens when you get to 1000 followers

It goes without saying that there are reasons why you wanted to know how to get 1k followers. Naturally, you might have wanted to win a competition you have organized with your friend, for example, but there are more chances that you hope for the monetization of your account.
Getting 1k followers means that you are eligible for being paid for your activity on Instagram. Despite the fact that you can be hardly called an influencer with 1k followers, but you can already start your career and try different options of getting possible income.
Moreover, you get your account into the position of being seen and since you reach this threshold, it will be easier to attract new subscribers too.
Why you shouldn't buy Instagram followers
It is no longer a secret that you shouldn't be a millionaire to buy followers on Instagram. In fact, it is possible to find offers where you can get 1k followers for $10 only. But is there any sense to waste money? Probably, not.
It is important to remember that most of the accounts to join your real following will be bots or inactive accounts. It means that you will not get better engagement and your follower number will not bring about any benefits. You may wonder how brands can learn if my followers are purchased? Easily. trendHERO makes it possible to check engagement and real followers for a minute or even faster. Brands will never decide to work with the fake following and it can reflect on your online credibility.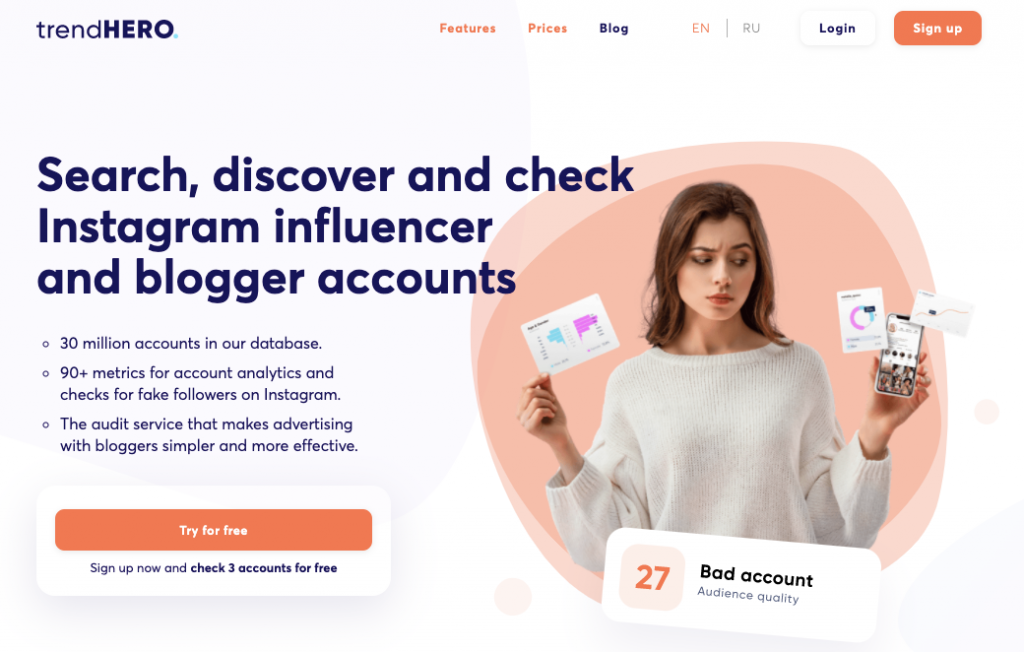 Another reason to avoid buying followers is the distortion of the account performance metrics. It will be much more difficult to analyze how your audience is connected to your brand if a good deal of your subscribers is fake.
The third and most convincing reason is a violation of the community guidelines adopted by Instagram. Currently, there are many mechanisms to identify and delete artificial accounts and their interaction with your content can result in blocking your account too.
https://trendhero.io/" class="uk-button uk-button-large uk-button-primary cta">Try our free tool
Tips & Tricks
Naturally, there are many more techniques of how to increase the following of the account no matter whether it is new or not. Some more great tips to consider look as follows:
Post high-quality photos and videos.
Make your stories more appealing with special effects, questions, links, mentions.
Try to copy other popular influencers in the same niche.
Add interesting image captions and the location, if possible.
Use post scheduling tools.
Place a link to your Instagram account in your emails, blog, other social media profiles.
Add CTAs.
Post as frequently as 1-2 times a day.
Don't follow more than 50 accounts per hour.
Stick to your goal and a great of being an influencer will come true.
Conclusion
You can find a lot of information that it is possible to build 1k following within a day, but the only way to get this result is purchasing accounts. As you might have understood, it is the worst option that is better to avoid. However, it is possible to grow your number of subscribers within a month or so if you put a lot of effort. These tips and tricks will help you to achieve a natural increase in your follower number with an excellent engagement rate and once you reach the threshold of 1,000 followers, you will see that your audience will help you to grow further.